Beauty posts
4 beauty tools that will take your breath (spots or wrinkles ;)) away
Does exfoliation no longer suffice to make your skin look brighter? Are you finding it harder to get rid of blemishes? Or is your skin starting to sag? Maybe it's  time to take your beauty routine to the next level with these 4 beauty tools that are easy to use and really produce results.
The ultimate gua sha for wrinkles and sagging skin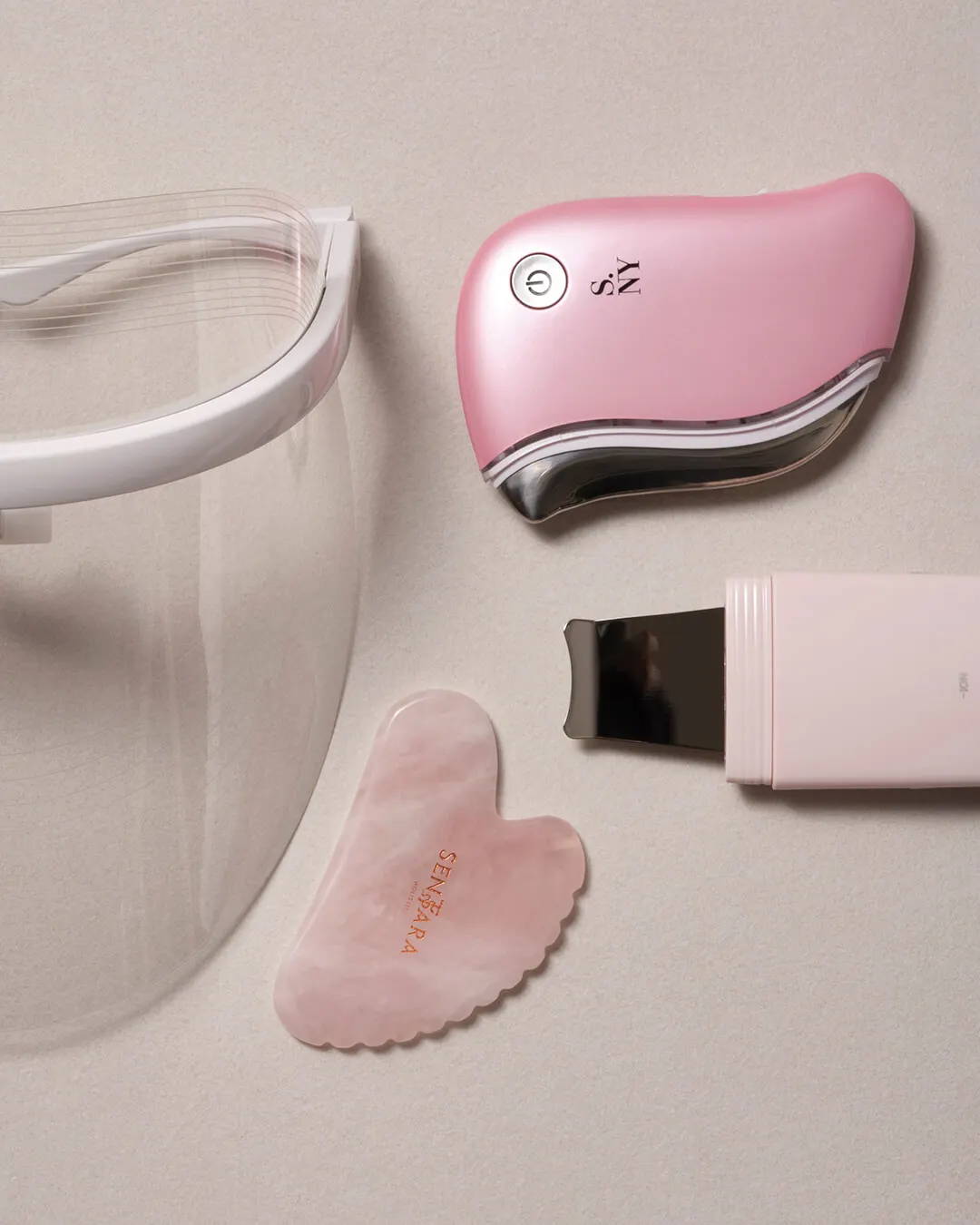 This is the one beauty tool that everyone swears by. An ancestral accessory recognised for its smoothing and firming properties, it can also help to give the skin an immediate glow. Use with a skincare oil or an oil-based serum. Choose the classic or high-tech version depending on the results you are after: 
The pink quartz version

: If you believe in the power of stones (or if you just rather like pretty pebbles!), we recommend the

Gua Sha Visage

from

Oh My Cream Skincare

. 

The high tech version:

If you are nervous about getting the massage wrong and want to see an instant smoothing effect, try the

It's Lit LED Gua Sha Facial Massager Gua Sha Massant

by

Solaris.
A full LED session in the comfort of your own home
This powerful luminotherapy mask provides clinically proven results when used 15 minutes per day 3 to 5 times a week. Different coloured LEDs are used by dermatologists to treat a wide variety of skin problems. The Solaris mask has a spectrum of 4 different colours: red for signs of age, blue to balance the complexion, amber to calm the skin and green for pigmentation build up. Brilliantly effective!
How To Glow Masque LED by Solaris
A deep cleanse at-home facial to rid the skin of blemishes
When we ask people which are the biggest skincare issues they would like to solve at home, bumpy skin, blackheads and scars always come out on top. Smooth the spatula over clean skin to help unblock pores or to revive dull skin. And prepare to kiss goodbye to acne scars for good!
The Ultrasonic Exfoliator Spatula + LED Spatule Exfoliante by Solaris
These beauty tools to try :