Beauty Posts
Our 7 fail-safe tanning tips for beautifully bronzed skin
Frying your skin in the middle of the day has never been the right way to obtain an even, long-lasting tan. Follow our tips for beautifully bronzed skin that will make you the envy of the beach.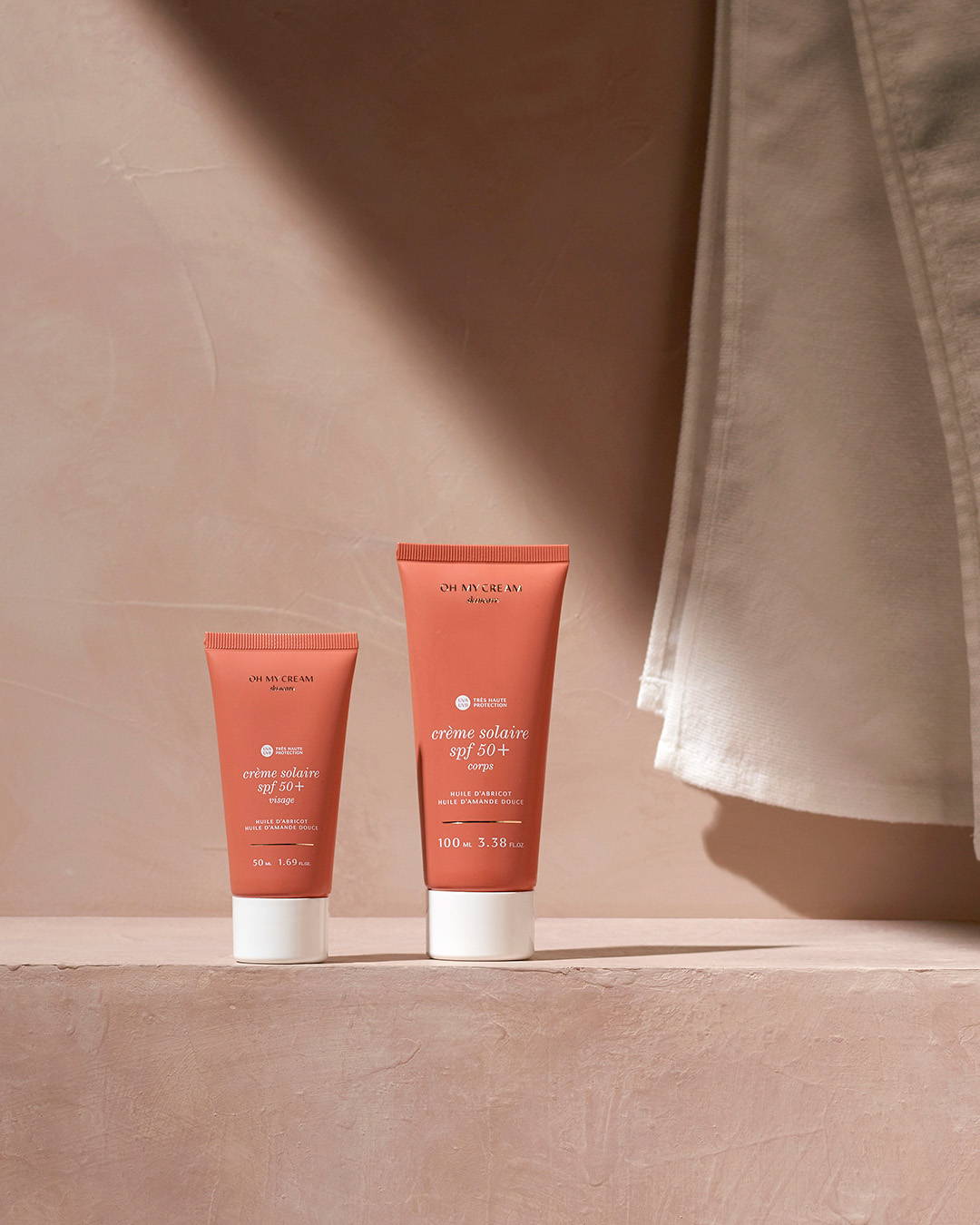 Never skip on sun cream (even when you are already tanned)
Going out in the sun without cream even when you have a tan is about as protective as using an SPF2, i.e. nothing at all. Rather than getting burnt and crossing your fingers that your skin will eventually go brown (and in order to reduce the risk of skin cancer) you should always use a high SPF. 
Clean and perfect for the whole family (can be used from 3 upwards): Crème Solaire Visage SPF50+ & Sun Protection Body Cream SPF50+ Oh My Cream Skincare
Good timing
The best time? Ideally before noon or after 4pm. And don't go crazy on day one. Build up sun exposure according to your skin type and where you are in the world. For example, it only takes 15 minutes for a pale skin to burn if the heat is extreme. 
Finish with a bronzing powder
Bronzing powder might not be a new invention but it is the best way to create the illusion of beautifully bronzed skin. Apply a Bronzing powder by drawing the shape of a 3 on either side of the face (cheeks, chin and forehead) and your skin will look as if you have spent the day at the beach. 
Put your tan on a drip
The We want a gorgeous tan supplement by Atelier Nubio contains carrot, tomato and melon to help prepare the skin for sun exposure by reinforcing its natural defenses. It also helps to prevent blemishes caused by sun exposure.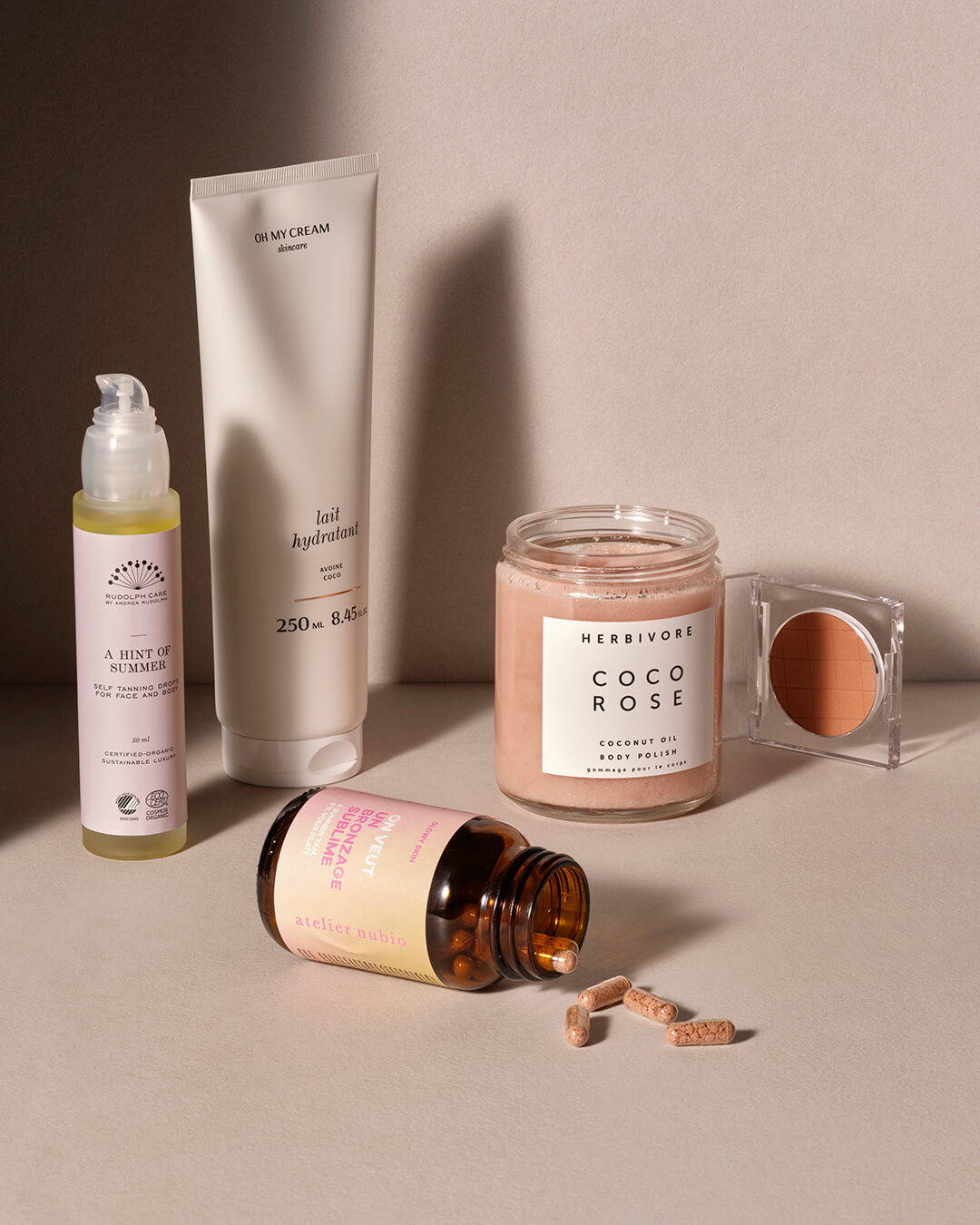 If in doubt, cheat
If you are a chronic sun worshiper, try swapping the sun for A Hint Of Summer Self Tanning from Rudolph Care. You can mix it with your moisturiser (just one pump) and for the body one pump per zone (so arms, legs, chest…) mixed with your body cream is enough. It's also a cunning way to attenuate tan marks ;-) 
Exfoliate to boost radiance
Removing dead cells on the skin's surface is the best way to obtain a radiant, even tan. Once or twice a week for the body and face is enough. 
The easy exfoliant: Exfoliating Powder Oh My Cream Skincare
The addictive body scrub: Coco Rose Exfoliating Body Scrub Herbivore 
More moisture
There is no doubt that skin that is exposed to the sun suffers from dehydration. To avoid dull, rough skin there are two solutions: drink plenty of water all day long and quench thirsty skin with a super hydrating cream after a day in the sun.  
For the body: the Moisturising Lotion by Oh My Cream Skincare if you are prefer a light moisturiser or the Nourishing Oil by Oh My Cream Skincare if you prefer an oil (this one is lemon scented).
For the face: add the Moisturising Mask by Susanne Kaufmann to your routine.