Itchy, red patches, rough skin... Dryness is not an easy thing to deal with... Summer and winter alike, to avoid the crocodile effect and the discomfort it causes, it is essential to find the dry skin cream to relieve your skin in crisis. Through this guide, discover our selection of dry skin face cream and dry skin body cream to get cheeks as soft as a baby's
"Dry skin or dehydrated skin?" 
First of all, it is important to distinguish between dry and dehydrated skin.  
Dry skin is a skin type that cannot be changed. It is possible to improve its comfort with a

dry skin cream

but this will not change the quality of the lipids produced. Remember: dry skin is skin that is starving for oil, it must be nourished.

Dehydrated skin is a temporary skin condition caused by external factors - sun, stripping products, etc. - that can be treated with a good dose of hydration with a

moisturising serum

for example. Remember: dehydrated skin is thirsty skin that lacks water and needs to be moisturised.
Dry skin
Dry skin is skin that does not produce enough oil. These lipids are necessary for our epidermis because they form what is called the hydrolipidic film. This film is a natural protective barrier and allows us to retain water in our cell reserves. Consequently, dry skin can also be dehydrated! 
I do have dry skin:
My skin has always felt tight

My pores are almost invisible

My complexion is dull

My skin is rough and lacks softness

In winter, I am prone to scabies 
There are different degrees of dryness. Thus, skin that is subject to mild dryness will not always be treated with the same dry skin cream than very dry skin. In the same way, a distinction must be made between a dry skin face cream from a dry skin body creambecause these two areas are very different!
Choosing a face cream for dry skin
For very dry skin, the most important thing is to restore the hydrolipidic film by adding oil to your face. These skins must therefore rely on a dry skin face cream such as the Avocado Pear Regenerating Night Cream Antipodes. This moisturising cream with avocado oil intensely nourishes and as a bonus, it has an anti-ageing action as it boosts collagen production. Your skin is supple, comfortable and plump!

If you don't know what to do to relieve your capricious skin which, in addition to dryness, gives you its share of imperfections, we have the face cream for dry skin for you. The Vanilla Pod Nourishing Day Cream Antipodes is an intensely nourishing and moisturising day cream with Shea Butter and at the same time combines a purifying and antibacterial action with the power of Manuka Honey!
Did you know that some night creams can also be applied as a mask and left on overnight? Your skin is at rest at night, so it's the perfect time to give it the care it needs. WithOh My Cream Skincare Revitalizing Night Balm , a rich balm ideal for use as a dry skin cream, simply apply a thick layer to your face all night to restore radiance, comfort and suppleness in the morning. Its key ingredients? Silk tree to smooth and repair the skin, Vitamin C to illuminate the complexion and acai oil, with its anti-inflammatory properties.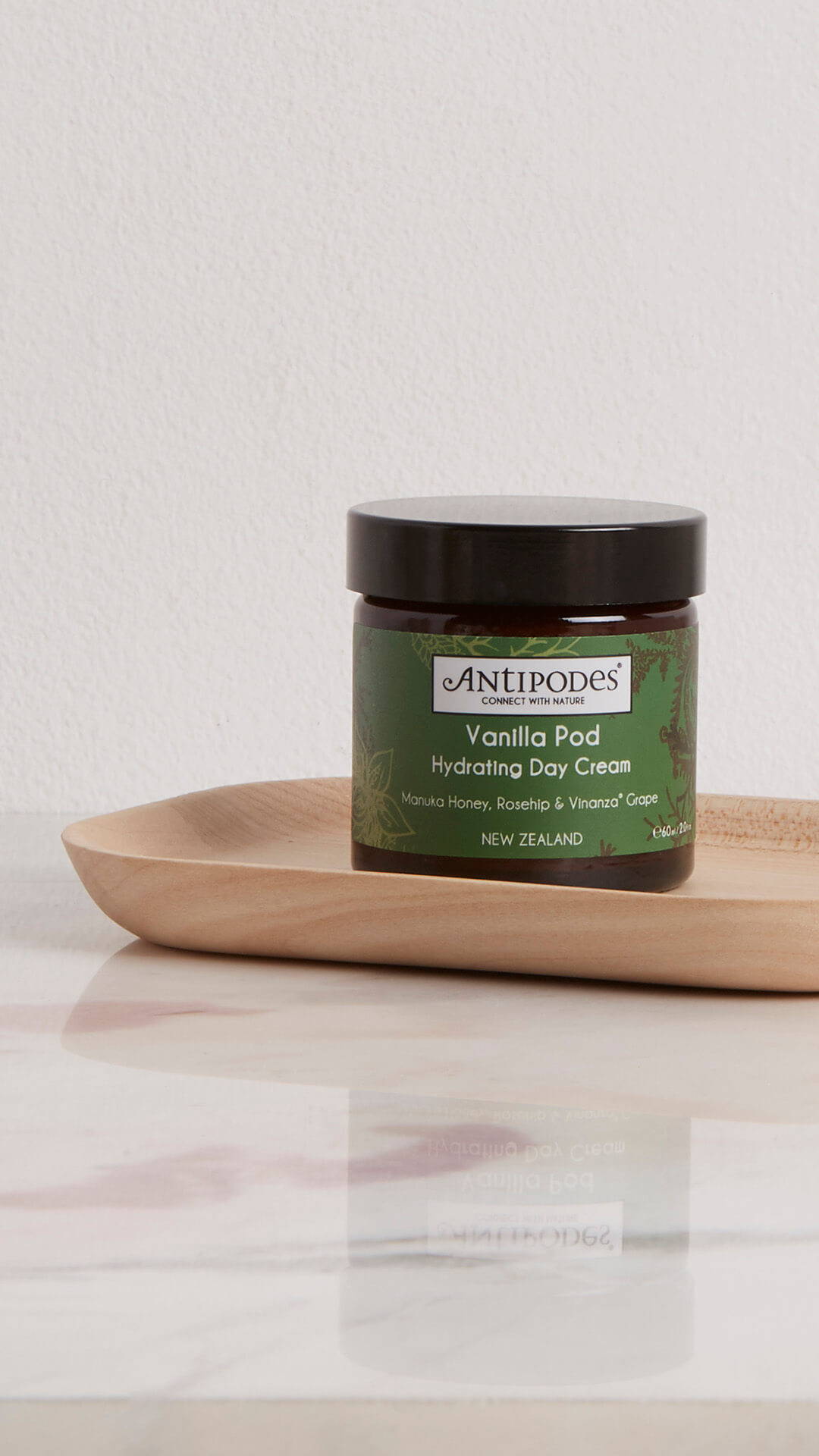 Choosing a body cream for dry skin
To avoid the crocodile skin effect caused by dry skin, it is important to moisturise your body all year round! In winter, our skin is attacked by the wind and cold and therefore needs to be regularly nourished. In summer, apply a dry skin body cream helps to soothe the skin after a day in the sun and is also effective in prolonging your tan.
The driest skin types can rely on the Whipped Body Butter Indie Leea moisturising body cream for very dry skin with a sweet orange and bergamot fragrance. Its concentration in vegetable oils allows to intensely nourish even the most lipidic skin! Its ultra-rich whipped cream texture is also very absorbent. After application, you can slip straight into bed with your skin well nourished without feeling sticky.
For more sensitive skin, choose the Comfrey & Calendula Calming Body Cream Pai Skincare. This dry skin body cream nourishes, repairs and calms even the most sensitive skin thanks to calendula, apricot kernel oil and shea butter. Its concentration in comfrey, a plant known for its repairing powers, makes it a real medicine for intolerant skin.
Finally, for very dry skin or for small patches of dryness on your skin, theEgyptian Magic will be your remedy! A real SOS balm, this moisturizing body cream for very dry skin This 100% natural moisturizing body cream intensely nourishes while repairing and purifying your skin. Its ingredients? Olive oil, beeswax, honey, pollen, royal jelly and propolis!

And to discover all the other essential things you can do to soothe your dry skin, read our Shopping Guide for Dry Skin ;-)