What is the best face serum to treat your skin problems?
At Oh My Cream, we are deeply convinced of the effectiveness of a face serum. The icing on the cake of your beauty routine, the serum can be applied before or mixed directly with your moisturiser, in order to deliver its active ingredients more deeply than a cream (which cannot go as far into the skin's layers). With a higher concentration of active ingredients, it can remedy any beauty problem: dehydration, imperfections that can leave marks, redness, a dull complexion or one prone to pigmentation spots, wrinkles, etc. We explain how to choose your serum and why it will change your beauty routine.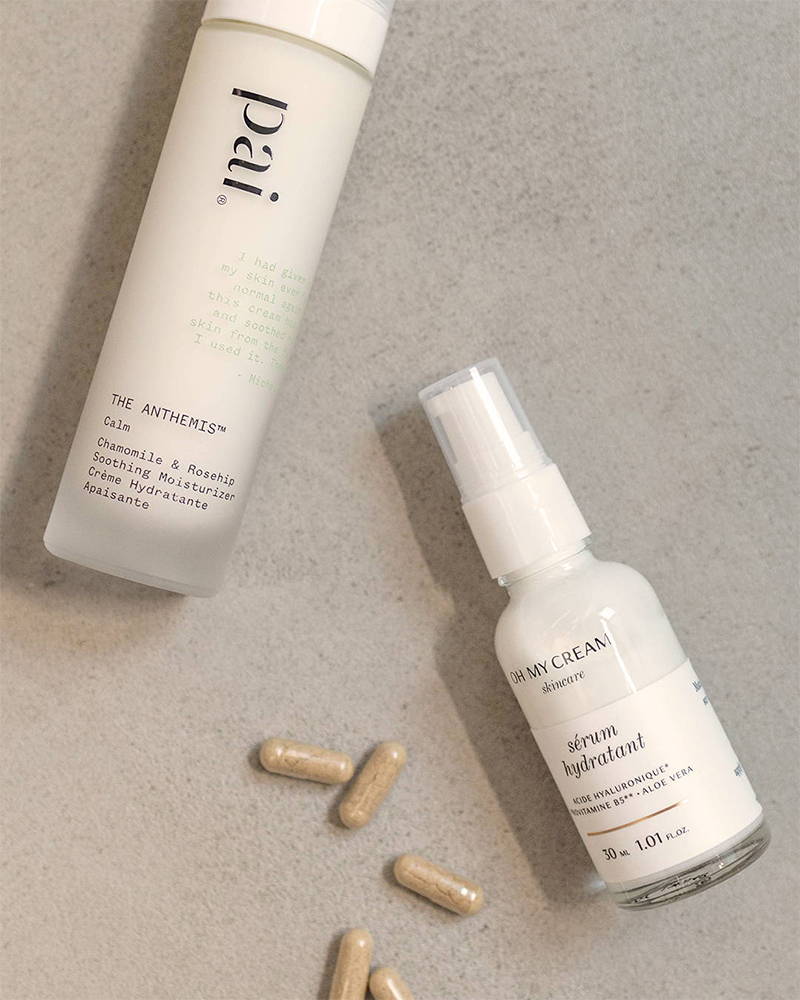 What is the difference between a face serum and a moisturiser?
Unlike a moisturizer, whose purpose is to create a protective barrier on the surface of the skin to retain water and protect it from external aggressions, a face serum is a concentrate of active ingredients that are intended to penetrate the skin deeply. One is designed to protect the skin and act as a real shield, while the other penetrates to the heart of the skin and targets specific concerns: dehydration, redness, lack of radiance, first wrinkles, established wrinkles, pigmentation spots, etc. So be careful: one does not replace the other, the two products are complementary. The serum reinforces the effects of your daily skin care thanks to its richness in active ingredients.
Serums have fluid textures, and can have an aqueous or oily base, which will allow them to deeply penetrate the epidermis to carry their active ingredients. A few seconds after applying a face serum, it is no longer felt. Finally, applying a serum means offering your skin a bonus treatment to help it function better. A real helping hand not to be neglected!
Although our skin is designed to regenerate itself, we all have a different skin type and a different lifestyle. These two factors have a direct influence on the state of our skin and can hinder its repair process. The use of a serum in the morning and evening is therefore intended to accompany our skin in its regeneration, but also in the event of water or fat deficiency (dehydration or dryness of the skin for example), or finally to reduce skin hypersensitivity or imperfections.
Why and how to use a face serum daily?
If you really want to see results, it is essential to use yourserumserum on a daily basis. The "basic" serum to have in your bathroom? A moisturising face serum! Whatever your age or skin type (even oily skin!), our skin can become dehydrated from time to time (appearance of fine lines on the forehead, around the eyes, etc.). In these cases, don't hesitate to add a moisturising serum to your skin care routine! If you are concerned about the first signs of ageing, you can combine the use of a moisturising serum (to be applied in the morning, for example) with an anti-wrinkle serum to be applied in the evening. In fact, the moisturising serum is indirectly anti-ageing: often containing hyaluronic acid, it provides the skin with all the water it needs and boosts the production of elastin and collagen! The anti-wrinkle serum will nevertheless have a more targeted action on cell renewal. If you have established wrinkles as well as a loss of firmness in the oval of the face, there are high-tech face serums that target these problems thanks to advanced active ingredients such as peptides, retinol, etc. In fact, the best face serum will be the one that best addresses your beauty concerns.
To apply your serum correctly, the rule is very simple. In the morning and evening, simply warm a few drops in the palm of your hands, then apply it to clean skin (it's even better if it's slightly damp, because like a sponge, the skin will absorb the active ingredients better). You can also use a lotion beforehand. Use gentle movements from the centre of the face outwards and press the serum onto your skin with light tapping motions for an even more precise application. Finally, don't forget the neck and décolleté, two areas that are too often forgotten and where the skin is also very thin and just as exposed.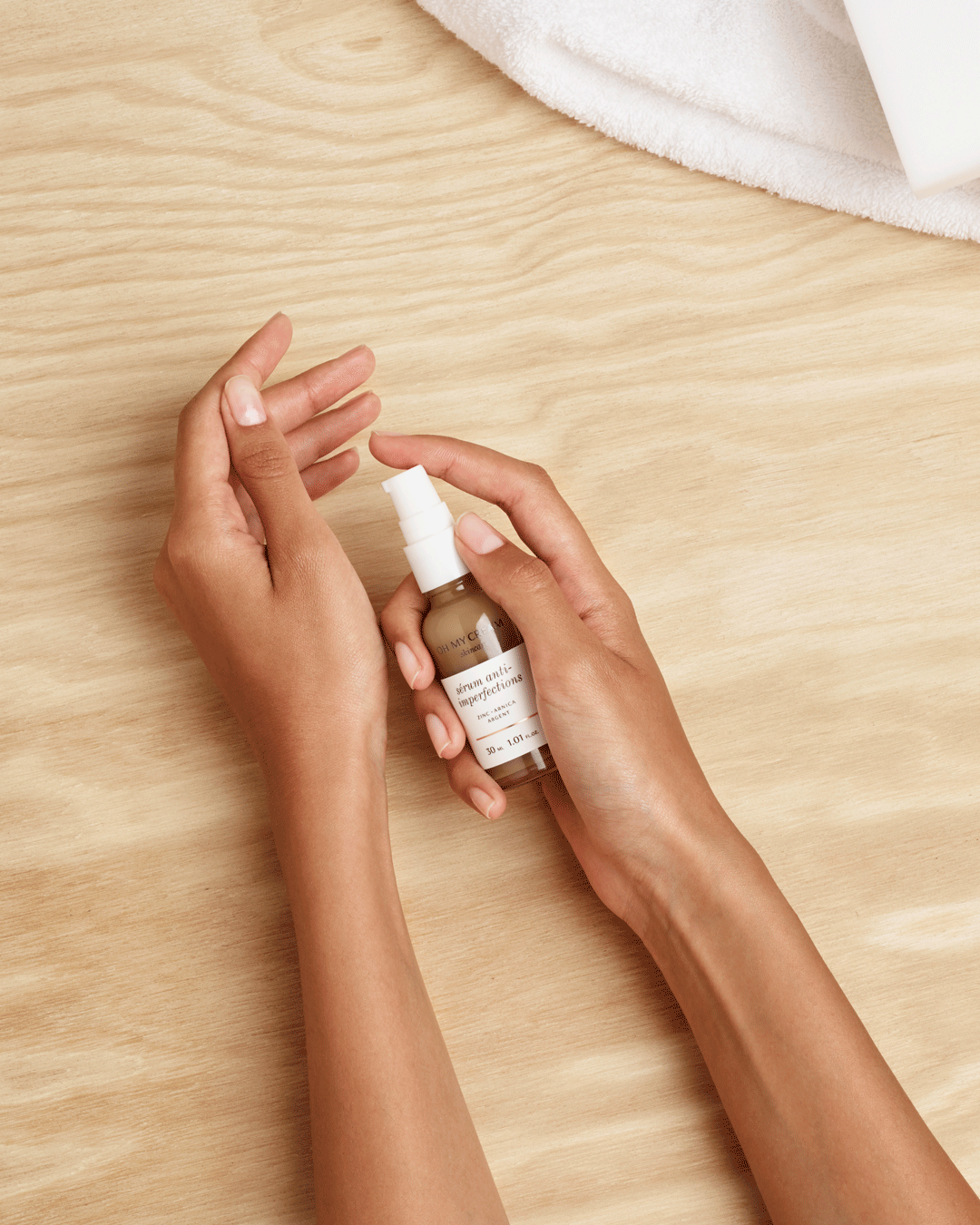 What face serums can I find at Oh My Cream?
It is essential to choose a quality serum with safe active ingredients, if possible natural, which will be able to penetrate the epidermis in an optimal way.This is why at Oh My Cream we only offer you natural and organic serums or cosmeceuticals, which we are convinced are effective and which we have tested ourselves.
Our favourite active ingredients? Vitamins such as vitamin C for radianceor vitamin E in an antioxidant face serum, hyaluronic acid for its moisturising and plumping effect, retinol for its ultra-performance anti-ageing action or peptides or plant stem cells.
We offer a wide selection of serums to target and respond to all skin problems. If you don't know which serum to choose, we invite you toyou to visit one of ourto one of our boutiques to carry out a skin diagnosiswith one of our Beauty experts (it's free). You can also send an email to hello@ohmycream.com, a beauty expert will take the time to advise you.