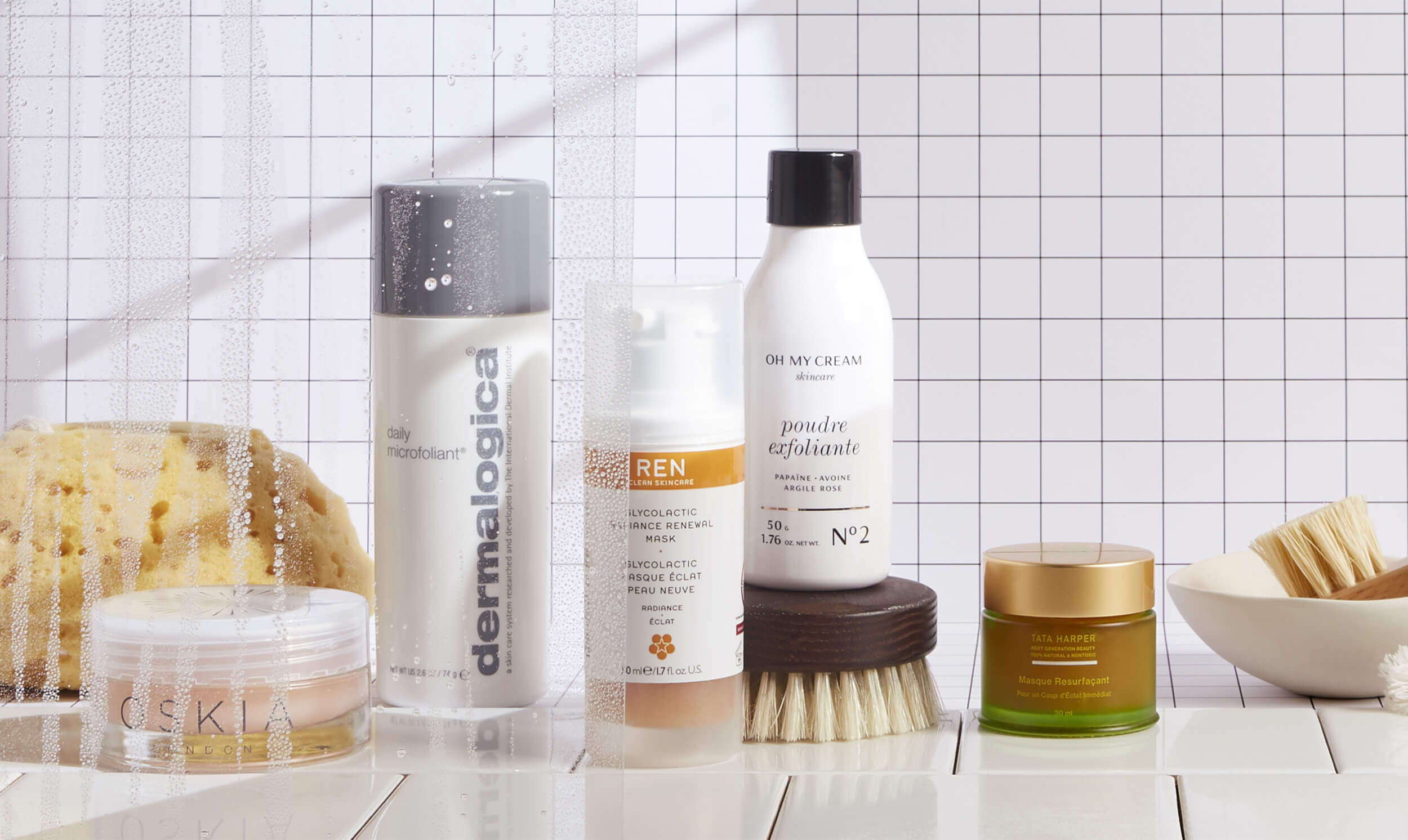 The secret to beautiful, healthy skin? Adopt a skincare routine that is adapted to your skin type and concerns! The good news is that this doesn't mean you have to put more products in your bathroom... and do a mask and a facial scrub every day. On the contrary, when it comes to skin care, "less is more". And yes, our skin doesn't need to be over-stimulated by a multitude of products: it's all about having the right ones! At Oh My Cream, our mission is to help you take care of your skin and make your beauty routine a moment of well-being. And to help you find your way through all the cosmetic products on the market today, we have defined 3 essential steps: cleansing, facial scrubbing and moisturising. If you do these three things regularly, you will quickly notice a visible improvement in the quality of your skin.
How do I take care of my facial skin? 
On a daily basis - and depending on its needs once or twice a day - your skin needs to be cleansed and moisturised. In the morning, if your skin is normal to combination and you feel the need, choose a gentle or even moisturising cleanser, as your skin does not need to be cleansed in depth. It is enough to remove the small impurities from the night that are on the surface. Normal to dry skin can be satisfied with a lotion. On the other hand, in the evening, we recommend double cleansing, whatever your skin type. This consists of using a make-up remover with an oily base such as an oil or a make-up remover balm (to remove all make-up and pollution), then using a facial cleanser in the form of a gel or milk. 
The moisturising step is equally important as it allows your skin to retain its moisture level (by preventing water from evaporating) while protecting it from possible external aggressions. Obviously, when it comes to moisturising, you need to choose the product best suited to your skin type and preferences (moisturisers, care oil, etc.). You can also make a face mask or use a hyaluronic acid serum to boost your skin's hydration.
It goes without saying that it is always better (for your skin and for the environment) to choose products with the cleanest possible composition. The same goes for make-up!
Why is facial scrubbing essential?
The step of facial scrub is a crucial step in skincare, as exfoliation helps to unclog pores and rid the skin of dead cells to achieve a luminous, even complexion and smoother skin texture. Another bonus: it promotes the cell renewal process, slowing down skin ageing. No more dull, blotchy or grainy skin! Exfoliation is the ultimate skin care routine, but only if you choose the right exfoliator for you...
There are two types of facial scrubs There are two types of facial scrubs: mechanical facial scrubs and chemical or enzymatic scrubs (in this case we talk about chemical or enzymatic exfoliation). The difference is simple: the first contains grains that exfoliate the skin mechanically, while the second does not: exfoliation is done chemically (or enzymatically) with active ingredients that "nibble away at the dead cells". At Oh My Cream, we tend to favour grain-free scrubs, as we believe they are gentler and more respectful for most people, whatever their skin type. We have selected for you the best facial scrubs & exfoliants !
Although it is very important to use a facial scrub on a regular basis, you should not overdo it, as this can lead to over-exfoliation and skin sensitivity... The ideal average frequency? Once or twice a week, preferably in the evening (because some facial scrubs can be photosensitising), you will quickly notice a difference in the radiance of your complexion and the quality of your skin texture. Of course, don't forget to moisturise your skin afterwards ;-)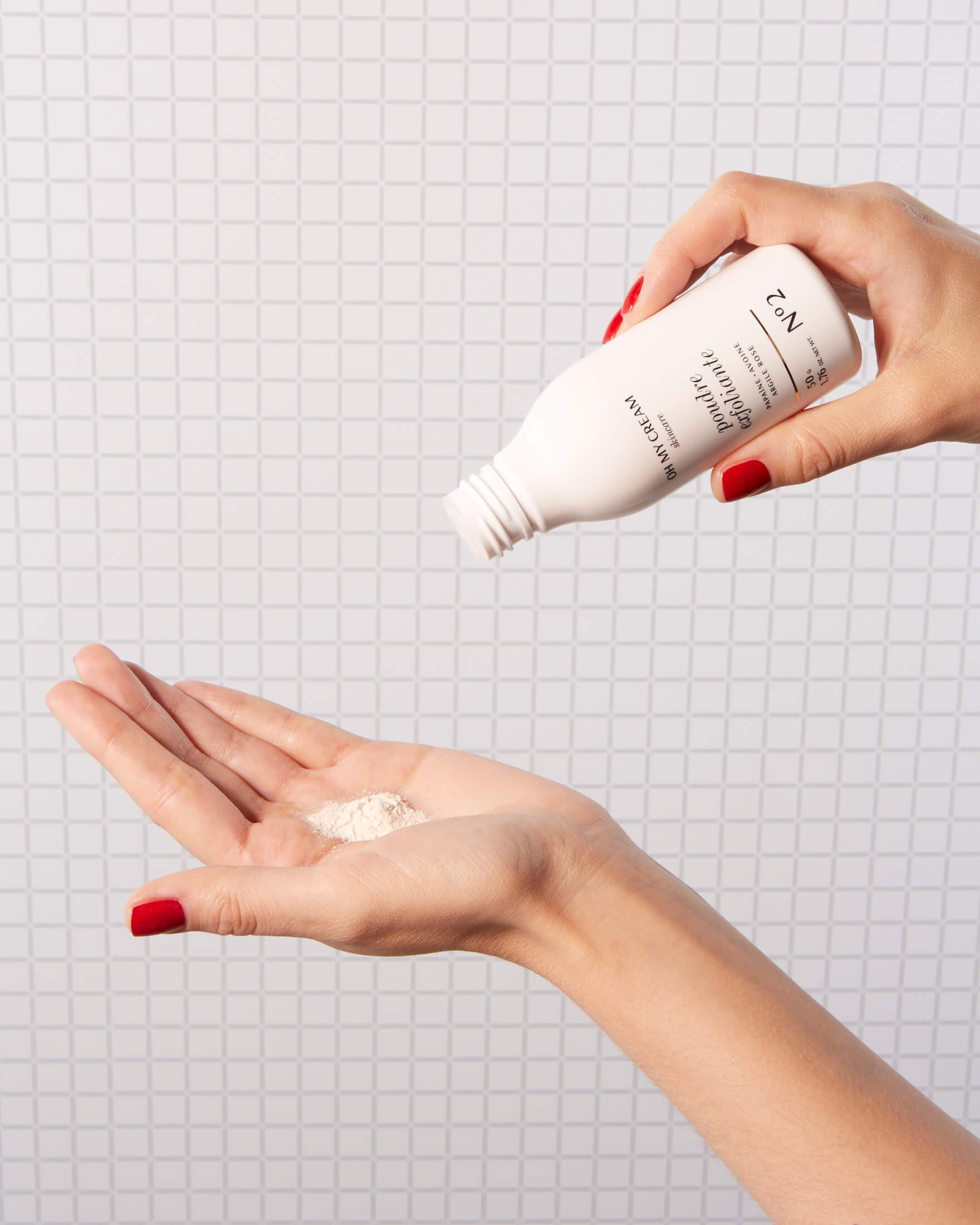 What should I do when using a facial scrub?
When performing a facial scrub, it is important to adopt a few good habits. First of all: the frequency. It is important to listen to your skin. Indeed, if you have sensitive skin (frequent redness, feelings of heating, tightness...), it is better to use gentle products and to space out your facial scrubs. If your skin is very sensitive, it may be counterproductive to use a facial scrub more than once every fortnight, for example, at the risk of damaging your skin barrier. Listen to your skin and if in doubt, do not use an exfoliator if you feel it is very fragile.
The best face scrub is the one that is best suited to your skin type. If you use a facial scrub apply it gently, without pressing, using circular movements on your skin. And, if you have blemishes, we advise you to use chemical or enzymatic face scrubs instead, as grainy scrubs can create micro-injuries on your blemishes and consequently encourage the spread of bacteria on your face and cause you to have more blemishes. For example, use a glycolic acid-based exfoliating lotion: to reduce blemishes or spots, it will be the most effective exfoliant for you.
Ideally, follow your facial exfoliation with your favourite face mask, as the active ingredients penetrate better on freshly exfoliated skin. Finally, follow with a lotion and then a moisturising product (serum and cream or oil) and you're done. Finally, don't forget to protect yourself from UV rays the next day with a sun cream, whatever your skin type, without exception. 
If you need personal advice, especially on which type of facial scrub depending on your skin type, please contact our Beauty Coaches via our chat or by email at consultation@ohmycream.com.