Among our 3 essential gestures to have a beautiful skin, theexfoliating has a special place! Too often forgotten or not sufficiently applied, this beauty essential will reveal a radiance that you have no idea of. Smooth the skin texture of your face, find soft lips, firm up your body and reduce the orange peel effect? By browsing through the benefits of face, lip and body scrubsWe'll give you our best advice on the benefits of face, lip and body scrubs, as well as our favourite scrubs.
Facial scrub: the ultimate skin care routine
Its interest
Incorporate a scrub into your routine can solve many problems. This essential step removes all your dead skin cells and promotes cell renewal. And cell renewal means smoother, tighter skin, a more radiant complexion and the prevention of imperfections. So don't neglect your exfoliation, which should be done once or twice a week! Pssst, use a facial scrub even delays the appearance of the first signs of aging ;-)
There are two types offacial scrubs with a different action:
Mechanical exfoliants. Its exfoliating action is due to the grains contained in the care product, and therefore, in a mechanical way. At Oh My Cream, we advise you to be careful with this type of

facial scrub

because the mechanical action of the grains is often too irritating for the fragile skin of our face.

Chemical scrubs. These are the

exfoliants

that we prefer at Oh My Cream because we believe that they are more respectful of the epidermis, whatever your skin type. Their chemical (or enzymatic) action nibbles away at the small dead cells for a gentle exfoliation.
Our favourite facial scrubs:
The perfect complexion exfoliating powder:

Exfoliating Powder

,

Oh My Cream Skincare

. In addition to a smooth, fresh and luminous complexion, this

exfoliator

reduces your imperfections thanks to papain and salicylic acid, fruit acids with anti-bacterial action.

The face scrub loved by the stars:

Daily Microfoliant

,

Dermalogica

. This

facial scrub

is the key to instant baby skin. Its concentration of oatmeal soothes the skin, green tea extracts protect it and liquorice and tea tree even out the complexion.

The 100% natural exfoliating mask: Resurfacing Mask

,

Tata Harper

. This

exfoliating gel

mask is a cult favorite. It leaves a flawless skin and gives back all the radiance to all the skins, even the most sensitive!
Lip scrub: the key to soft, plump lips
Its interest
That's right, dead skin also accumulates on our lips, leaving those irregularities in shade and texture as soon as you apply your lipstick. Use an exfoliator will give your lips a smoother, more naturally coloured appearance. For those with dry lips, exfoliation will also help to restore a well-nourished mouth as exfoliated lips are better able to ingest moisturising and nourishing balms afterwards.
Our favourite lip scrub
L'

lip scrub

with shea butter:

Exfoliating Lip Balm

,

Ilia

. The micro-particles of volcanic stones in this balm guarantee soft lips. The combination of shea butter and jojoba oil ensures that your lips are well hydrated and nourished.
And for a lip scrub scrub? Mix a little sugar with honey and you're done! Grandma's recipes... never forget them!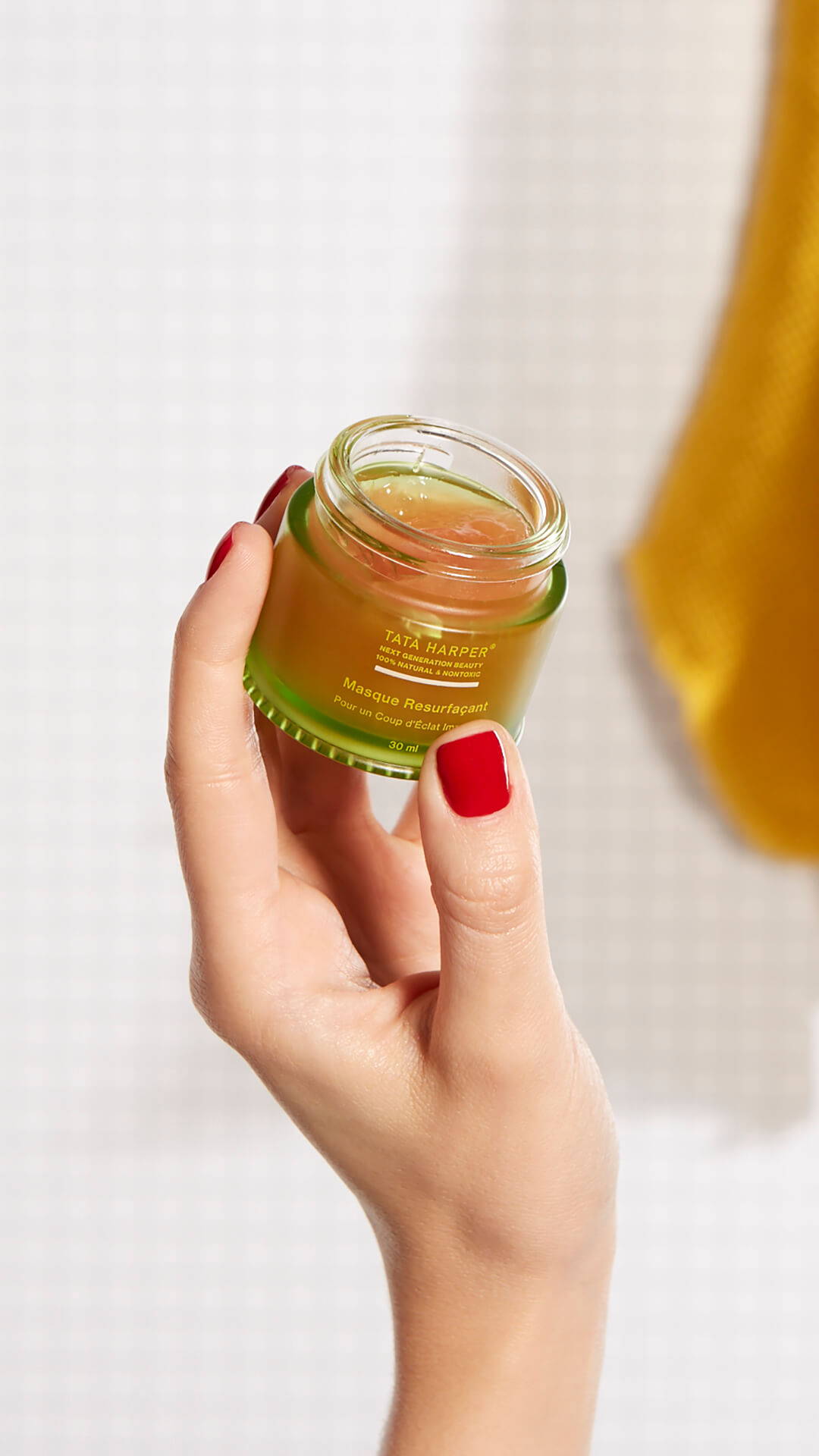 The body scrub: the scrub you shouldn't forget
Its interest
Why forget this beauty routine when it has so many benefits? In addition to promoting cell regeneration and thus leaving the skin softer, thebody scrub guarantees firmness and reduces the appearance of cellulite and the orange peel effect by breaking up small fatty deposits. Also, when used regularly, it can minimize the appearance of stretch marks by boosting elastin production. The mechanical action will also reduce ingrown hairs after hair removal. Finally, there is nothing better than using a body scrub to maintain your tan all summer long! This time it will be a grainy body scrub, which is more effective for exfoliating your body, whose skin is thicker and more resistant.
Our favourite body scrubs
L'

exquisite body scrub

with cane sugar:

Moroccan Rose Body Scrub with Sugar

,

Ren Clean Skincare

. Who would have thought that sugar would help to eliminate orange peel skin? When applied directly to the affected area and regularly, it is formidable ;-) This

body scrub

This cane sugar body scrub leaves the skin smooth and a light oily film for a silky skin.

L

he body scrub

with an irresistible exotic scent:

Coconut Citrus Scrub

,

Indie Lee

. Dry skin will love this

body scrub

with coconut oil. The delicious and comforting texture is so nourishing that your skin can do without a nourishing milk.

The

Himalayan Pink Salt

Body Scrub

:

Renaissance Body Scrub,

Oskia

For those who are more salty than sweet, we have just the thing for you!

The

concentration of

Himalayan pink salt, vitamins and minerals in

this

exfoliator

gives an invigorating effect for smooth and radiant skin. The delicate scent of passion fruit and chamomile and the enveloping texture will be enough to convince you to adopt this scrub.
Did you like this shopping guide? Then you will surely enjoy our guide to our Favorite face serums ! Text