When the blackheads When blackheads take up residence on your face, it can quickly become difficult to dislodge these unwanted little creatures. Whether on the nose, chin, cheeks or forehead, if not properly removed, blackheads can leave a scar or even come back with a vengeance! So what routine should you adopt? Should you squeeze your blackheads by hand, use a blackhead mask or blackhead patch? Here is our guide and blackhead care to get rid of them effectively!
What is a blackhead and why is it there?
The blackhead is not a fatality! Its appearance corresponds to your "skin condition" which changes throughout the year due to external factors (such as lifestyle) but also internal factors (hormonal changes, stress, medication). Therefore, even if blackheads are part of your daily routine, with the right routine you can get rid of them ;-)
The blackheads appear as a result of excessive sebum production. Mixed to oily skin is therefore more likely to have these small problems appear on the T-zone (forehead, nose, chin). The blackhead on the nose is in fact caused by a disorder of the sebaceous gland. As a result of various factors, the gland can become overactive and produce too much sebum. Sebum, which forms the hydrolipidic film of the epidermis, serves to protect the skin from dehydration, and as a natural barrier, it is therefore essential for the skin! On the other hand, its overproduction can lead to clogged pores and therefore the appearance of blackheads. Indeed, because the skin produces too much sebum, the pores dilate, a reaction of the skin which seeks to "breathe". And a dilated pore is a cosy little nest for impurities, which, by lodging there, will create these famous blackheads, better known as blackheads.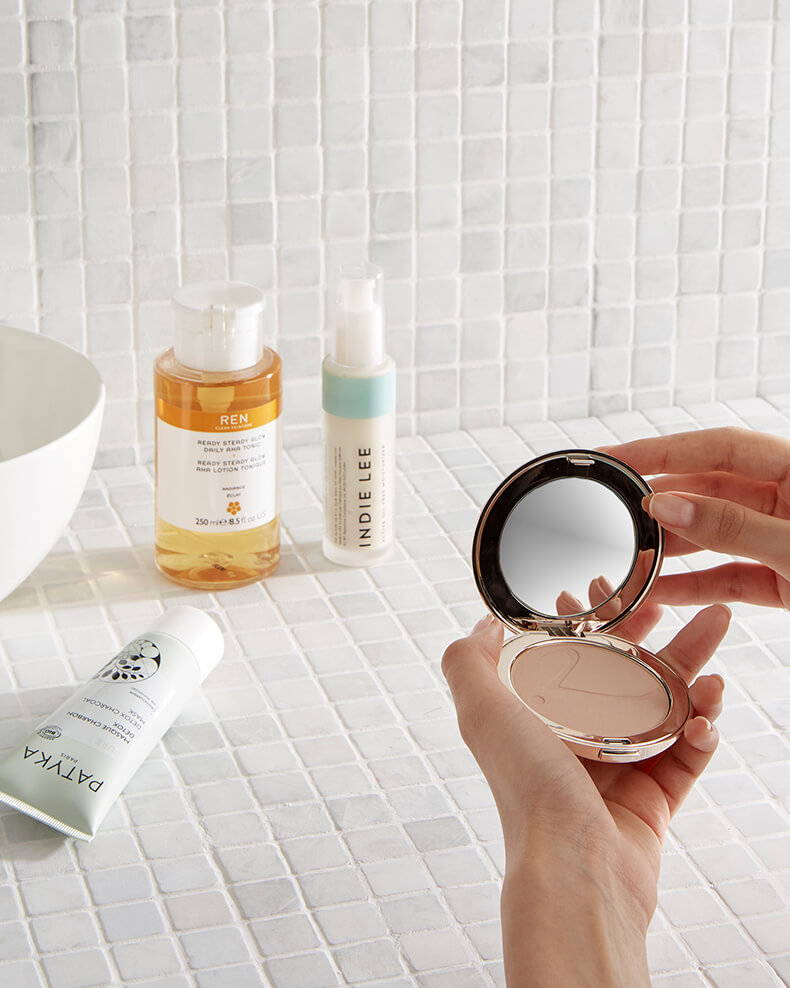 How to get rid of blackheads?
Gestures to be avoided
Of course, you have to show self-control and not dwell on a

blackhead

as soon as it appears ;-) Not only do you risk leaving a scar, but you can also spread the impurity and infect another pore.

We avoid camouflaging them with layers of make-up containing mineral oils and artificial colourings that serve as a concealer while clogging your pores!

The blackhead nose patch

(double word !!!!) should be avoided! Too aggressive, it is not as effective as you think.

In fact,

the blackhead patch may only remove the upper part of the

blackhead on the nose

without completely unblocking the pore. The blackheads will therefore gradually return afterwards.
What to do
To avoid ugly scars after having succumbed to the irresistible yet devastating urge to pick at your blackhead, but also to avoid superinfection of the pore, here are our tips for gently eliminating blackheads!
The 3 essential steps
Don't forget that the secret to beautiful skin is to practice the 3 essential steps advocated by Oh My Cream. A double cleansing to completely rid the skin of excess sebum, make-up, pollution or other impurities likely to cause the appearance of blackheads. A gentle enzymatic exfoliationA gentle enzymatic exfoliation, 2 to 3 times a week, to promote cell renewal but also to purify the pores more deeply. Finally, a non-comedogenic nourishing skin care product to prevent the skin from dehydrating and overproducing sebum to protect itself.
The black dot mask
To purify more intensely, opt for a blackhead mask purifying mask. Use ingredients such as charcoal or green clay to unclog pores and help eliminate blackheads or jojoba oil to regulate sebum production.
Gentle blackhead removal 
First, prepare a steam bath by adding a few drops of thyme essential oil, which will open up your pores to facilitate extraction. Then, with clean hands and a handkerchief, gently press the area to extract the blackhead (fingertips are preferred over fingernails for squeezing). Once the blackhead is removed, simply disinfect well! If your little blackheads are too stubborn, don't bother and treat yourself to a professional treatment in a salon.
Oh My Cream's ideal routine for getting rid of blackheads!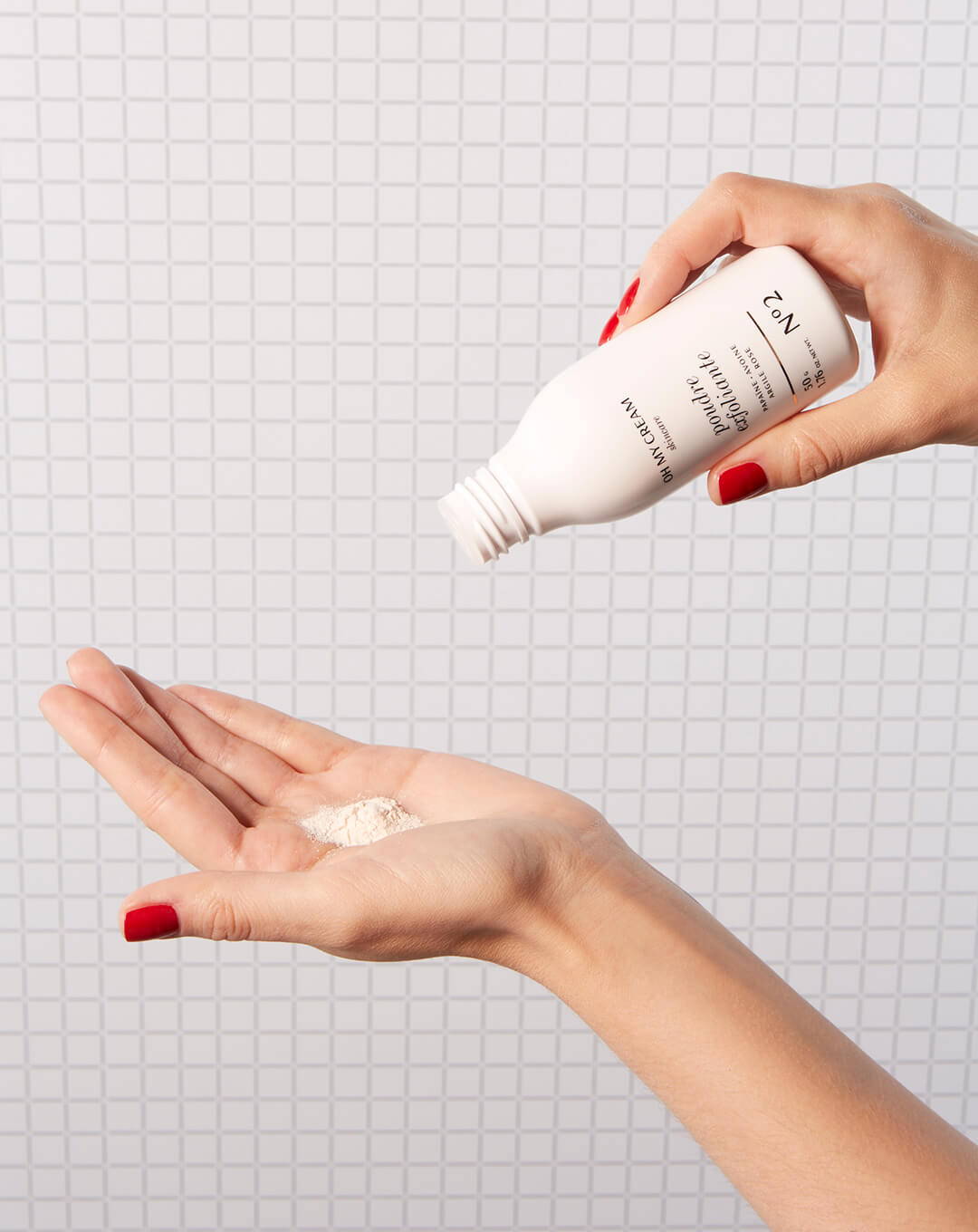 A purifying double cleanse
Make-up Remover Balm Oh My Cream Skincare : A creamy cleansing balm that removes all the day's make-up while reducing the appearance of imperfections
Active Clay Cleanser Dermalogica: A clay and charcoal-based cleanser that removes blackheads and blackheads Gently purifies and regulates the skin.
A gentle enzymatic exfoliation
Exfoliating Powder Oh My Cream Skincare: A must for skin prone to blackheads to gently unclog pores and smooth skin texture.
Ready Steady Glow Lotion Ren Clean Skincare: A daily exfoliating lotion that removes enlarged pores and blackhead nose for flawless skin.
A blackhead mask
Charcoal Detox Mask Patyka : A blackhead mask A charcoal scrub that unclogs pores while purifying the skin and reducing skin marks.
An anti-imperfection serum
All Becomes Clear Anti-Imperfection Serum Pai Skincare: A very gentle balancing serum that reduces shine while fading the appearance of blackheads and persistent scars.
A non-comedogenic moisturizer
Active Oil-Free Moisturizing Indie Lee : A light, balancing emulsion with mandarin and daisy to moisturize without overloading and protect combination to oily skin from pollution and blackheads.
A mineral powder
Pure-Pressed SPF20 Jane Iredale: A mineral foundation with an exemplary composition, in the form of a pressed powder, which sublimates the skin without smothering it!