Shopping Guides
The double cleanse: how to adopt it?
Why do we need to cleanse the skin?
This simple gesture can make all the difference, especially since facial cleansing is often poorly done, neglected or carried out with unsuitable products: whatever your skin type, it is therefore the first step to adopt before going further with more specific products. A good cleansing is therefore essential to have a beautiful, healthy and luminous skin (it is this step that will change your skin texture, tighten the pores and bring radiance!) especially because :
The skin is irritated and sensitized by impurities, make-up, external aggressions and especially pollution particles.

Active ingredients are absorbed by the skin a thousand times more effectively when it's clean.

A thorough cleansing routine slows down the skin's ageing process and helps to prevent premature ageing. It also helps night-time cellular regeneration.

Double cleansing is an infallible weapon to purify and fight against blackheads and microcysts, avoid excess sebum and

dilated pores

but without drying or irritating.

It will help you to start to treat specific problems such as areas of sensitivity and dehydration.
The double cleanse: what is it?
Double cleaning is a 2-step cleaning process:
First of all, an oily make-up remover

will remove most of the greasy impurities (excess sebum, pollution, makeup).

Then, a milk or a foaming gel cleanser will refine the result by removing the last toxins.
A single application of cleansing milk or gel in the evening will not perfectly clean the skin. In the long run, it can leave the complexion dull and accelerate the appearance of blackheads and dilated pores.

The double cleanse: how to do it?
Although composed of 2 steps, this cleansing protocol does not necessarily take longer: with it, bye bye the cotton pads! No need to rub your face to effectively dissolve impurities. Instead, you massage your skin with gentle circular movements... Weakened skin types will appreciate it!
The oil phase to begin
First step, we start with a balm or a make-up remover oil: this first product will emulsify all the greasy substances present on the cutaneous surface, like sebum, pollution, make-up (including the waterproof mascara!). This is the most delicate way to eliminate shine without damaging or drying the skin. Thus, little by little, it gently rebalances normal, combination or oily skin that tends to have a T-zone that is a little more prone to shine. Moreover, the oily texture will also start to soften and bring comfort to the skin: it is thus ideal to take care of the sensitive, dry or dehydrated zones like the cheeks.


The aqueous phase to finish
In the second step, to refine the result and cleanse deeply, we follow the oil or balm with a milk or a soft cleansing gel. Moisturizing and comfortable, milks cleanse perfectly without aggressing skin prone to tightness, while soap-free gels will bring a sensation of purity to skin in search of freshness. For more efficiency, don't hesitate to choose your second cleanser according to your concern of the moment You'll find the perfect formula for your skin among our cleansers! You can also easily change your cleanser according to your desires or the textures you like: creamy milk, cleansing foam or fresh gel cleanser.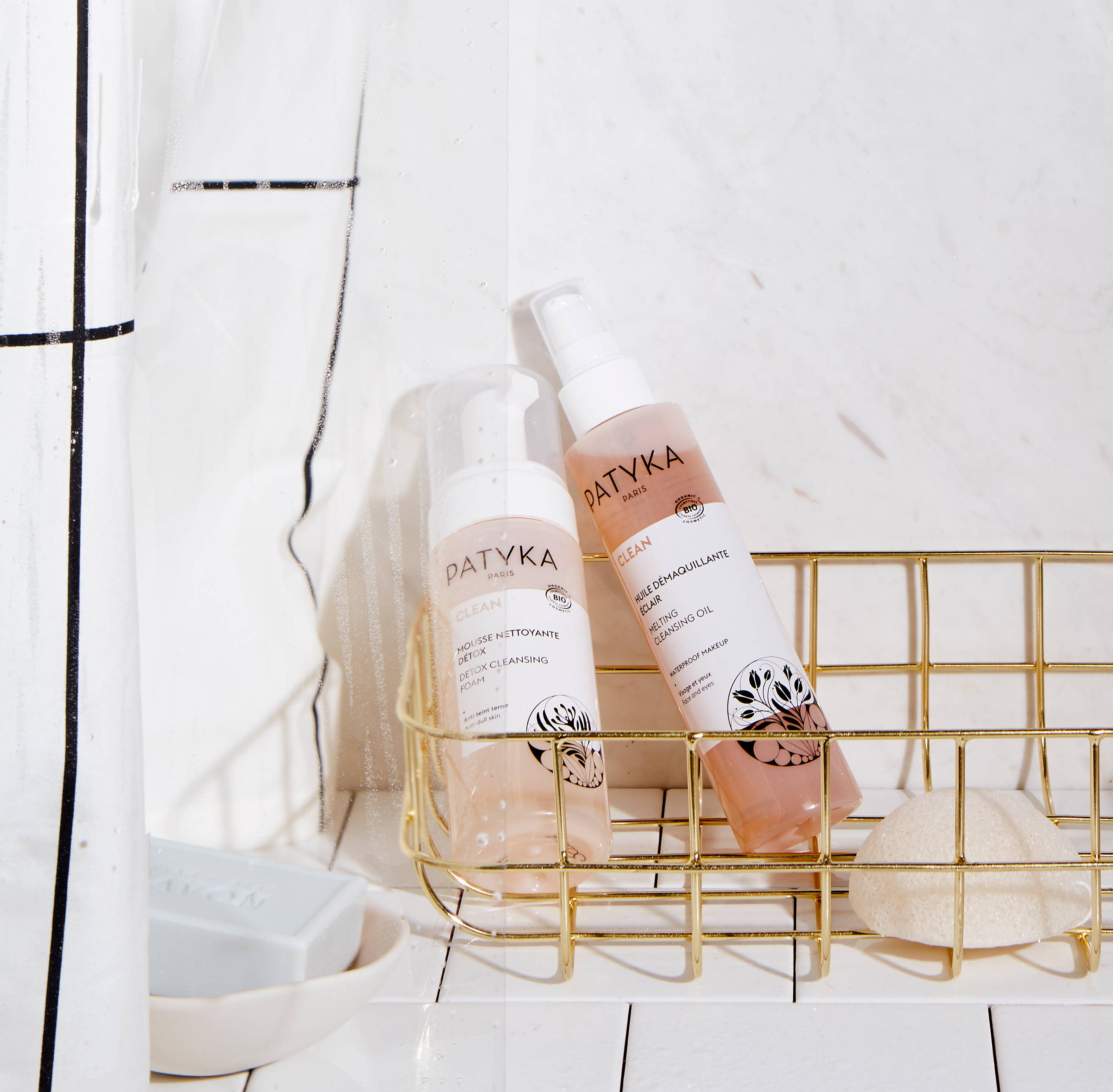 If I have normal skin (and I am just discovering the double cleanse!)
I use Patyka's Flash Melting Cleansing Oil, a real cocktail of organic plant oils that takes care of all skin types and is very easy to rinse. I then apply the Patyka Detox Cleansing Foam, which gently cleanses and oxygenates the skin, and leaves a pleasant sensation of freshness!
The double cleanse for normal skin
If I have dry skin
I opt forOh My Cream Skincare Make-Up Removing Oil, a particularly comforting oil boosted with anti-pollution and radiance-boosting active ingredients. I follow with Oh My Cream Skincare Cleansing Emulsion, a creamy milk with a moisturizing and unctuous formula.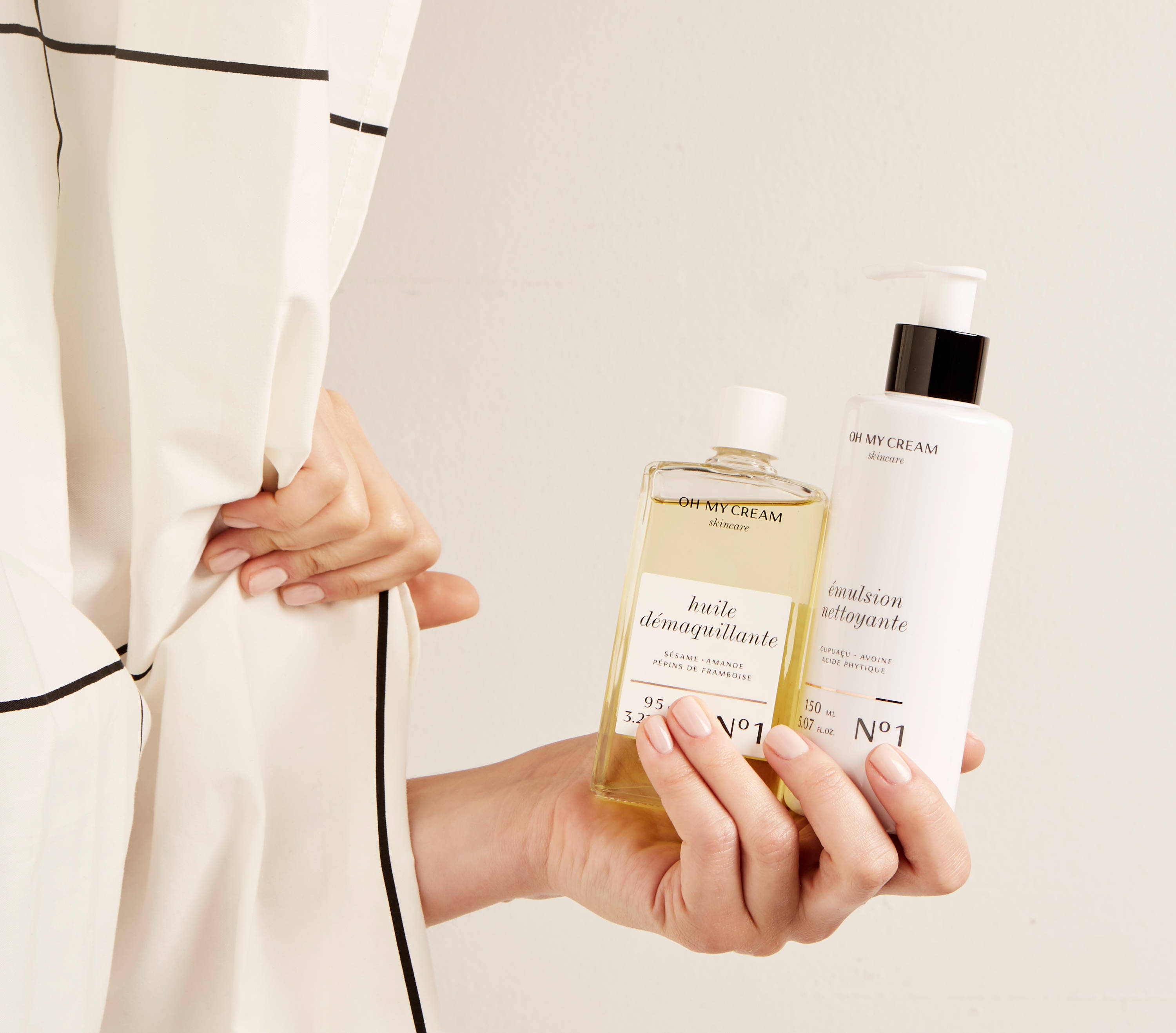 The double cleanse for dry skin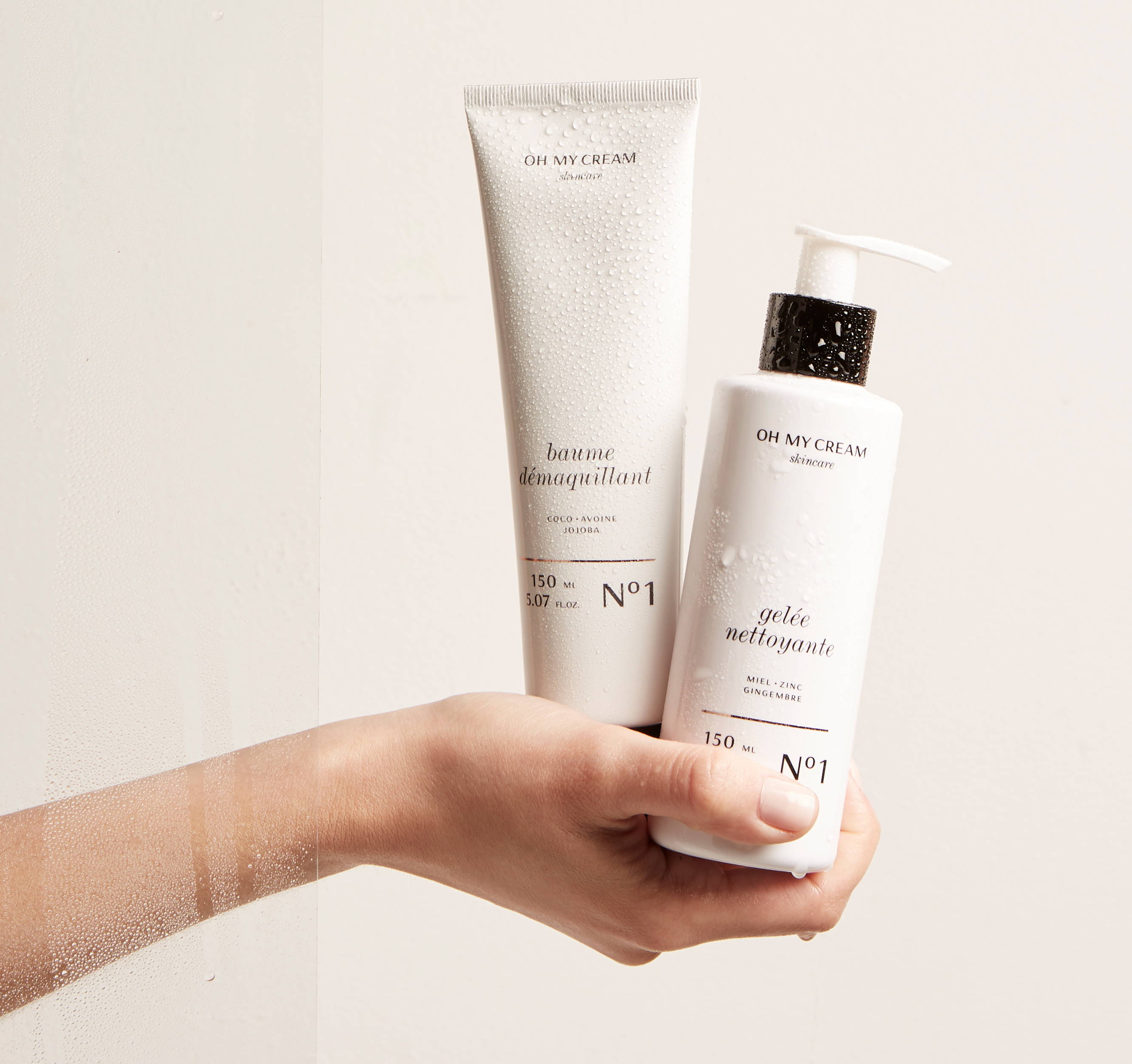 If I have combination to oily skin (or prone to imperfections!)
I start with the Oh My Cream Skincare Make-Up Removing Balm, formulated with coconut oil with antibacterial and regulating properties. Then I use the Oh My Cream Skincare Cleansing Jelly, which is great for minimizing blemishes and shine!
The double cleanse for combination to oily skin
The double cleanse for sensitive skin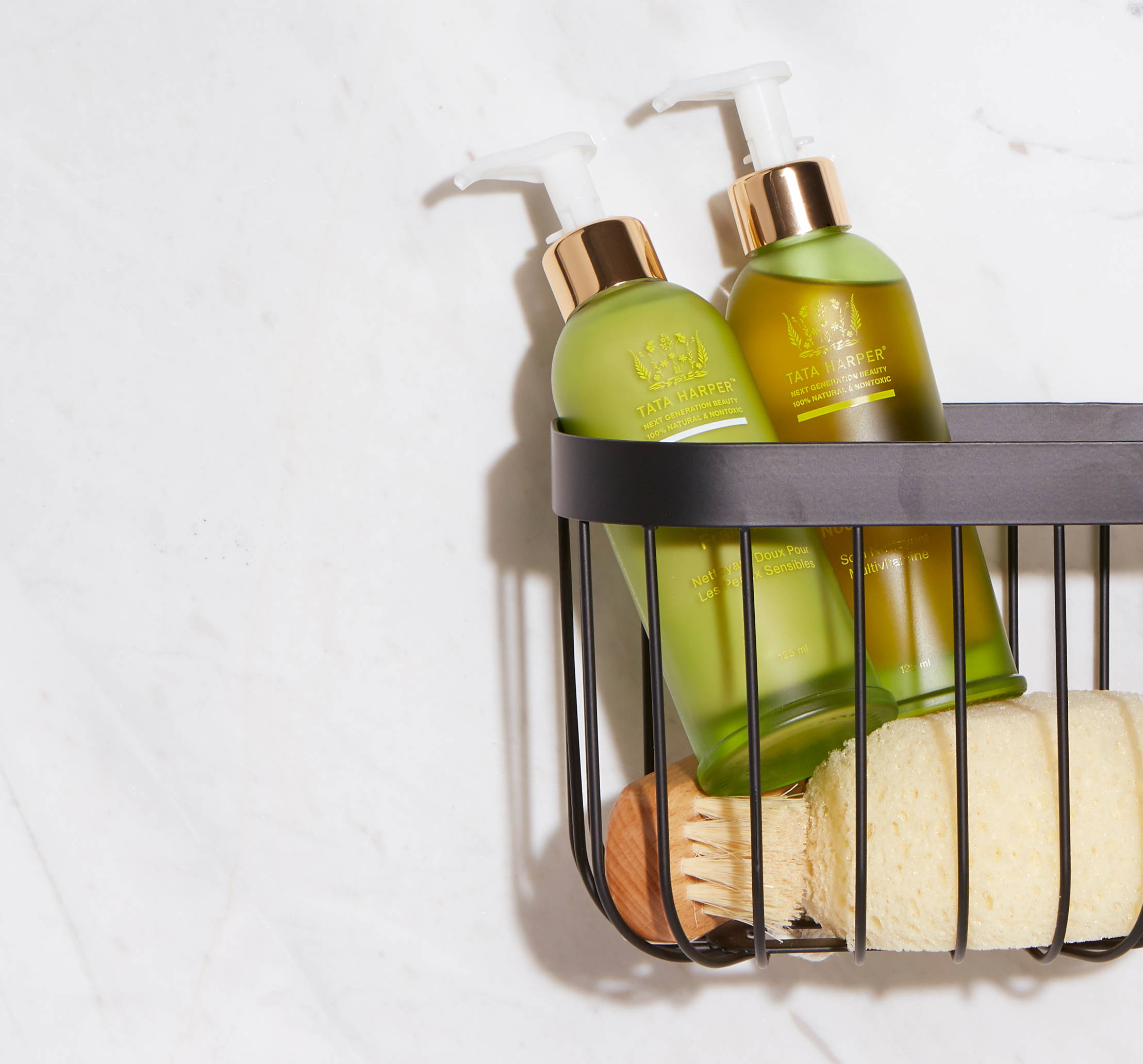 If I have mature skin looking for anti-ageing products
I adopt the Roll's of makeup removing oils, the Tata Harper Nourishing Oil Cleanser whose precious plant oils effectively plump up the skin. I follow with the Refreshing Cleanser Tata Harper rich in antioxidants and slightly exfoliating for a smoother and more radiant skin.
The double cleanse for mature skin
What you must not do when cleansing your skin
Most of the time, the cleaning is done quickly. With fatigue, children... We think that a cotton ball of micellar water applied in a hurry does the job. of micellar water applied in a hurry does the job anyway, and too bad if our skin is tight or red afterwards. reddened afterwards. Wrong! Not only is the skin not perfectly clean, but an unsuitable cleanser will accentuate minor skin problems.
Micellar water Micellar water: initially, this product was created for the backstage of the fashion shows, to remove the make-up of the tops between two shows. These lotions are very rich in detergents that denature the hydrolipidic film. And who says altered lipidic barrier says hello to dehydration and sensitivities!


Make-up remover wipes This is the same problem as with micellar water because the wipes are a nomadic product intended for exceptional use. The impurities are moved and not removed. There also, the skin can react by multiplying irritations and the small buttons.


Just water

: to remove impurities, they need to be encapsulated in a "

vehicle". Applying only water to your face is useless. Imagine the result if you did your dishes with just a little water...


Shower gel

For the body, this product is often full of detergent foaming agents and dyes. It thus causes a dissolution of the hydrolipidic film with with the key a

dehydrated skin

and sensitivities. (Feel free to highlight this passage for your significant other, men are often fans of this single-product cleansing method!)
Need to take stock? Make your skin diagnosis.
Don't hesitate to consult our shopping guides dedicated to concerns. They will help you make the right choice, whether it is to fight against wrinkles and fine lines or to fight against dehydration and imperfections or skin sensitivities. And to complete your routine, our files dedicated to scrubs and exfoliants or to the moisturizing cream will help you see things more clearly.