For the little anecdote, micellar water was born in the backstage of fashion shows about twenty years ago. At the time, micellar water was truly revolutionary! At last, a product that made it possible to remove make-up quickly and without water between two looks. Highly acclaimed by make-up artists, micellar water made a name for itself in magazines and thus invaded the market of face make-up removers... But is it really the best solution for removing make-up? At Oh My Creamwe favour its alternatives and explain why.
What is micellar water? 
Micellar water is an aqueous solution composed of micelles. Micelles are small particles of surfactant that attract impurities (make-up, sebum, pollution, etc.) and therefore both cleanse and remove make-up from the skin. Perfume or alcohol can also be found in the composition of certain micellar waters... In fine, micellar waters are detergents which, in the long term, can strongly alter the skin's hydrolipidic barrier.
Moreover, micellar water is generally proposed as a product to be used with a cotton pad to remove make-up and does not require rinsing. And therein lies the problem... Would you consider not rinsing your face after applying soap? Well, with micellar water it's the same thing: not rinsing a detergent product means leaving some of the surfactants and impurities on your face. Over time, it is not uncommon to observe significant dehydration, sensitivities and sometimes even imperfections. In absolute terms, micellar water is a very practical product! But it's better to keep it as a back-up solution on those lazy nights when it's better than nothing ;-) 
But on a daily basis, it is essential to remove all make-up and impurities from your face before going to bed. That's why at Oh My Cream, we swear by the double cleansing which consists of cleansing the face in two stages: firstly with an oily substance (alternative to micellar water) and secondly with a cleanser (foaming or not).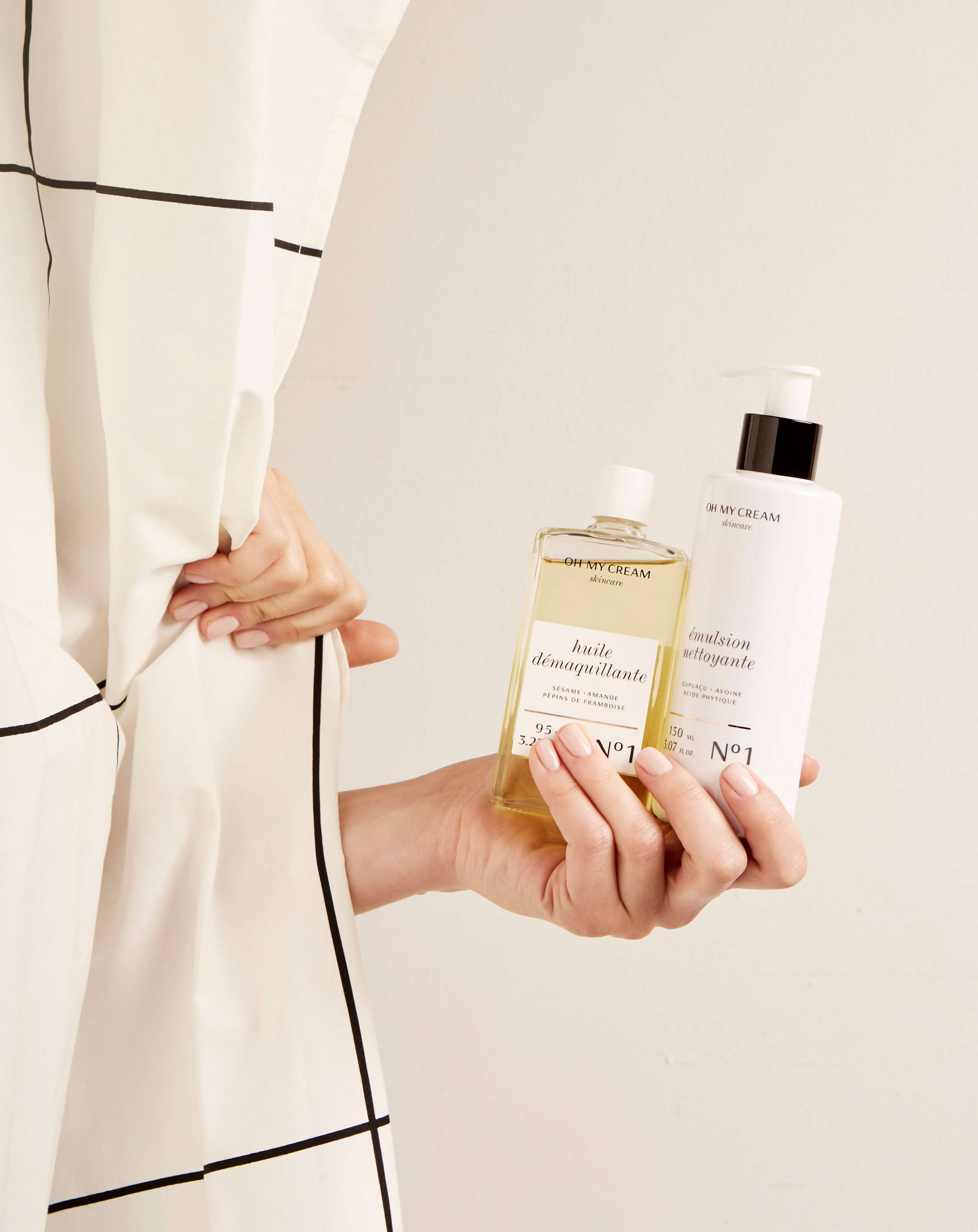 What are the weak points of micellar water? 
Even if micellar water is a rather practical and effective make-up remover (when you remember to rinse your face afterwards!), it still has several limitations.
First of all, the particles it contains are for the most part polluting for the environment. In addition, its application requires the use of cotton pads, which produces waste that could easily be avoided. 
In addition, the compositions of micellar waters are not always skin-friendly. For example, their formulas contain sulphates, alcohol, perfume, etc. The daily use of a micellar water can therefore, in time, damage the skin's hydrolipidic barrier and cause an armada of unwanted skin reactions. If you have dry skin, it may be even more uncomfortable; if you have sensitive skin, it may be even more sensitive; and if you have oily skin, it may produce even more sebum to defend itself.
What about organic micellar water? Micellar waters may contain surfactants (which are certainly less harmful to the environment), but which can nevertheless be irritating to your skin. So the best thing to do is to ban micellar waters from your beauty routine and turn to more skin-friendly alternatives!
The best alternatives to micellar water 
At Oh My Cream, we make it a point of honour to advise you to use a natural face make-up removerthat is not a micellar water! Our favourite alternative to micellar water? L'make-up remover oil(and make-up remover balms as well). There is nothing like a greasy substance to dissolve make-up, sun cream residues, pollution, perspiration... Nothing resists an oil or a make-up remover balm (even waterproof mascara), which, moreover, are very respectful of the skin and do not require cotton pads.
What's more, these products are very pleasant to use: there's nothing like a quick facial massage with an oil or a make-up remover balm to end the day well! All you have to do is apply a little product to a dry face and massage it in to dissolve any impurities. Rinse with warm water and you're done! Finally, to complete your make-up removal, follow up with a facial cleanser.
And even if you have combination to oily skin, make-up removal oils and balms can be just the thing for you, and can even help you regulate your sebum secretion. By mimicking sebum, make-up removal oils encourage combination to oily skin to produce less over time. These are therefore ideal alternatives to micellar water for all skin types!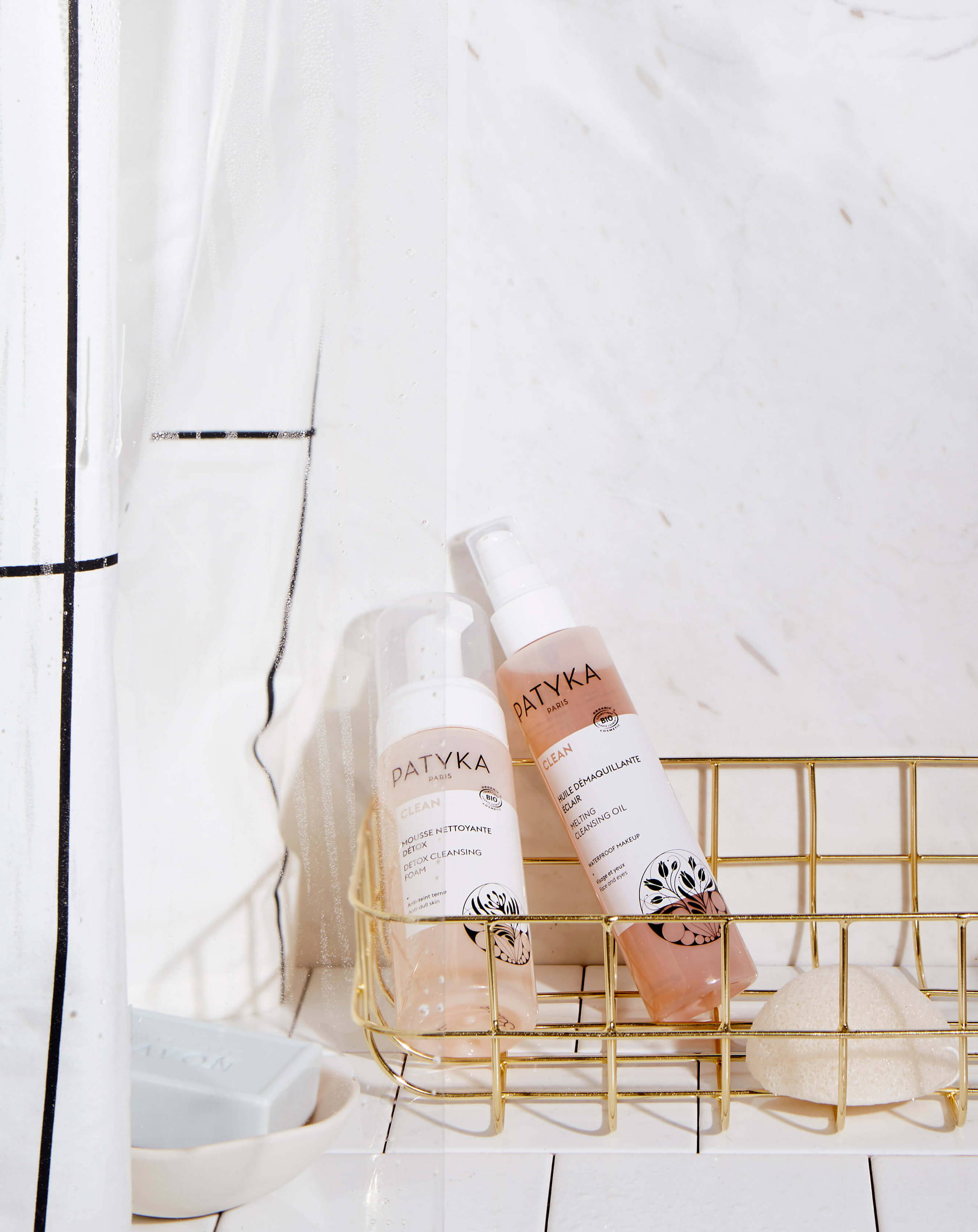 So, if you were to implement only one new beauty habit, it would definitely be double cleansing. Avoid the daily use of micellar water (for emergencies only!). And if you want to know more about clean cosmetics, don't hesitate to visit our online cosmetics catalogue.