Which Odacité serum(s) should I choose?
The heart of the Odacité concept? Each person, and especially each skin, is unique. And because the needs of our skin also change according to the weather, hormones, pollution... we should be able to personalise our beauty routine. This is what the 18 Odacité Concentrated Serums allow. Radiance, anti-imperfections, anti-ageing (and much more!), identify your needs thanks to the chart or opt for one of our combos ;-)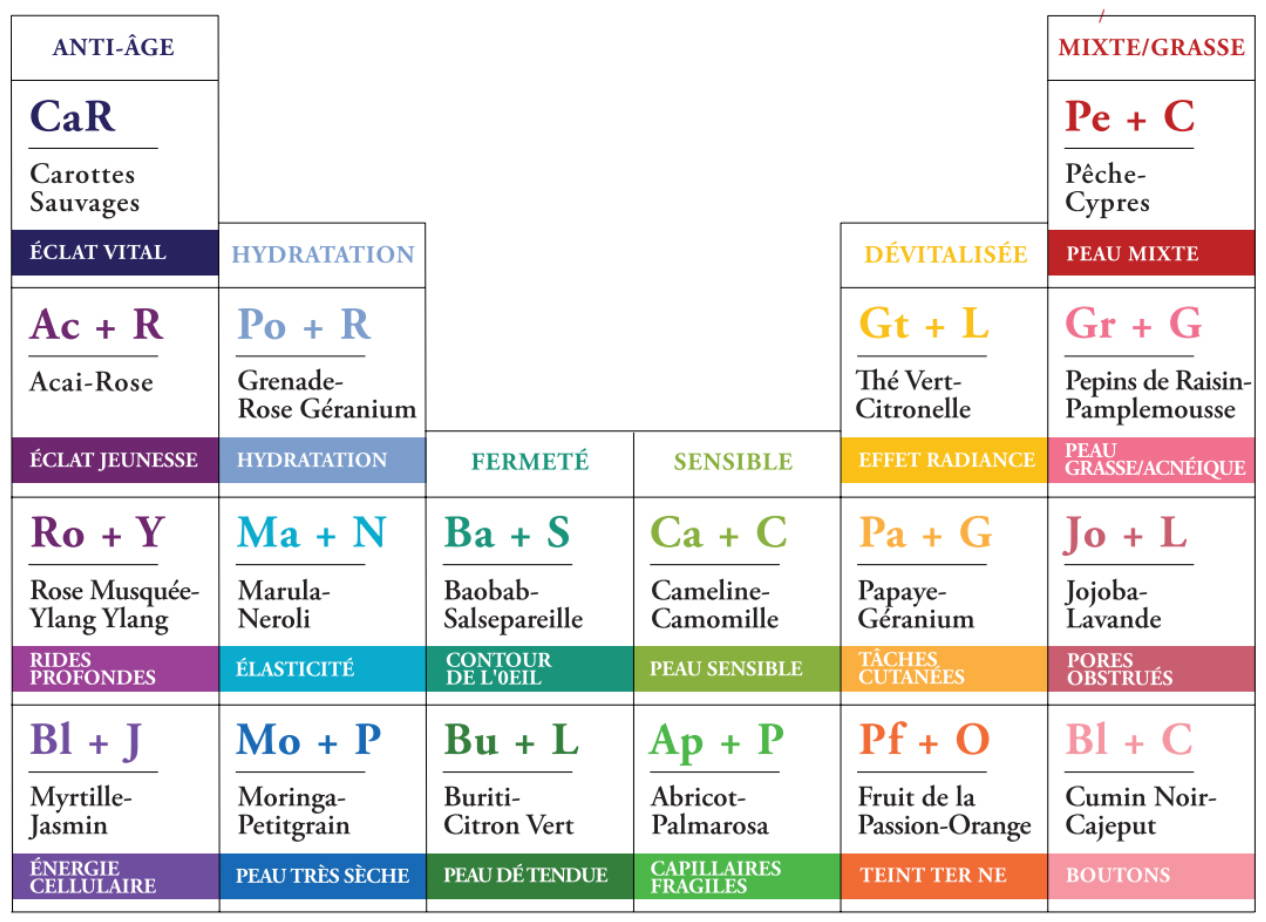 How to use the Serum Concentrates?
You can use Odacité Serum Concentrates alone (i.e. without even using a moisturiser afterwards) as they are rich in plant oils, or mixed directly with your moisturiser. Odacité serums can also work as a duo. Simply mix the two into your cream and you're done! All can be used morning and night.
Some suggested combinations
+
Dehydrated combination skin prone to blemishes
Vendor
po-r-hydration-booster-pomegranate-rose-geranium
€ xx
Vendor
bl-c-pimples-booster-black-cumin-cajeput
€ xx
Mature skin prone to wrinkles and very dry
Vendor
ro-y-deep-wrinkles-booster-rosehip-ylang-ylang
€ xx
Vendor
mo-p-very-dry-skin-booster-moringa-petitgrain
€ xx
Normal skin prone to dullness and sensitivity:
Vendor
gt-l-radiance-effect-booster-green-tea-lemongrass
€ xx
Vendor
ca-c-sensitive-skin-booster-camelina-chamomile
€ xx
Oily skin prone to shine and large pores
Vendor
gr-g-oily-acne-prone-booster-grapeseed-grapefruit
€ xx
Vendor
jo-l-clogged-pores-booster-jojoba-lavender
€ xx
Can I use the Serum Concentrates with my moisturizer, even if it is not the same brand?
Yes, just be careful not to use a moisturiser that is too concentrated in active ingredients so as not to "overload" your skin. Alternatively, you can turn to Oleosome Moisturiser, which is perfect for continuously releasing the properties of the Odacity boosters.
Still have questions? Any doubts about which serum(s) is/are right for you? Do not hesitate to contact our beauty experts, available online via chat, or by email at consultation@ohmycream.com