At the end of the summer and when we "un-tronze", it can happen that small pigmentation spots appear. These appear when melanin, in order to protect you from UV rays, becomes active and goes into overdrive, leading to an overproduction of pigments which then rise to the surface: these are the spots. To help you reduce their appearance, we guide you in the choice of an anti-spot serum and an anti-spot face cream.
Why incorporating an anti-spot serum into your routine changes everything.
These small bottles, ultra-concentrated in active ingredients, are one of the major solutions for the long-term treatment of pigmentation spots. The face serum is in fact a concentrated and ultra-targeted treatment which, thanks to its fluid texture, penetrates the deep layers of the epidermis for a targeted action. 
The anti-spot serum plays above all a preventive role, before the spots appear. It fights against free radicals (precursors of blemishes), and blocks the overproduction of melanin. Antioxidants, the worst enemies of free radicals, are therefore to be tracked down for these two actions. The anti-spot face serum is also effective when the spots have already appeared. Indeed, most of them are equipped with exfoliating agents such as retinol or glycolic acid, for example, to reduce their appearance. Finally, as hydration and beautiful skin go hand in hand, moisturising agents such as hyaluronic acid or aloe vera are also present in your anti-spot serum They help repair the skin and compensate for the resurfacing action of certain serums.
When to use an anti-spot serum?
We recommend using an anti-spot serum combined with an anti-spot face cream as a preventive measure when you are predisposed to their appearance. Medication (even just the pill), hormonal imbalance, stress, too much UV light or simply having dark or black skin, are all good reasons for spots. Also, if you are pregnant, it may be wise to add an anti-spot serum into your routine to prevent the appearance of a pregnancy mask. Finally, old age favours the appearance of pigmentation spots, as melanin production is more anarchic.

At the beginning of the summer, but also at the end of the season, it can be essential to use an anti-spot serum. For those who already have spots, opt for a face serum as soon as you see them appear to prevent them from spreading or darkening.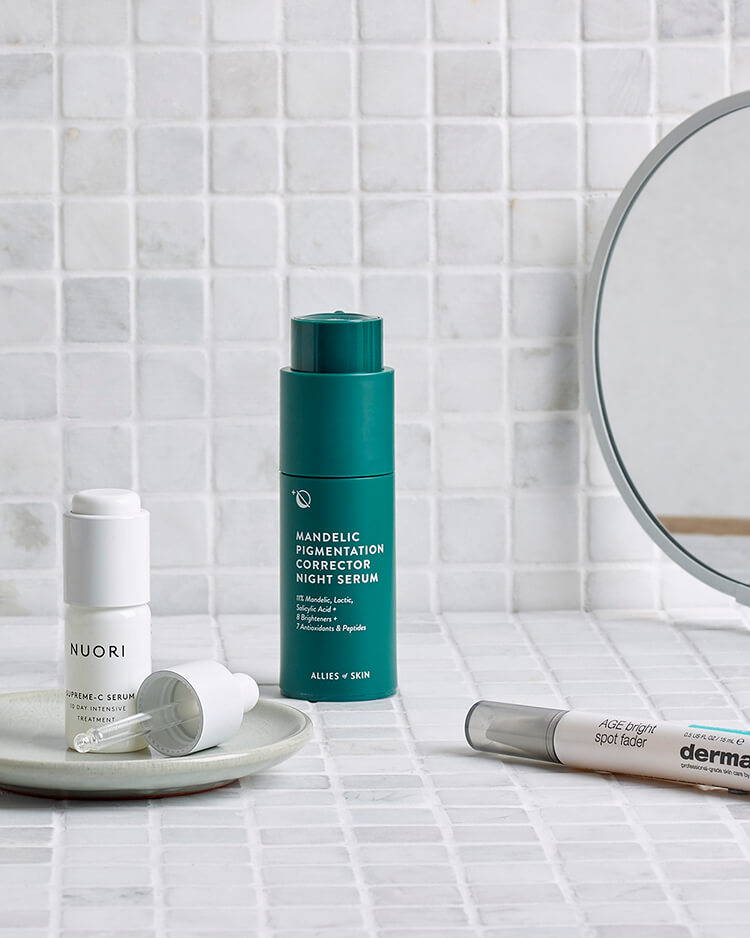 Anti-spot serum: how to choose it?
The universal: Anti-Spot Corrector Serum, PatykaThis serum is suitable for all skin types, either to prevent spots or when they are present. Its organic complex of sea fern, oxyresveratrol and fruit acids allows an action anti-spot action on the face by reducing pigmentation, inhibiting the activity of tyrosinase responsible for spots and stimulating cell renewal.
As soon as spots appear: Renaissance BrightLight Lightening Serum, Oskia: Following sun exposure, pregnancy or blemishes, pigmentation spots can be reduced with this anti-spot serum. Its complex of 13 active lightening ingredients reduces spots by up to 14% in just 28 days, and it's proven!
For sensitive skin: Apostle Radiance and Anti-Spot Serum, Antipodes. Ideal for the most fragile skin types, this brightening and anti-ageing face serum combats pigmentary irregularities while reducing inflammation, leaving the skin radiant and unified. Its key active ingredients: Vinanza grape and kiwi, which inhibit melanin production while boosting cell renewal.
For urban skin: Mandelic Pigmentation Corrector Night Serum, Allies of Skin: This anti-spot serum is a fruit acid based night serum that treats brown spots and residual blemish scars. It is without doubt one of the most concentrated and is only recommended for skin that is not sensitive.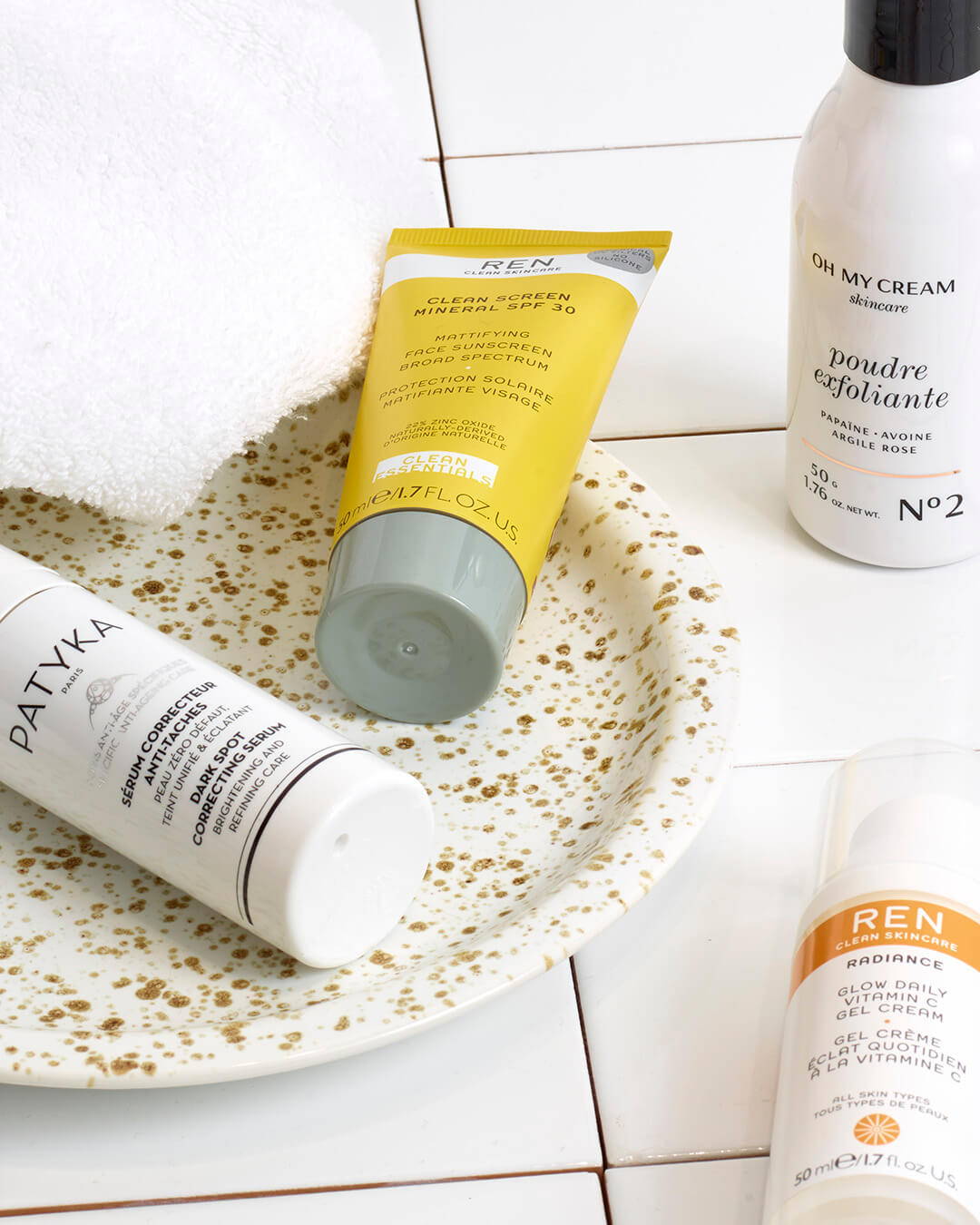 The benefits of the anti stain face cream
In addition to its serum, the icing on the cake is to add a anti-spot face cream ! To choose it, here are our recommendations...
Sunscreens, THE prevention anti-spot face par excellence. Indeed, the sun is one of the main causes of the appearance of pigmentation spots. Dermalogica Pure Light SPF50 is therefore the right compromise for a moisturising, protective... and anti-spot action! This anti-brown spot sun cream considerably reduces the appearance of pigmentation spots while preventing their appearance. A real all-round day care with high protection.
Vitamin C, the active ingredient to track down for a more even skin tone. Vitamin C is also appreciated in your anti-spot face cream thanks to its anti-free radical action. The Ren Clean Skincare Daily Radiance Cream Gel with Vitamin C, by reducing the production of melanin and neutralising the enzyme responsible for the appearance of spots, therefore leaves a luminous skin for a more even complexion.
Combine an action anti facial blemishes and anti-aging action. WithOskia's Renaissance 360 Anti Ageing Day Cream, you can rely on a anti brown spot face cream quality cream! It inhibits the production of melanin, boosts the production of collagen and deeply moisturises thanks to hyaluronic acid.
Our anti-spot tips for the face
In addition to your serum and anti stain face creamserum and face cream, perform a gentle exfoliation 1 to 3 times a week. This is an essential part of an anti stain face routine ! With Oh My Cream Skincare Exfoliating Powder, smooth your skin texture and promote cell renewal for a luminous, even complexion.
Do face masks. Turn to Dermalogica 's MultiVitamin Power Recovery Mask for a anti-spot face mask. Its vitamin A and vitamin C promote cell renewal while reducing hyperpigmentation.
And above all, limit exposure to the sun! But as it's always tempting to laze around on the beach or by the pool, don't forget to get a anti-brown spot sun cream and reapply it every two hours.
Need more tips for a targeted brightening routine? Feel free to send your questions to consultation@ohmycream.com