shopping guides
Dry skin: the perfect routine to nourish the skin
Your skin has always (or almost always) felt tight . .. It must be said that comfort and your skin have always been a bit complicated. You feel that your skin is constantly in need of oil: it literally "drinks" the serums and creams that you apply at high speed. It's a fact that dry skin is part of your skin's basic nature. But it doesn't have to be that way... With the right products, it is possible to restore comfort and radiance to even the most dry skin.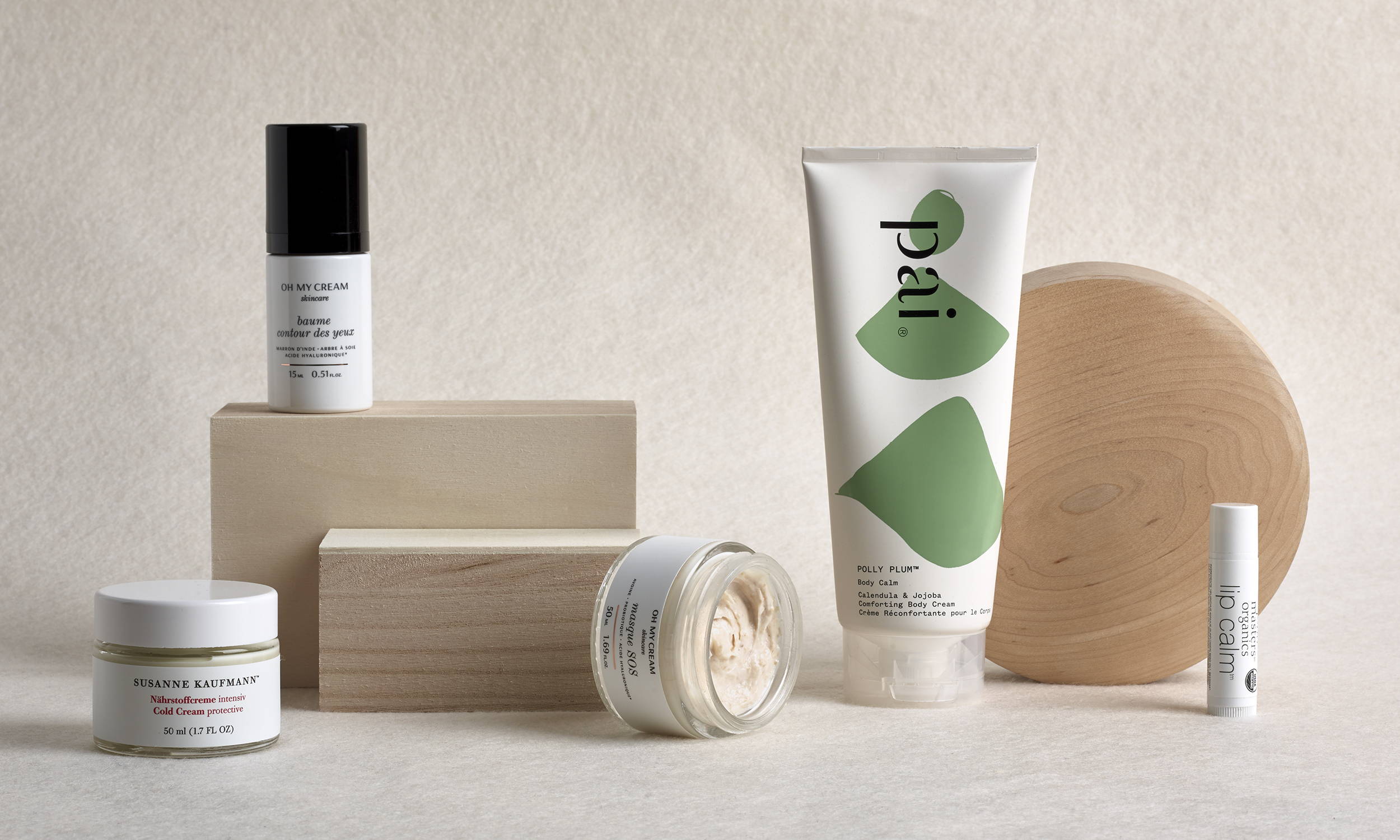 My problem
Dry skin
What is dry skin?
It is a skin that plays thrifty: it functions in slow motion and does not produce enough fatty substances to bring comfort and suppleness to the skin. Its hydrolipidic film is non-existent or altered, and thus "exposed", this type of skin can easily become dehydrated (because without its protective shield, the skin can no longer retain water). Thus, a dry skin can easily become dehydrated and have to compensate for a lack of water in addition to the lack of fat. It can also become very sensitive, always because of this poor surface barrier and the altered cement that surrounds our skin cells.
How to recognize it? 
My skin is uncomfortable. It pulls all the time and the scabs are my daily lot in winter.

I'm starting to have signs of sensitivity (redness, tingling, tightness) on fragile areas, such as the cheekbones.

My complexion is dull and lacks light.

My skin lacks softness, it is rough and my pores are almost invisible.

I have some fine lines that are starting to show.
What are the causes of cutaneous dryness?
This feeling of discomfort can stem from a number of factors:
External aggressions such as cold, wind, pollution (and especially free radicals) weaken the epidermis.

But an inappropriate routine can also cause these problems. For example, excessive exfoliation (with a mechanical scrub or during a dermatological peel), the use of a toner that is too astringent or irritating can also dry out and, by boomerang effect, lead to skin dehydration.

In addition, natural aging is an unavoidable factor that can increase the dryness of the skin. Over the years, collagen and elastin fibers and hyaluronic acid become rarefied. The epidermis loses its substance, becomes thinner and more fragile.

Finally, a diet deficient in vitamin A, trace elements and fatty acids has a negative impact on the natural beauty of the skin.
What to do about dry skin?
A few good gestures can quickly solve the problems of very dry skin. By adopting our 3 essential gestures, you will be able to find a healthy skin that is no longer tight!
My 3 Essential Steps
Dry skin
1
The double cleanse
First my Cleansing Oil or Balm, then my Cleansing Milk or Gel
Exfoliation is not just for normal skin! By eliminating excess dead cells, I optimize the penetration of nourishing active ingredients. This second step will soften the skin and make the skin care products applied afterwards more effective. Finally, I forget about coarse-grained scrubs, which are too aggressive and may irritate and heat up my skin. To recover softness and comfort, I choose a face scrub that is adapted to the nature of my skin.
I can opt for a gentle scrub in powder form that emulsifies with water, such as Oh My Cream Skincare Exfoliating Powder.
I can choose an exfoliator to leave on like a peeling mask like the Tata Harper Resurfacing Mask. Its gentle enzymes gently peel away dead skin cells to boost the complexion's radiance.
Looking for a more pronounced boost? Oskia Renaissance Mask Resurfacing M ask combines fruit acids and prebiotics to exfoliate while protecting the surface barrier.
Finally, we finish our routine by protecting our skin with a care oil for dry skin. The face oil, as a serum or on its own, is the ultimate repairing gesture for dry skin. Rich in essential fatty acids and nutrients, it provides comfort and nutrition, while leaving a pretty "glow" on the skin.
To repair during the night, I offer myself the Cell Repair Night Oil Aurelia Probiotic. Its probiotics are a real plus for getting an unbalanced hydrolipidic film back on track.

For a slightly richer texture that brings light to the complexion, I adopt Ren Skincare's Rose O12 Hydrating Shield Serum.
Our tips to avoid dry skin
To maximize results, I add a few well-chosen specific gestures to my routine. Nourishing face mask nourishing face mask, ultra-gentle lotion, comfortable eye contour and moisturizer... I choose from among these adapted and targeted treatments to give myself the most complete anti-strain routine possible. Need to know more? Our moisturizing cream shopping guide will help you.
The super-soft lotion
Patyka
Lotion Lactée Apaisante
The nourishing eye cream
Susanne Kaufmann
Nourishing Eye Cream Baume Contour des Yeux
The repairing cream for sensitive skins
Pai Skincare
Love & Haight Crème Hydratante
Like-a-duvet-for-the-skin moisturizing cream
Herve Herau
La Pommade
The anti-ageing and comforting balm
Dermalogica
Super Rich Repair
The night cream
Antipodes
Avocado Pear Crème de Nuit Nourrissante
The nourishing mask
Susanne Kaufmann
Moisturising Mask Masque Hydratant
The SOS mask that nourishes and soothes
Patyka
Masque Hydratant Intense
The multi-use treatment
Egyptian Magic
Baume Egyptian Magic
The DOs & the DON'Ts
The DOs
Mix a few drops of oily serum with your moisturiser to replenish the missing protective film.

Apply a day care product that includes an SPF daily, especially when exposed to the sun. Our hydrolipidic film also has a (small) barrier function against UV rays: if it is absent, this protection is not assured.

Focus on super-nutritive night care products to recharge the skin with fatty substances, and indirectly play on the skin's hydration. Do not hesitate to massage these products to stimulate the sebaceous glands, responsible for the production of sebum. Soft skin guaranteed after a few nights of sleep!
The DON'Ts
Forget foaming cleansers saturated with irritating surfactants that will dry out and aggravate discomfort: opt for gentle soap-free cleansing bases and prefer milk or cream textures.

Avoid showers that are too hot, as this could melt the famous hydrolipidic barrier and make the skin even drier! We also think of applying a milk for the body to every exit of the shower.

Avoid dry air, air conditioning, heating or pollution; external aggressions have a real impact on skin lipids.

Avoid alcohol and drink plenty of water.
Need to take stock? Make your skin diagnosis or consult our file to be sure to make the difference between between dry and dehydrated skin.