Having an oily skin can be a real ordeal. If you don't use the right skincare products, this temperamental skin can overreact and without realising it, you'll enter the vicious circle of overproduction of sebum. Not very glamorous, is it? So how do you calm down this skin condition without causing that unsightly oily film to appear again? In this guide, we tell you all about oily skin and the benefits of serums for oily skin !
What is oily skin?
The oily skin is a skin type that naturally produces excess sebum. With this type of skin, shine appears very quickly during the day and becomes more intense especially in the T-zone (forehead, nose and chin). The result: the complexion is blurred and the skin is never really clear...
This overproduction of sebum can be due to internal and external factors. Internal factors correspond to hormonal disturbances acting on the sebaceous glands, which produce sebum. External factors, on the other hand, are more easily controlled and correspond to external aggressions such as high heat, UV rays, pollution or the use of a skin care product that is too irritating for the skin. Yes, when our skin feels attacked it protects itself by producing an oily film.
As you will have understood, oily skin has several minor problems. Excess sebum not only hinders the harmonious renewal of the epidermis, but above all it tends to clog the pores, which are often dilated in oily skin. This type of skin is therefore prone to imperfections because the skin feels suffocated. And as if that wasn't enough, excess sebum is also responsible for make-up not staying on the skin... 
Today we're putting an end to the constant battle against shine! We explain how to treat your oily skin and we focus particularly on the oily skin serumideal to treat in depth the most stubborn problems!
Oh, we almost forgot to remind you that oily skin also has its advantages. Yes, it does! First of all, you should know that oily skin ages much better. Yes, as we said, the oily film protects the epidermis and therefore makes it less sensitive to irritation and external aggression. And then, oily skin is not inevitable! This type of skin can be treated and even treated quite well, but you need to use the right products. But that's what we're here for ;-)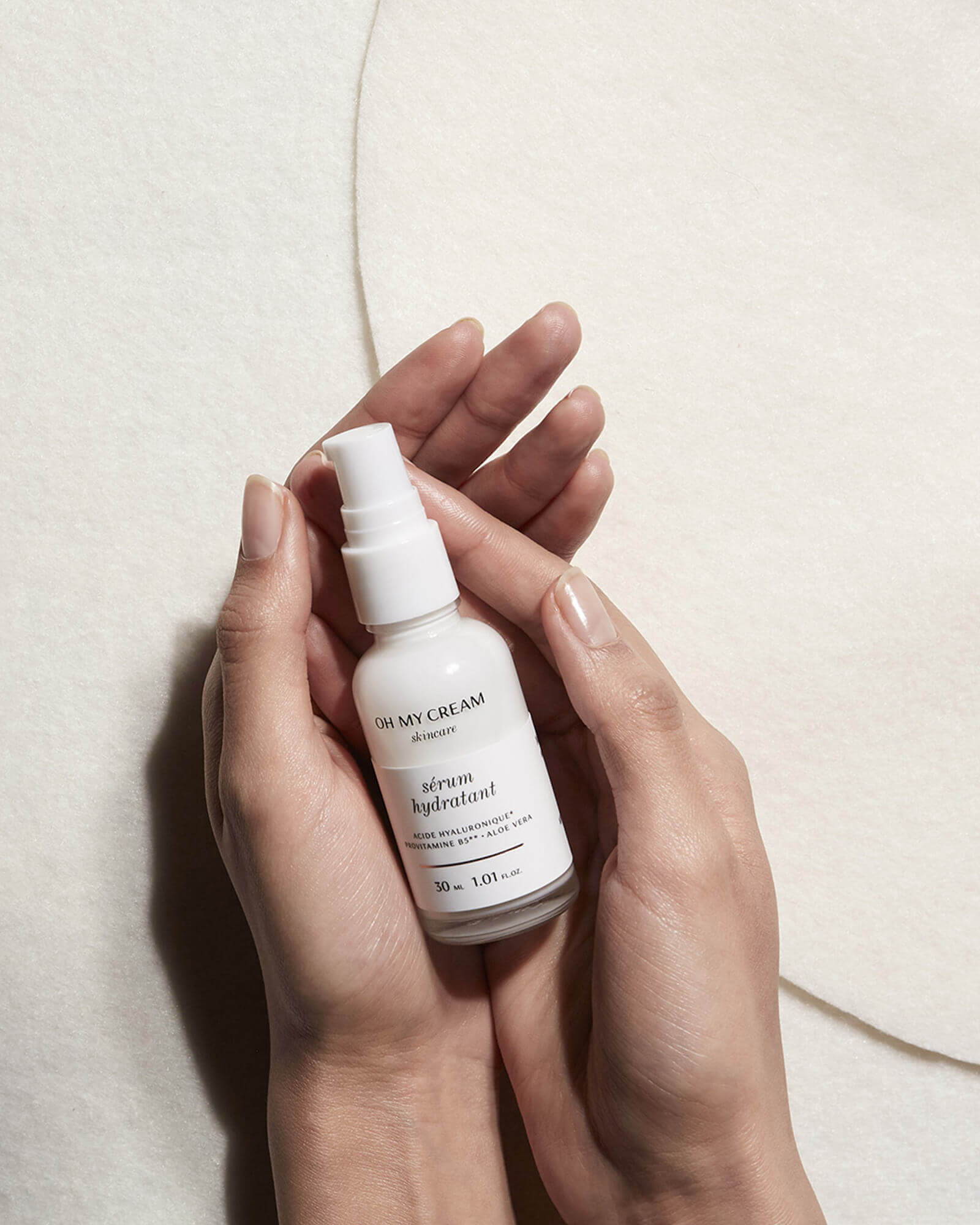 How can an oily skin serum help regulate your skin?
In this guide we have decided to focus on serums for oily skin because these small bottles are the most capable of treating skin problems in depth. However, it should never be forgotten that the effectiveness of a product depends on the whole beauty routine that surrounds it and the lifestyle that we have on a daily basis.
What is a serum? But above all, what is a serum for oily skin? 
A serum is a formula that is highly concentrated in active ingredients and which has the particularity of penetrating the deepest layers of the epidermis. It is therefore the most suitable treatment for the most stubborn skin problems. Just a few drops of serum before moisturising cream is enough to wake up the most tired skin and give the dullest skin an immediate glow.
Moisturize
The oily skin serums or moisturising serums for oily skin will act as a regulator for the epidermis. Firstly, they will give the skin what it fundamentally needs, a hydration boost. Indeed, very often and against all your expectations, an oily skin can be dehydrated. Dehydration can also be a cause of overproduction of sebum as the skin seeks to protect itself. A dehydrated oily skin hydrating serum will therefore provide a shot of hydration, ideal to start treating any problem.
Regulate
Secondly, it's not about filling your cells with water, but about regulating your sebum protection. The oily skin serum must therefore contain sebum-regulating ingredients to limit overproduction and allow your skin to breathe.
Care
Finally, after moisturizing and regulating your skin, the serum for oily skin may also contain active ingredients to treat other minor concerns, such as blemishes or redness.
What are the different oily skin serums available and which one should I choose? 
A moisturizing serum for oily skin: The Moisturizing Serum, Oh My Cream Skincare
Key ingredients: Hyaluronic acid - Aloe Vera juice
For dehydrated dehydrated oily skinthere is nothing better than a good oily skin hydrating serum to replenish your skin cells with water. To find out if your oily skin is dehydrated, pinch a small area of your face. If you see small streaks appear, your skin is lacking water. The Hydrating Serum from Oh My Cream Skincare Moisturizing Serum deeply moisturizes thanks to its concentration in hyaluronic acid and soothes thanks to its aloe vera juice. Thanks to these two ingredients, oily skin will feel less stressed and will tend to slow down the overproduction of sebum.
A purifying serum for oily skinCopaiba & Zinc Anti-Imperfection Serum, Pai Skincare
Key ingredients: Copaiba - Zinc - Kukui oil - Acai berries - Hyaluronic acid
If you feel a real need to purify your skin, use the Anti-Imperfection Serum Pai SkincareAnti-Imperfection Serum, an oily skin serum serum that is perfectly tolerated by the most sensitive skins. This very gentle balancing serum reduces shine thanks to its concentration of zinc, a sebo-regulating active ingredient, while blurring the appearance of imperfections and persistent scars thanks to copaiba, an anti-bacterial and anti-inflammatory agent. Kukui Oil has restorative properties and Acai Berry is a great antioxidant. And the star moisturising ingredient, hyaluronic acid, is also present to prevent the regulating effect and to maintain the moisture in the tissues without weighing them down.
A soothing serum for oily skinEvercalm Anti-Redness Serum, Ren Clean Skincare
Key ingredients: Laminaria seaweed - Arnica and dock - Yeast and milk protein - Hyaluronic acid
Oily skin can also feel the need to be soothed. When it is too irritated, it protects itself with its protective oily film. Evercalm Anti-Redness Serum from Ren Clean SkincareEvercalm Anti-Redness Serum, formulated with arnica and dock, will inhibit skin inflammation while stimulating cellular repair and immunity with laminaria algae and milk yeast and protein.
An anti-ageing serum for oily skin: Oxyclear, Joëlle Ciocco
Key ingredients: Natural Retinol
Joëlle Ciocco 's Oxyclear is an anti-ageing skin care product based on natural retinol that smoothes, mattifies, corrects and treats imperfections while reviving the complexion. By minimising the effect of external aggressions on the skin, this treatment slows down the skin's ageing process and is therefore a good remedy against the first signs of ageing. A little extra: it is a real ally in ensuring that your make-up stays put!
The routine we recommend to complete your oily skin serum
Use a oily skin serumHaving a complete beauty routine adapted to this type of skin is better! Indeed, it is essential to respect the 3 essential gestures to start on the right basis for a clean and healthy skin.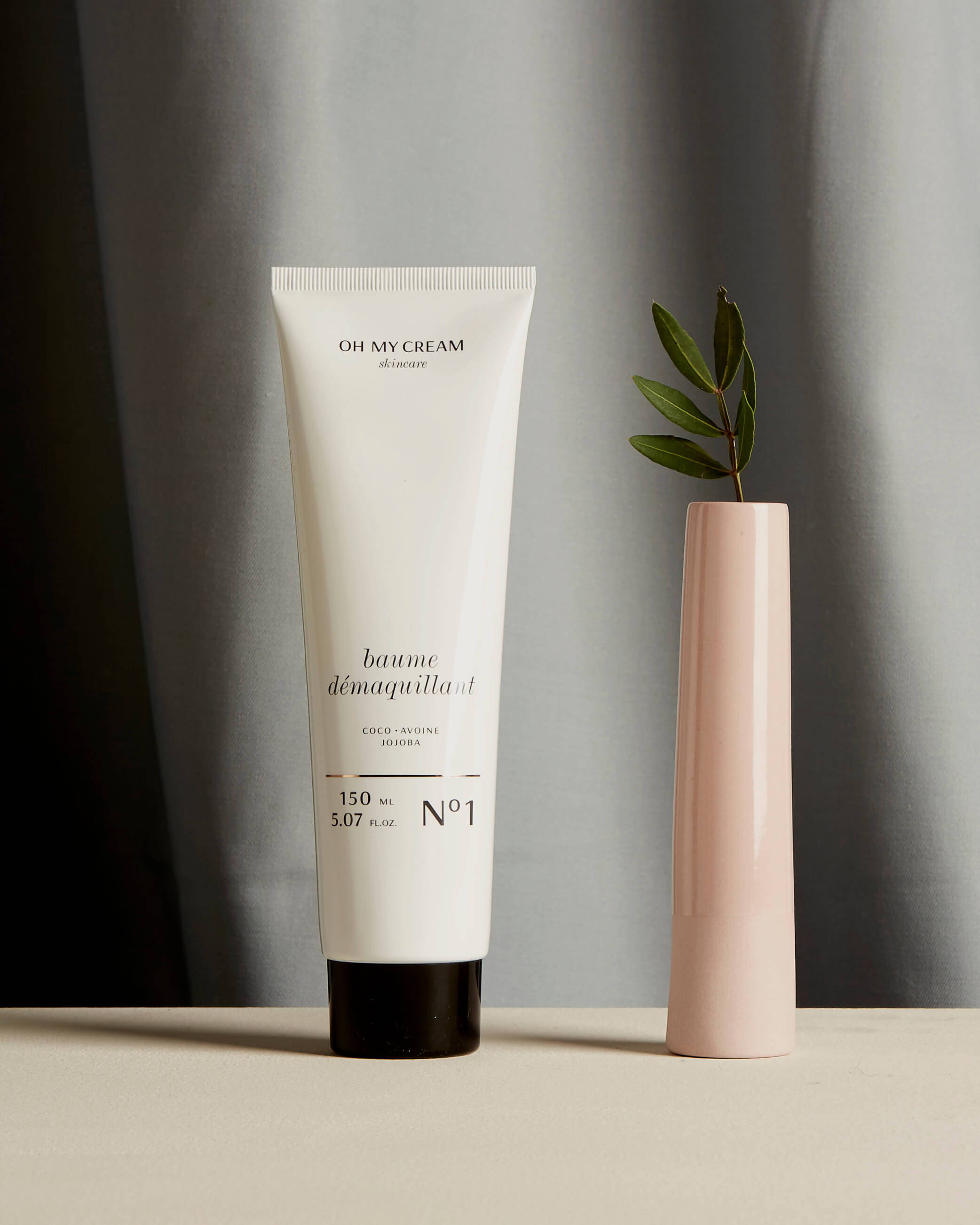 Double cleanse
Due to the overproduction of sebum, oily skin is more prone to suffocation and clogging. It is therefore essential to clean them well. The first phase of cleansing, the oil and make-up removal phaseis the most decisive. It is this phase that will de-clutter the skin by ridding it of all the accumulations of the day - excess sebum or pollution. The second phase, the cleansing phaseThe second phase, the cleansing phase, will refine the cleansing to obtain a clean and healthy skin. Be careful, you must avoid scouring products such as detergent soaps or micellar waters which, although they remove your excess sebum at the time, only reactivate its production following a sensitisation of the skin.
Double cleansing for oily skin:
Make-up Remover Balm,

Oh My Cream Skincare

Gentle Gel Cleanser Geranium and Bergamot,

Grown Alchemist
Gentle exfoliation
As we have already said, oily skin is more congested than other skin types. It is therefore particularly recommended for these skin types to practice a gentle exfoliation, the beautiful skin gesture par excellence! Here, we banish the grainy scrubs that are ultra-irritating for the skin and favour enzymatic or fruit acid scrubs, which are ideal for stimulating cell regeneration while being gentle.
The gentle exfoliation for oily skin:
Exfoliating Powder,

Oh My Cream Skincare

Daily Superfoliant,

Dermalogica
Skincare oil
It is necessary to remember that, YES, oily skin can perfectly well tolerate a skin care oil. You simply need to choose your oil carefully and turn to sebum-regulating plant oils. This will protect your skin while comforting it and helping it to fight against dehydration. In fact, the care oil provides the necessary layer of fat to your skin so that it stops producing excess sebum.
Oily skin care oils:
Corrective Oil,

Oh My Cream Skincare

BioRegenerate Oil with Wild Rose Oil,

Pai Skincare
So here you are, back on track to help your skin regulate itself and gradually regain a more radiant complexion and above all... less shiny! So, which oily skin serum made you fall in love?