It's all about balance! Yes, when pores are dilated, it is because the skin, by nature or in times of crisis, goes into overdrive and produces too much sebum. This overproduction is the result of a skin imbalance, and it is this issue that needs to be addressed before tackling large pores. In this guide, we talk to you about dilated pore creamthe best ally to rebalance your skin!
Why do I have large pores? 
Having large pores is a fairly common problem for combination to oily skin. The reason for this? Because of a disorder of the sebaceous gland, the skin can produce too much sebum. Sebum helps to protect the skin from dehydration and is necessary to keep it healthy. However, when the sebaceous glands become overactive due to a variety of factors, too much sebum can clog the pores, and the pores, in an attempt to "breathe", will become enlarged. Unfortunately, when the pores are dilated, this opens the door to impurities and therefore to small imperfections...
Which dilated pore cream will suit me best?
To combat this problem, you need to treat the origin of the problem and choose a dilated pore cream that regulates sebum production. Look for active ingredients called seboregulators that help to rebalance your skin. Jojoba oil, for example, thanks to its composition rich in monounsaturated fatty acids, is similar to human sebum and helps regulate its production. You can also rely on other vegetable oils such as macadamia, hazelnut or sesame oil. Finally, zinc, known for its rebalancing power, also helps to purify and treat imperfections. And to discover other active ingredients and to help you find these famous active ingredients, we present you our small selection of cream for dilated pores.
The rebalancing power of geranium : Geranium extract is a great ingredient in your skincare routine. It normalizes sebum production and soothes, while decongesting pores, thus preventing the appearance of imperfections. You will find it in the Hydra-Repair Day Cream Camellia Flower & Geranium from the brand Grown Alchemist. A silky-textured, ultra-moisturizing treatment that balances the skin, restores its comfort while tightening pores, and all without leaving an oily finish!
Jojoba & Macadamia oil combo: These two ingredients combined are ideal for moisturising, balancing and mattifying skin prone to minor oiliness. This time it's in the Rejoice Light Day Cream for Enlarged Pores Antipodes you'll find it! It's the perfect cream for reactive combination skin prone to pimples, all in a very moisturising texture. And it smells like vanilla and sweet almond.
Burdock root: It is in the anti-dilated pore cream Matte Perfecting Fluid of Patyka that you will find the extract of organic burdock root, a sebum-regulating and purifying active ingredient that helps to restore the skin's balance and hydration. Its fine, non-sticky texture makes it a great daily ally for controlling shiny areas without drying out the skin!
Konjac root: By containing konjac root extracts, the cream dilated pore Balancing Gel T Zone Balancing Gel from Ren Clean Skincare T-Zone Balancing Gel absorbs excess oil and tightens pores. It's the ideal lightweight moisturiser for young combination skin!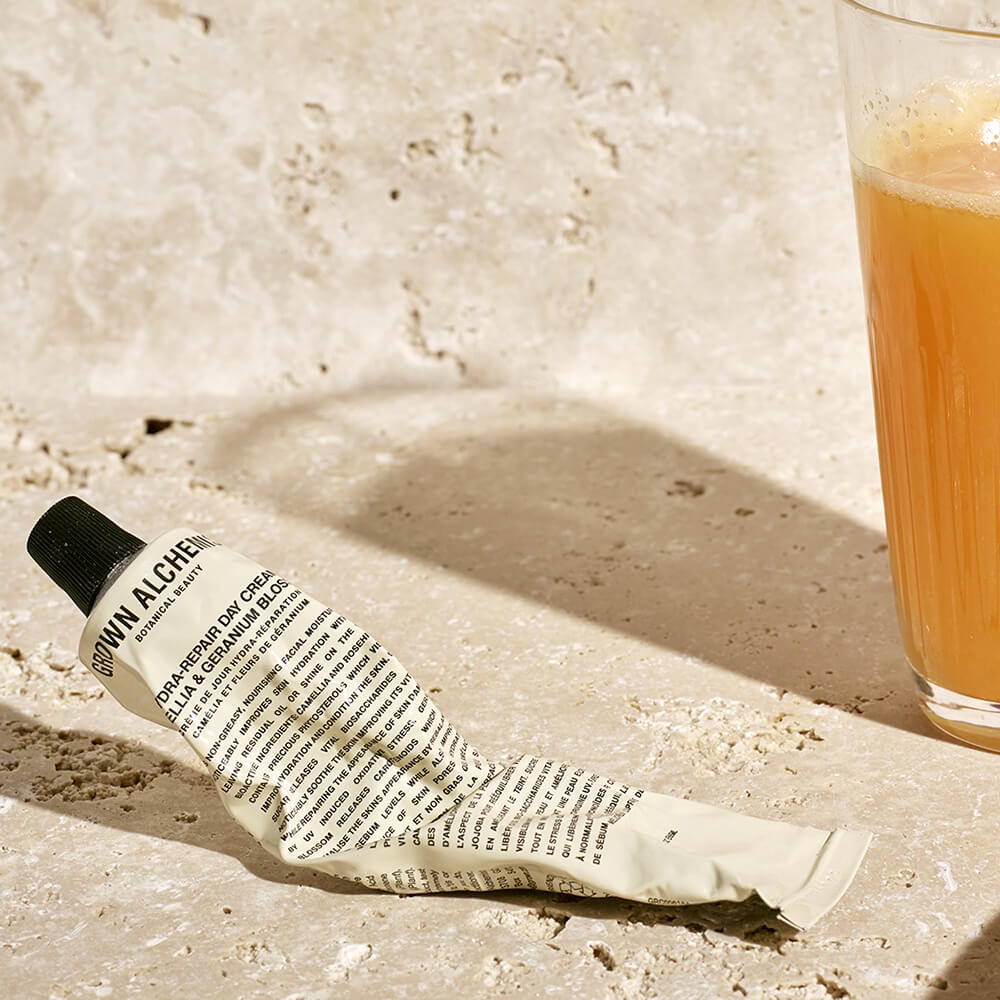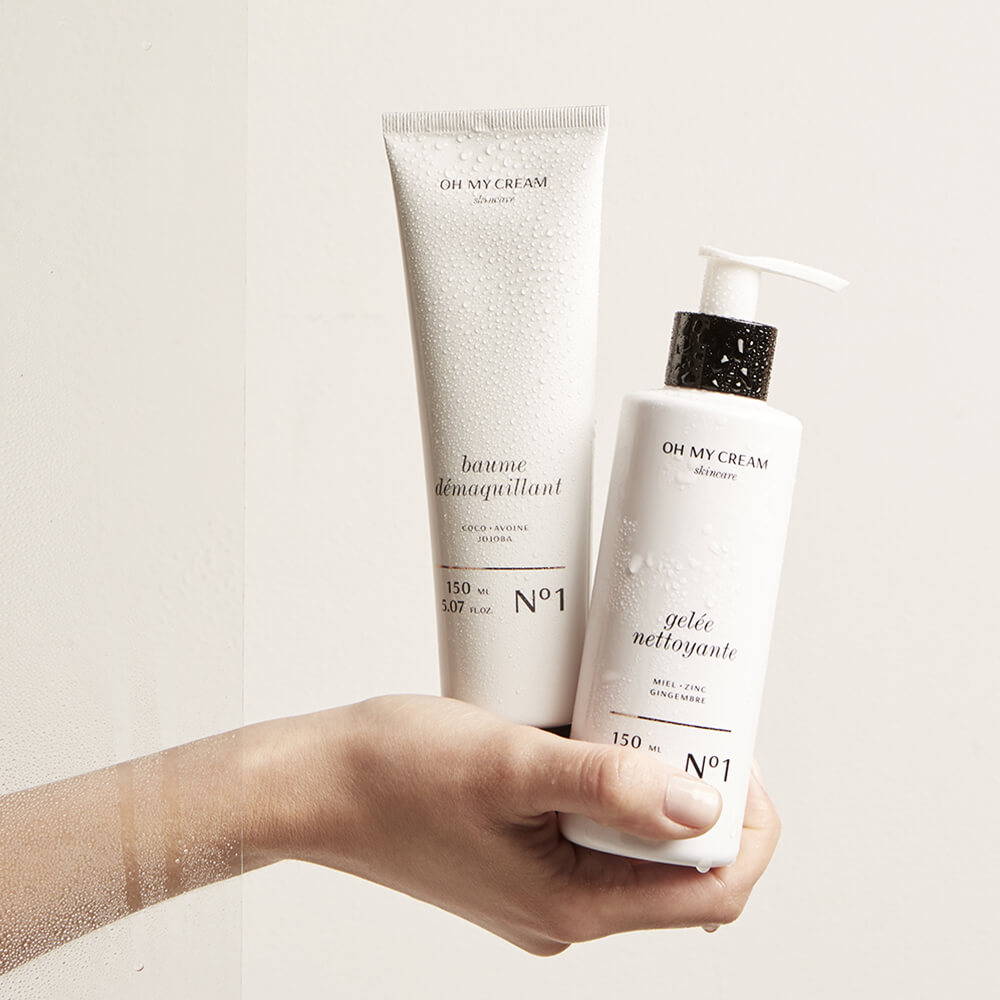 What routine should I adopt to get rid of large pores? 
To accompany your dilated pore cream and create an ideal rebalancing routine, here are the steps to take:
Double cleanse
Make-up removal oil or balm: This first phase is essential to remove make-up and all the fatty substances that clog your skin, such as sebum. Clearing the skin of these imperfections allows it to breathe better and become less tired, but it also allows it to better receive and absorb your

dilated pore cream

afterwards.

Emulsion or gel cleanser: The second phase of the double cleansing process refines the cleansing while gently treating shine and dilated pores. We therefore try to use a cleanser with purifying and regulating active ingredients such as clay, mint or tea tree. 
Gentle exfoliation
Not to be confused with mechanical exfoliation with grains, which is often too aggressive for the skin, gentle exfoliation uses either enzymes or fruit acids. In contact with the skin, these elements will nibble away at the small dead skin cells and thus allow your cells to regenerate properly. Gentle exfoliation is in fact the ultimate skin care routine, because by allowing the skin to renew itself, it helps to correct many skin problems. Before applying your anti-dilated pore creamBefore applying your anti-dilated pore cream, perform a gentle exfoliation once or twice a week to gently unclog your pores.
Serum
Finally, for the most stubborn problems, it is necessary to act in depth, and what better way to do this than with a serum? Thanks to its hyper-concentrated composition, a serum penetrates the deep layers of your epidermis for an ultra-targeted action. To boost the skin's regulatory capacities, you should therefore look for serums containing sebum-regulating and purifying active ingredients. Be careful though, the serum is a complementary care and will not replace your cream for dilated pores.