Be clean all the way to your nails! Because applying nail polish is an art, we give you our best tips for a perfect manicure. And because we advocate cleaner beauty, we recommend our favourite products to help you choose treatments that let your nails breathe and even... strengthen them! So get your tools :)
The essential steps for a successful manicure
The word manicure encompasses all the care required to have beautiful, healthy and well-nourished nails: there is therefore a whole series of steps to follow before applying your nail polish to ensure that it stays on well ;-)
Step 1: File your nails
Shape the desired size with a file, preferably made of glass or cardboard. Metal files tend to damage the nail. File gently and always in the same direction. Yes, going from right to left could cause the nail to split... 
Step 2: Push back your cuticles
Gently push back the cuticles with a small, suitable utensil. If they are too "hard", do not force them. In this case, soak your nails for a few minutes in a bowl of water with half a lemon juice and push them back. This will give you clean cuticles and a clean nail base.
Step 3: Polish your nails
Using a polishing file (very fine grain), gently file the surface of the nail. This step will allow you to get rid of the cuticles still stuck to the nail to obtain a smooth surface for a better adhesion of the varnish and a cleaner result.
Step 4: Apply a protective base
To protect your nail from possible harmful substances if you do not use a nail polish nail polish, it is preferable to apply a nail polish base which will act as a protective barrier. Indeed, the nail being porous, it absorbs a part of the pigments and substances of your nail polish. It is also this base that will prevent you from having a coloured or yellowed nail in the long run...
Step 5: Apply your nail polish
We now move on to the application of nail polish Make sure you don't have too much material on the brush and apply the nail polish starting from the centre of the nail, then spreading the product to the tips. Always leave yourself a small margin and avoid going all the way to the base of the nail (too close to the cuticles). The nail polish could quickly slide under the cuticles and make it less clear and more difficult to remove later. Apply a second coat to adjust the colour if necessary.
Step 6: Apply a top coat
For a better hold and maximum shine, apply a generous coat of top coat, taking care to allow your nails to dry properly. If your nail polish takes a while to dry, you can run your nails under cold water to instantly harden the polish and you have a shiny, nickel-plated manicure ;-) 
The ultimate step for beautiful, long-lasting nails: 
Pamper your nails regularly with a nourishing treatment. Indeed, well-nourished nails break less and split less.
And to remove your varnish?
Always remove your varnish with a nail polish remover: as we know, when the nail polish comes off, it is difficult to resist the temptation to pull it all off... But this gesture is to be avoided because you could tear off the first film of the nail. Once the nail polish has been removed, don't forget to wash your hands to avoid leaving any product on your nails. The sometimes harmful composition of some nail polish removers tends to weaken your nails...
Our best advice for your nails 
Turn to cleaner products, as nail polishes and removers that are more respectful of your clean nails are now as effective as synthetic versions.  
Clean" varnish: how does it differ from others and why should you choose it?
A varnish is above all a varnish that does not include in its composition any substances derived from petrochemicals. The main substances to avoid? All forms of parabens, formaldehydes, toluene and dibutyl phthalate. The nail is porous and therefore absorbs these potentially carcinogenic or endocrine-disrupting active ingredients.
For the same reasons, we banish solvents with acetone and turn to natural formulas! It may seem surprising, but natural nail polish removers exist and they are just as effective. They just need a little more time to work, but the difference is clear: a much less unpleasant smell and incomparable softness.
The number one French brand of clean nail polish to be found at Oh My Cream? Kure Bazaar Kure Bazaar : Cleverly crafted colours and new products for each season, all without petrochemicals... and without sacrificing shine or hold. Now it's up to you to test it!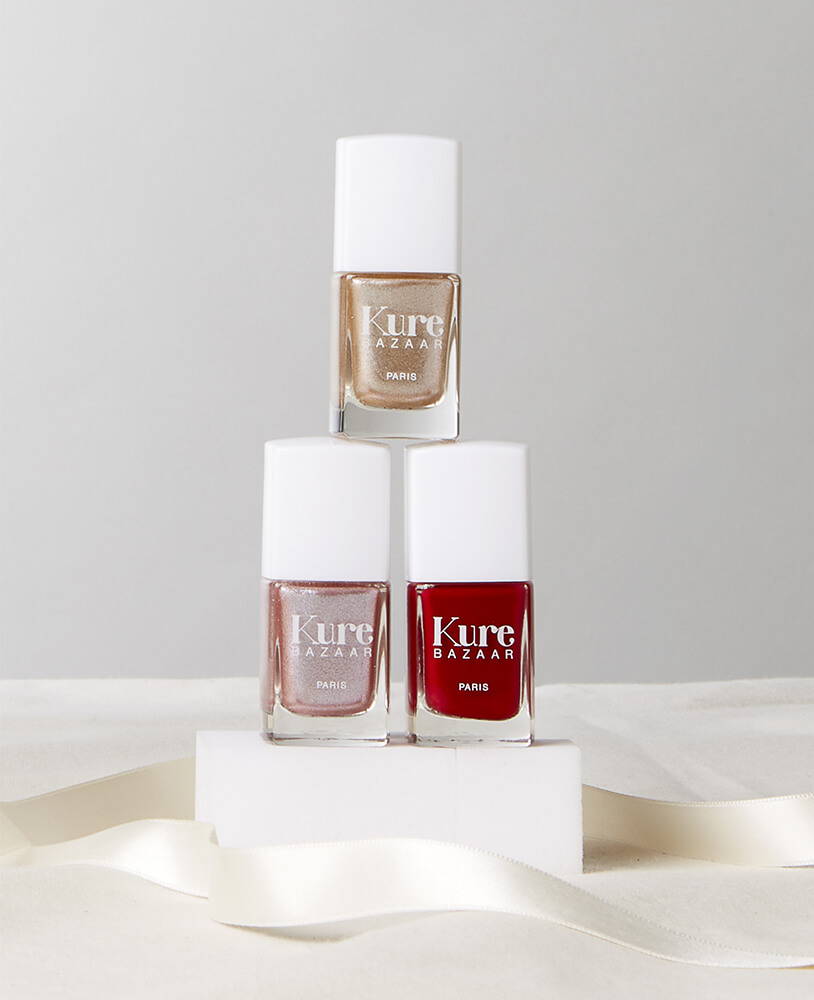 Our favourite treatments for a clean manicure
Taking care of your nails:
The Ecological Manicure Mask and Utensils Ritual, Kure Bazaar : A manicure kit to do at home, containing a pair of gloves soaked with a cream based on organic shea butter, and a file, for impeccable hands.
Ginger Nail Balm, Kure Bazaar : A fortifying balm that transforms into oil on contact with the skin to nourish, repair and protect nails and lips.
Organic Rose Infusion Oil, Kure Bazaar A care oil based on ten precious certified organic plant oils, for strong and shiny nails and softened cuticles.
Our favourite nail polishes: