Moisturising is the beauty gesture that all skins need without exception. And when it comes to moisturising, there is a plethora of cosmetics to satisfy thirsty skin... But when it comes to choosing the most suitable care product, the one that will allow us to regain plumped-up skin, a question arises: which product should you choose to accompany your moisturiser? A moisturising oil or a hydrating serum ? Because what's the difference? Come on, let's unveil the role of these two products and explain how to make the right choice.
Moisturising oil or serum: why include them in your skincare routine?
If hydration is essential, it's because it not only brings comfort and bounce to the skin, but not only... because by domino effect, a skin that is not sufficiently hydrated can also see sensitivities arrive (from redness to irritation) and, we think less about it, age more quickly. The reason? The "young" and plump appearance of a skin comes from our capacity to produce hyaluronic acid. Except that, when the reserves run out, the skin shows more wrinkles and a loss of volume and density. It looks thinner, but also duller. So to preserve its "water" capital, we arm ourselves with a moisturising cream. Except that in the case of severe dehydration in particular, this is not always sufficient... You can see this if, just a few seconds after applying the cream, the skin feels tight. To overcome this problem, you can add a moisturising oil or a moisturising serum. Their finer textures and often higher concentrations of active ingredients act more deeply and diffuse their active ingredients throughout the day.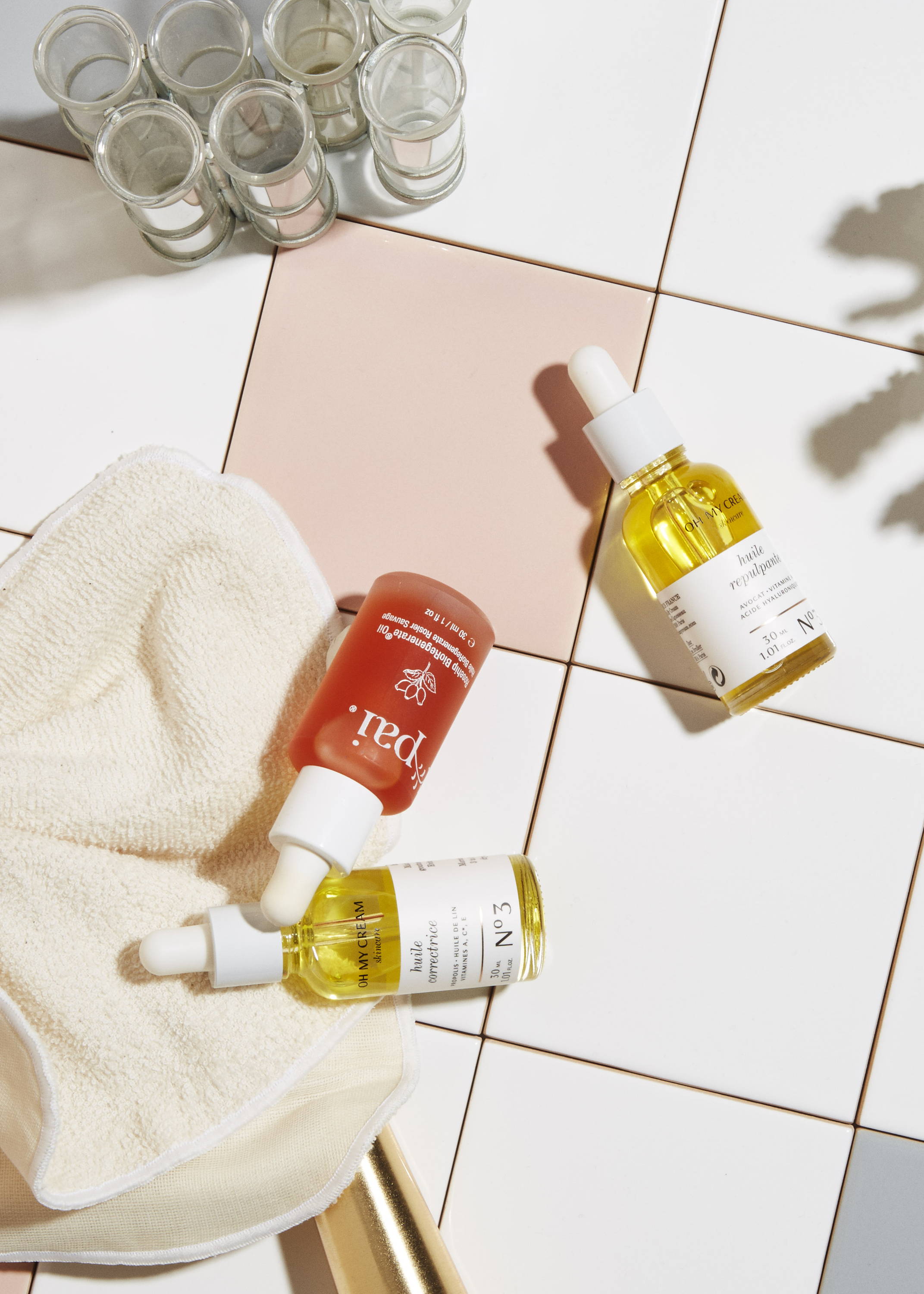 How does the moisturizing oil or serum work?
Our skin is protected at the very surface by a hydrolipidic film which, by its presence, enables us to maintain the water reserves under the skin's surface. Moisturising your skin means providing additional water reserves and maintaining this hydrolipidic film. If it is weakened, this is when your reserves evaporate, leading to feelings of tightness, loss of radiance, and the appearance of small stripes, mainly around the eyes and cheeks. To find out if your skin is dehydrated, simply pinch it gently area by area: if there are marked striae, the skin is thirsty! 

The hydrating serum will act deep in the skin and lodge itself there, to compensate for the loss of water. Generally based on plant hyaluronic acid (which remains the most effective molecule for dehydration), it will also retain water in the tissues by acting like a sponge. Moisturising oil, because it is based on a vegetable oil and is therefore non-aqueous, will have a slightly different role. It will mainly lodge on the surface of the epidermis, acting as a dressing to prevent water loss. Moreover, it is not really a moisturising oil but rather a nourishing oil...
What are the benefits of a vegetable oil and how to choose?
If I have oily skin
Let's start by dismantling this preconceived idea: mixed to oily skin can perfectly well afford to use a skin care oil. It is simply a matter of choosing it well. For example, these skin types should choose jojoba oil or sesame oil, which are excellent vegetable oils for the simple reason that their composition is the closest to sebum. Because they will act as sebum "look-alikes", the skin will gradually produce less sebum to protect itself, as it does not feel attacked. Do not hesitate, for example, to test theCorrective Oil d'Oh My Cream Skincare composed of sesame oil, it will be particularly appreciated by combination to oily skin for its fine texture, its concentration in vitamins A & C which unify and illuminate the complexion... and for its anti-blemish action provided by salicylic acid and propolis! However, we recommend that you only apply your vegetable oil in the evening, to allow your skin to absorb it.
If I have dry skin
The vegetable oils are also, unsurprisingly, the great allies of dry skin. Lacking lipids by nature, dry skin finds invegetable oilto compensate for the dryness on the surface and conserve its water reserves underneath... Why not try, for example, Divine Face Oil fromAntipodes ? With its triple action of nourishing, anti-ageing and balancing, this one will be ideal. Dry skins will be able to repeat the application of the nourishing oil morning and evening without any worry.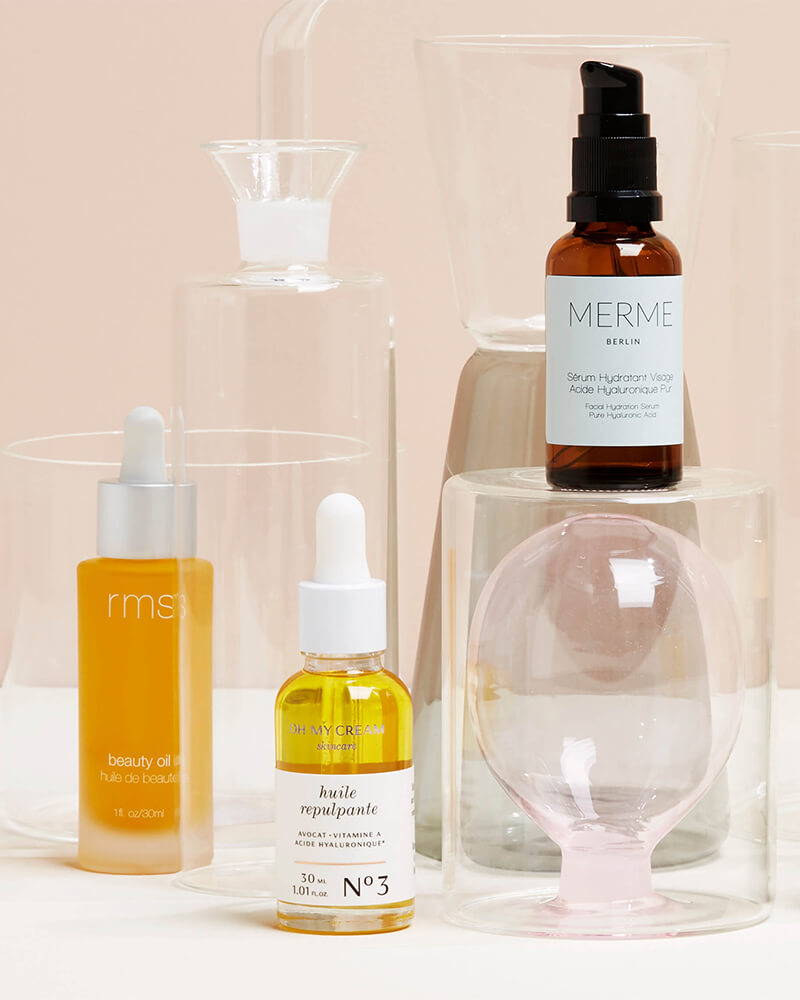 If I have sensitive skin
Sensitive skin finds it difficult to tolerate over-concentrated skin care products. In this case, you should turn to moisturising oils with more minimalist formulations and preferably without perfume, such as Pai Skincare Rosehip Oil. The brand's cult bottle, composed solely of rose oil, this vegetable oil helps the most sensitive skin with cell repair. It brings softness and suppleness and corrects all small skin disorders: skin alterations, imperfections, spots, etc.
If I have normal skin and I'm looking for a "glow" effect
You are quite free in your choice ofvegetable oil (but be careful with oils that are too nourishing, especially when applied in the morning). Go for the Plumping Oil Oh My Cream Skincarefor a guaranteed glow! Its composition is ideal for those who wish to treat the first signs of ageing: avocado and marula oil to nourish and regenerate your cells, hyaluronic acid, the formidable anti-ageing active ingredient, to capture and maintain water in the tissues and vitamins A and C to repair and correct the complexion.
Moisturising serum or anti-blemish serum: can we combine them with our skin care oil?
The moisturising serum can be a perfect combination with your skin care oil! In fact, they complement each other quite well, as the moisturising serum loads your tissues with water and the oil helps to keep this water in the reserves. The hydrating serum should therefore have a place of choice in all beauty routines. Very often composed of hyaluronic acid, these serums immediately improve the condition of your skin by smoothing your features and plumping your skin. You will find all these actions in the Hydrating Serum Oh My Cream Skincarea serum with a light texture that will give your skin all the water it needs.
Serums are concentrated active ingredients that allow an ultra-targeted action. They are therefore ideal for treating specific problems. For skin prone to blemishes, an anti-blemish serum is ideal to treat these small problems in depth. Combined with a plant oil with antibacterial action, the effects of the latter can only be amplified with the care oil! The ingredients to look for in an anti-imperfection serum are zinc, silver and salicylic acid ;-) You can therefore opt forOh My Cream Skincare's Anti Blemish Serum, which contains zinc and silver, for example.
As you can see, moisturising serum and treatment oil are actually quite complementary, as long as they are chosen according to your needs. They can prove to be real assets when the moisturiser alone is no longer able to compensate for its lack of water. So, if you're familiar with tight skin, a dull complexion or a rough skin feeling, don't hesitate to integrate this powerful combo into your beauty routine!