If you had to include only one beauty routine in your evening routine, it would definitely be the make-up removal step (with cleansing oil !). Nothing is worse for the skin than going to bed with make-up on... Why? It hinders the cell regeneration process that takes place - rightly - during the night. The problem is when this becomes a habit: a skin that cannot fully regenerate will inevitably be more prone to skin ageing and even imperfections. So, for this process of cell regeneration to take place normally while you sleep, it is essential that our skin is rid of all the impurities that have accumulated during the day: pollution particles, toxins, sebum, make-up, sunscreen residues, etc. Even if you don't wear make-up on a daily basis, it is still essential to cleanse your face every night by using the double cleansing method, which is very dear to our hearts, and consists of using a cleansing oil or a make-up remover balm followed by a facial cleanser.
What are the benefits of cleansing oil? 
If we swear by make-up removal oilThe reason we swear by make-up removal oil is simply that it is the way to remove make-up that ticks all the boxes: make-up removal oil allows you to remove make-up quickly, thoroughly and effectively... and even has its little ecological advantage as it does not require cotton pads. Finally, it is much more pleasant to use thanks to its creamy, comforting and skin-friendly texture.
It may seem counter-intuitive, but there's nothing like fat to attract fat, which is why it is so effective. Make-up remover oil can therefore dissolve all make-up, even the most stubborn, in no time. You can also remove eye make-up and see that it is also formidable on waterproof mascara. Finally, unlike make-up removal wipes or micellar water, make-up removal oil is very gentle and respects the skin's hydrolipidic film, the famous surface barrier.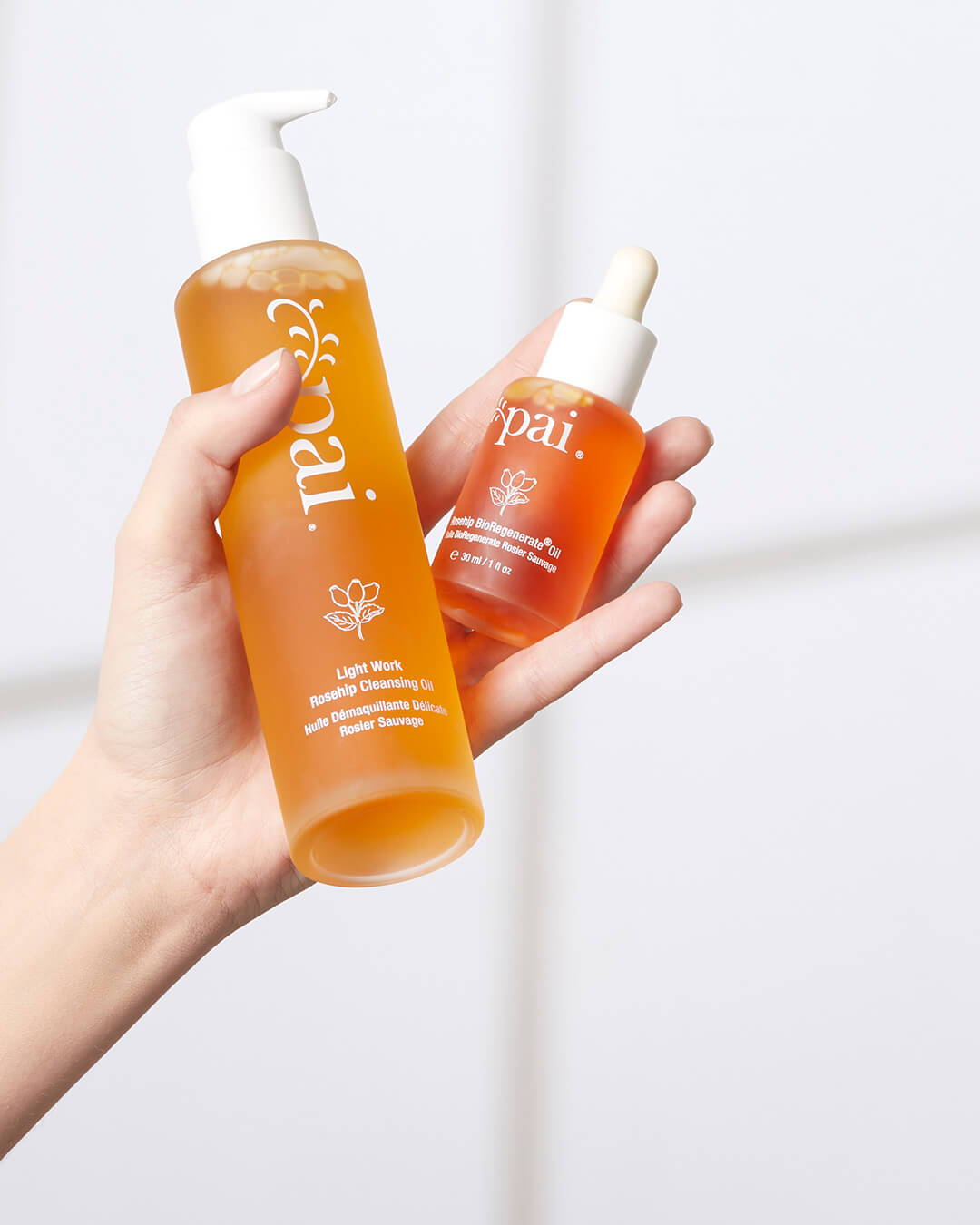 Which make-up remover oil for which skin type?
If you have oily skin, we understand that the idea of applying a makeup remover to your face can be a little scary... and yet, there's nothing like it to regulate excess sebum and the shine that goes with it. And yes, if your skin is oily, stripping it with conventional makeup removers will only excite your sebaceous glands and perpetuate the vicious cycle of sebum production. Clearly, whatever your skin type (dry, normal, combination, oily, including sensitive) you can remove your make-up with make-up remover oil with your eyes closed! 
Nevertheless, depending on your skin type, some make-up removal oils will suit you better than others. Indeed, dry skin types will prefer more comforting cleansing oils with a richer, smoother texture and vegetable oils that are also known to be oilier, such as evening primrose, rose hip or even avocado. Mixed to oily skin will prefer light and fluid make-up removal oils based on coconut or jojoba for example. If you have sensitive skin, we advise you to use organic make-up remover oils and without essential oils.
Here is a small selection of make-up remover oils that we recommend according to your skin type: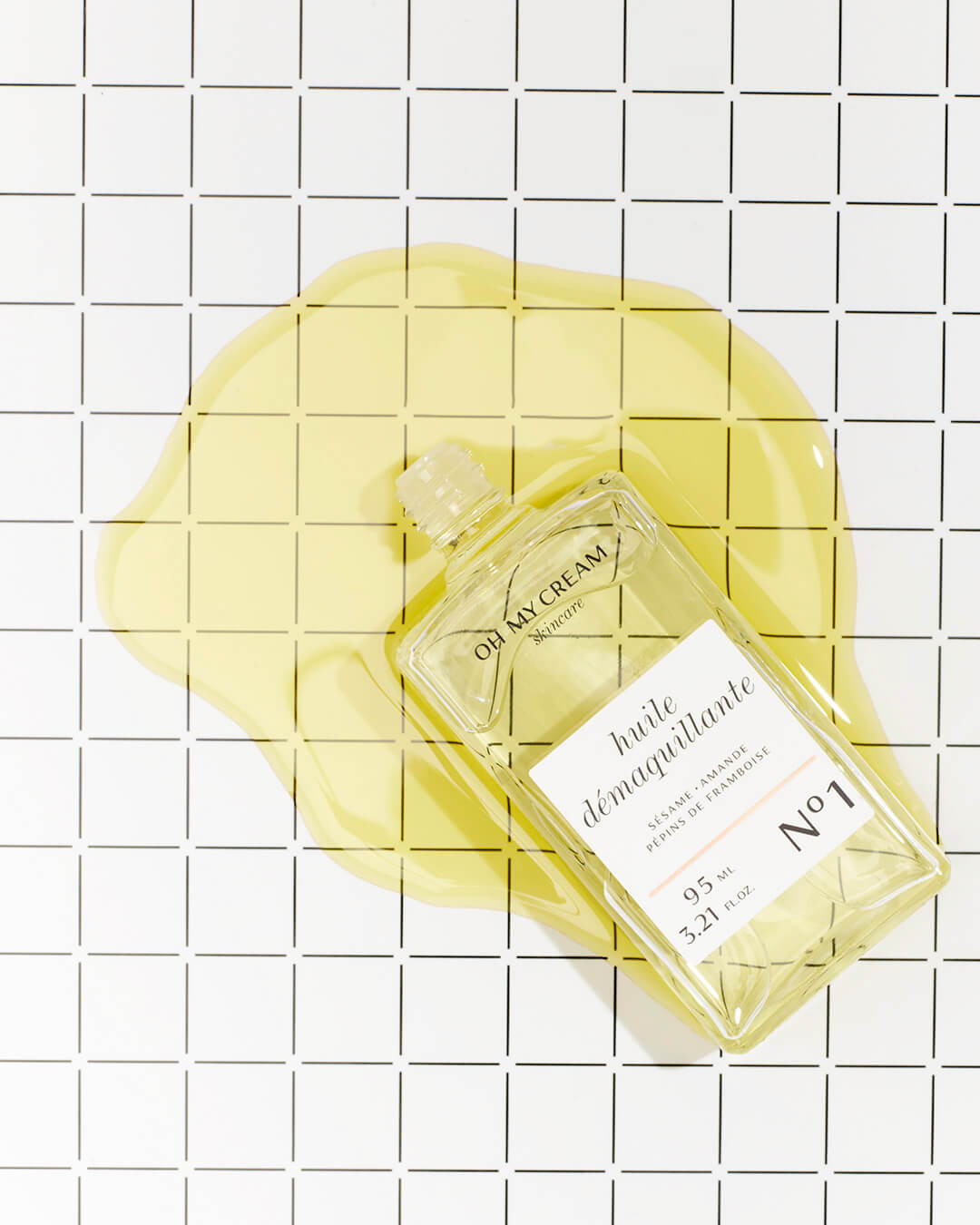 How to remove make-up with a make-up remover oil? 
Make-up removal with cleansing oil should be part of a real skincare ritual, it is not just a mechanical gesture to be carried out every night, it is also an opportunity to take a few minutes for yourself. It's not just a mechanical gesture to do every night, it's also an opportunity to take a few minutes for yourself.) 
Here's how to remove your makeup with a makeup remover oil: first warm a few drops of makeup remover oil between the palms of your hands, then spread it over your dry face in circular motions. Massage your face for 2 or 3 minutes (or more!). Rinse your face with warm water. The oil cleanser turns into milk when it comes into contact with water and is easy to rinse off without leaving any greasy residue on your face. Next, follow up with a facial cleanser to complete the cleansing of your skin. The double cleansing step is done every day and helps to restore your skin to a beautiful and healthy state and to gain radiance. 
We know that it is not always easy to integrate a new beauty routine and even more so to find THE right product! If you need personalised advice, for example to choose your future make-up remover oildon't hesitate to contact our Beauty Coaches via our chat or by email at consultation@ohmycream.com.