Beauty Posts
Get French It-Girl Jeanne Damas' look for fresh and timeless makeup
Parisian beauty icon, Jeanne Damas is the it-girl with an effortless style that keeps on inspiring beauty addicts and fashionistas around the world. To celebrate the launch of her skincare brand, Les Filles en Rouje, at Oh My Cream, we let you in the secrets… Our tips and selection to achieve her fresh and effortless makeup look, le chic à la française, as we say!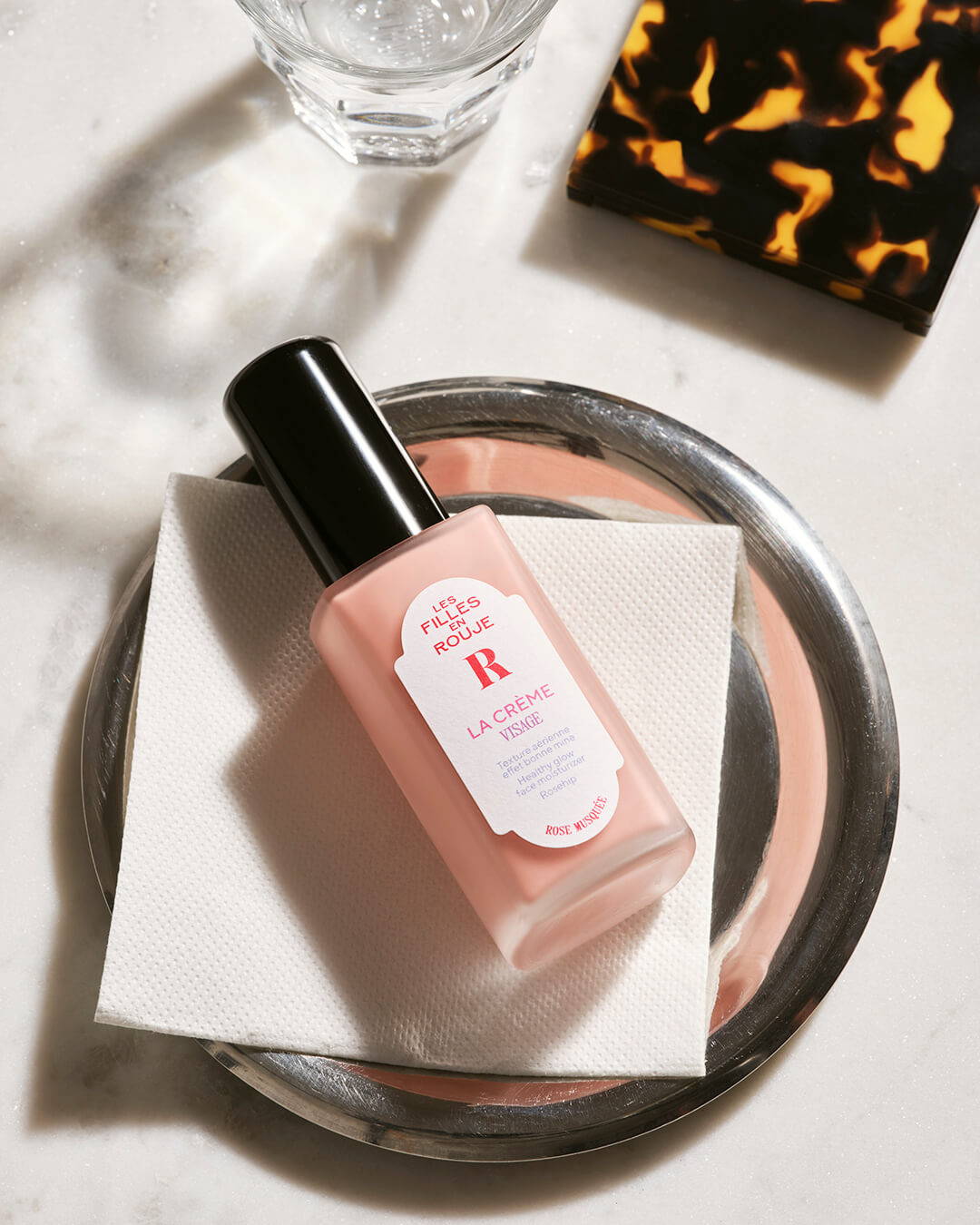 First step: for a glowing complexion
For these days when you don't really feel like applying foundation but are still dreaming about a glowing complexion and moisturising skin, Les Filles en Rouje Healthy Glow Day Cream will be your trusty new beauty essential. This light cream enriched in rosehip oil hydrates and plumps the skin while revealing its glow and protecting it from pollution. Lightly tinted, it offers a natural sun-kissed tan for a healthy glow! 
Our additional tip: If you're looking for a bit more moisture, mix the cream with a few drops of Les Filles en Rouje Nourishing and Repairing Face Oil. 
Step 2: blushing on the cheeks
Meet your new makeup essentials, the kind of favourite you'll find in the bag of most Parisian women, including Jeanne Damas, the iconic Les Filles en Rouje Signature Lip Palette. With its 4 creamy tints, enriched in castor oil and beeswax, this lip palette colours, and illuminates lips, cheeks and eyes, while nourishing and protecting the skin all day long. To apply, dab lightly the tint directly onto your cheeks. For unique and personalised results, mix the tints before applying them to your skin. Dab the excess onto your eyes for a luminous touch.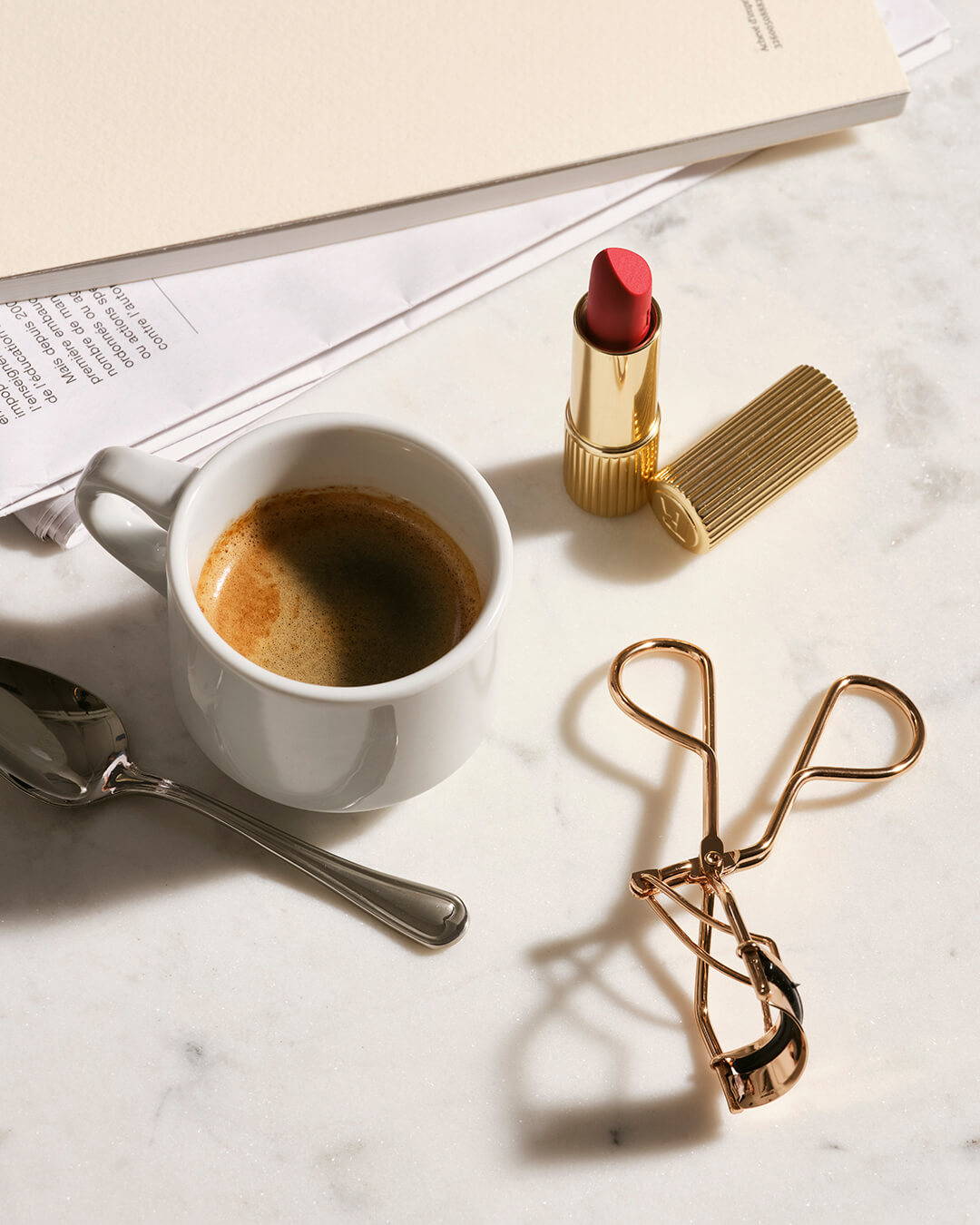 Step 3: iconic and timeless red lipstick
Jeanne Damas' signature and every French woman's beauty must-have, there's nothing like red matte lipstick to celebrate Parisian style. Les Filles en Rouje Semi Matte Lipstick is the ideal creamy lipstick with a semi-matte finish. It hydrates and colours the lips, while also leaving a luminous and comfortable finish on the skin. 
Just like Jeanne Damas, apply it directly with your finger by delicately dabbing the Jeanne tint onto your lips. And for a quick, on-the-go touch-up or a more intense finish, apply the lipstick directly onto your lips.
Step 4: open up the eyes without mascara
If there's one thing French women excel at it's the art of natural beauty, using sometimes little to no makeup. And to naturally open up the eyes, without the need for mascara, leave it to this simple gesture. Les Filles en Rouje Eyelash Curler is the must-have beauty tool to naturally open up the eyes and add volume to the eyelashes.  
Our additional tips: Position the eyelash curler at the base of your lash line and gently squeeze. Hold for a few seconds before opening the curler slowly to release the lashes, and repeat up the length of your lashes for perfectly curled lashes. And to add more volume to your lashes for an irresistible cat eye, apply Les Filles en Rouje Natural Effect Mascara. 
Step 5: final touch for messy but controlled hair
If you're a fan of the undone hair look, mastered by Parisian women like Jeanne Damas, we have the perfect gem to bring texture and shine while also defining your hair's movement. Let us introduce Les Filles en Rouje Textured Hair Mist. 
This texturising spray adds volume and movement to the hair without drying it thanks to its formula enriched in marine salt. Perfect to scrunch hair locks, this hair mist leaves the hair perfectly hydrated and soft. 
Our additional tips: Apply it as the day goes as hair perfume to refresh your hair strands. 
Jeanne Damas's beauty must-haves