oh my cream backstages
Meet your hairbrush match with La Bonne Brosse
Convinced that beautiful and healthy hair comes with the right routine, La Bonne Brosse succeeded in creating the ideal beauty tool: the perfect hairbrush. Made in France, these boar-bristle brushes eliminate static electricity in the hair while deeply massaging the scalp. Discover the new brushes for a genuine game changer of your haircare routine.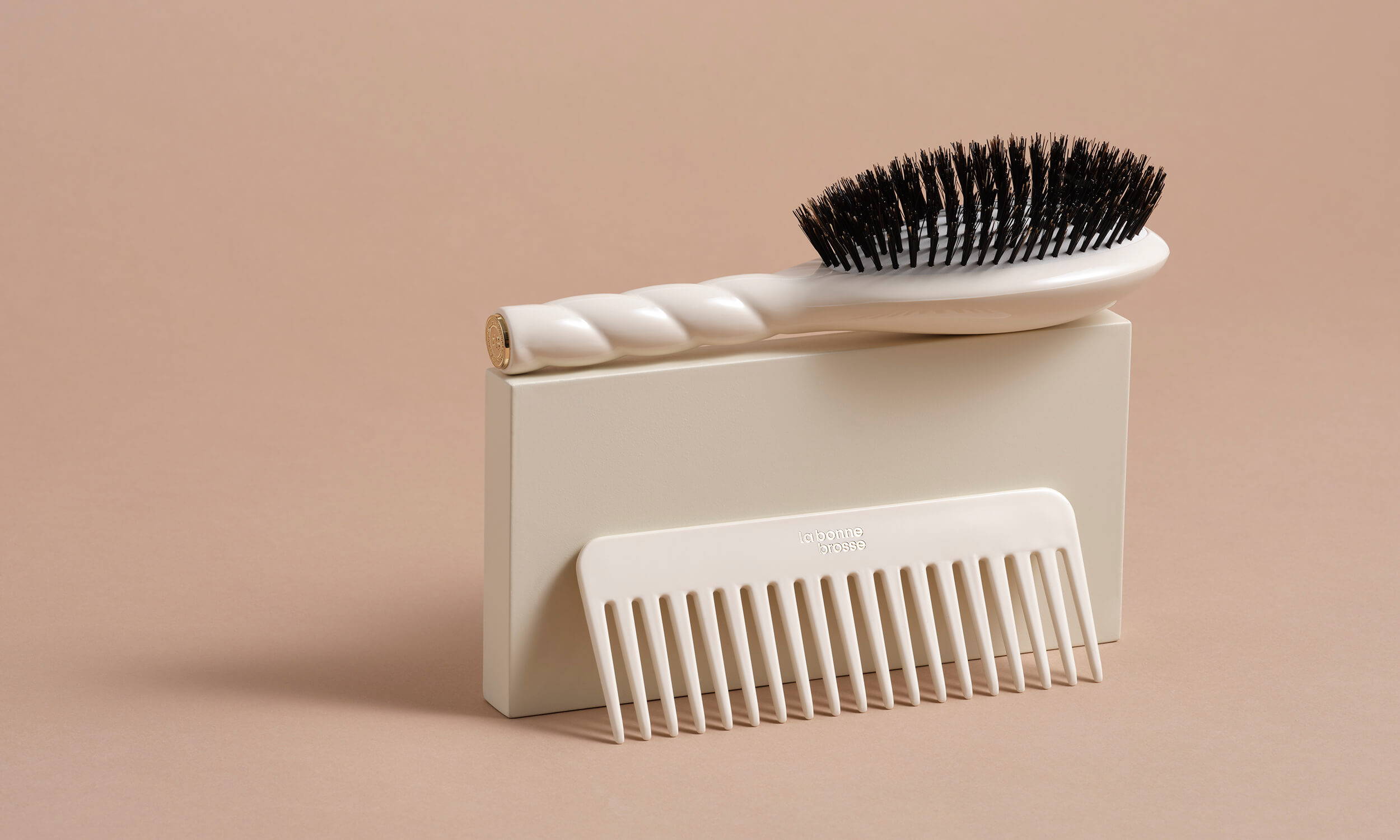 The power of hair brushing
Just like us at Oh My Cream, Pauline and Flore were convinced that the most simple and daily motions can drastically change our beauty routine, that's why they launched La Bonne Brosse. When Flore started losing quite a chunk of hair, she tried every remedy, product and advice, before realising that hair brushing was actually the game-changing ritual for her hair. With Pauline, they begin their search for the best supplier and the most artisanal manufacturer to create THE perfect hair brushes. 
"If we were convinced by the benefits of daily brushing on our hair, the idea to reinvent this basic tool, and the gesture that comes with it, became obvious to us." 
Why is La Bonne Brosse the ideal hair brush?
It didn't take long for La Bonne Brosse and its brushes to convince the Oh My Cream Team, because it's a simple but effective hair accessory that was made as the ideal beauty tool. Crafted in France with boar-bristle, a material rich in keratin and perfect mirror to the hair's structure, these hair brushes guarantee a static electricity free brushing and deeply massaged hair scalp. 
The nylon fibres in the brush were carefully chosen for their suppleness, their density and their softness to assure a gentle massage brushing, and a comfortable and safe detangling. For the brushes made with balled nylon fibres, craftsmen ad by hand as a final touch an epoxy ball, to facilitate the scalp massage, making it even more soothing and efficient.  
The hairbrush's handles are made from cellulose acetate, ensuring the longevity of the brush. Fun fact: this noble material is actually used for Chanel's luxurious glasses frame and their jacket's buttons. It's a sustainable and biodegradable material, far from the petrochemical industry, and made out of 70% of plant-based fibres. Their natural rubber cushion was carefully selected for its flexibility and the way it envelops the scalp and neck. There, you have it: the ideal hairbrush your hair will thank you for.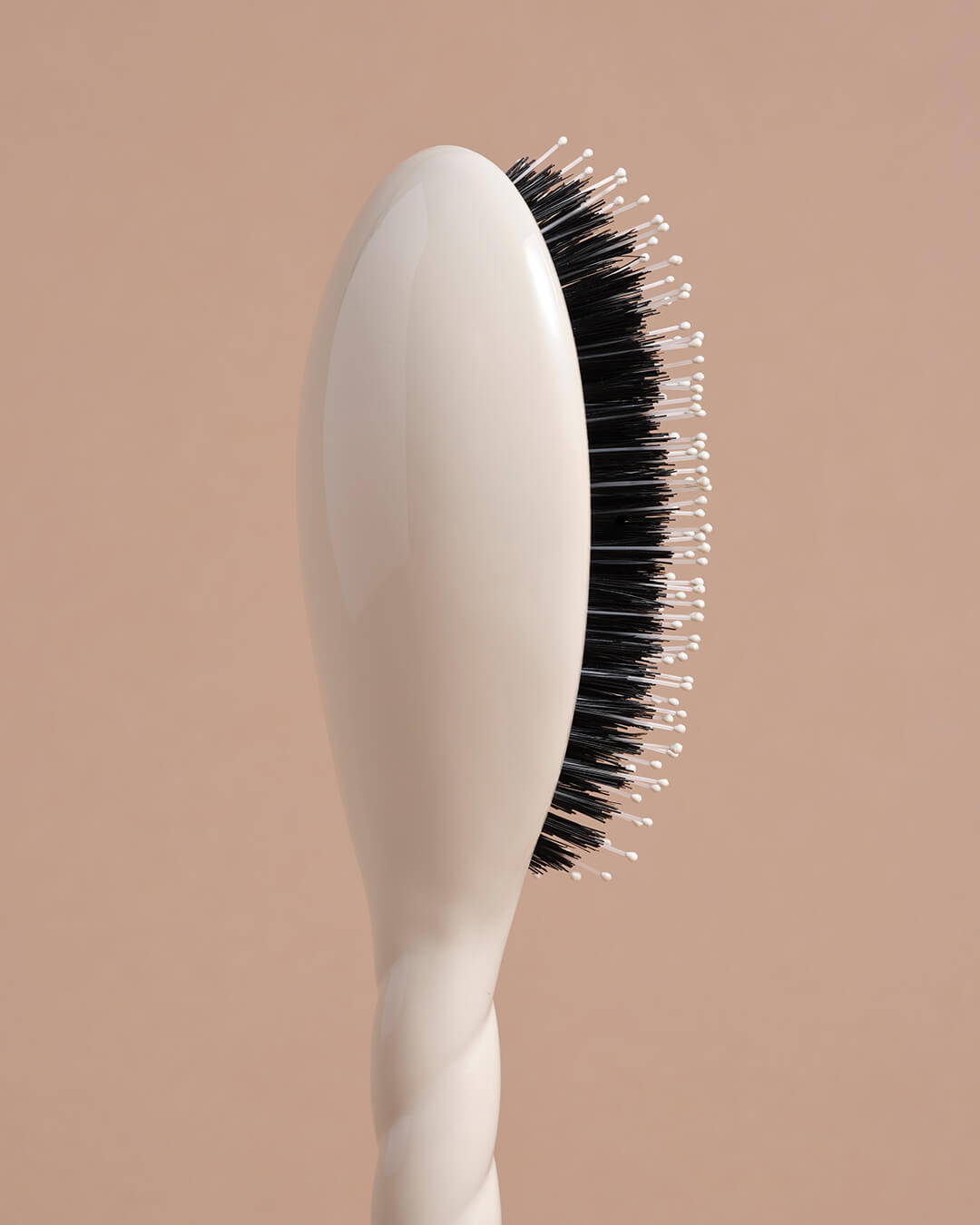 Found your hairbrush match:
I have normal to fine hair: ideal for normal to fine hair, even the most fragile one, straight or bouncy, the Universal Hair Care Brush brings moisture to the hair and strengthens, purifies and detoxifies hair scalp thanks to the boar-bristle. 

I have normal to thick hair: combining boar-bristle and nylon fibres, the Essential Detangling Brush is the ideal beauty tool to brush, structure and untangle normal to thick hair. 
I have a sensitive scalp: combining boar-bristle and balled nylon fibres, the Essential Sensitive Scalp Brush is the perfect tool to bring moisture and shine to the hair while taking care of sensitive scalps. 

I need to untangle my locks: made out of 100% of balled nylon fibres, the Miracle Detangling and Massaging Brush detangles the hair while taking care of sensitive scalps thanks to the small epoxy balls attached to the nylon fibres to assure a softer scalp massage for purified and detoxified hair scalp.
The benefits of boar-bristle brushes
Known to be an exact mirror of our hair's structure, boar bristles are loaded with keratin and are 100% natural. They started being used during the Middle Ages for toothbrushes and have since become a reference in haircare thanks to their quality and longevity. You can understand now why, as we mentioned before, La Bonne Brosse is a brush for life! But what are the actual benefits of a boar bristle brush? First of all, they allow for better distribution of sebum along the entire length of the hair, helping to reduce the amount of sebum at the roots and nourishing the ends. Furthermore, its natural keratin composition helps neutralize static electricity that can be present in the hair during brushing. As a result, hair becomes softer, more manageable, easier to detangle, and less prone to breakage.