Beauty Posts
Oh My Cream's picks: the team's effortless makeup for summer
When on vacation, there's the one that lets her glowing tanned skin shine, the one that changes her lipsticks as often as she changes her bathing suits or the one who loves an eye look especially when it matches the sunset! Discover Juliette, Elsa and Ellie tips for the perfect summer makeup look!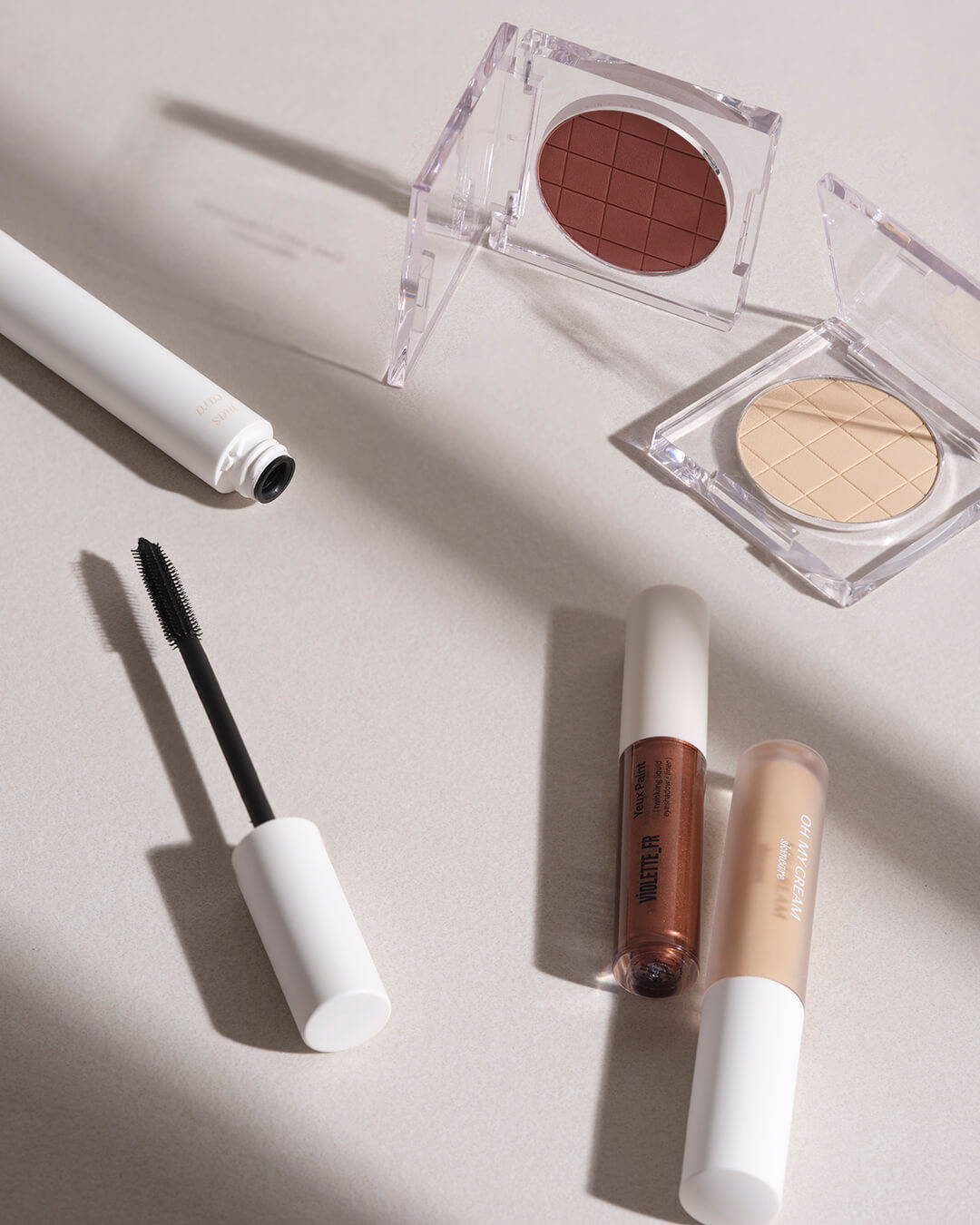 Juliette's effortless summer routine, Oh My Cream Founder 
During the summertime, I'm all for a light, effortless and quick makeup routine. I start by applying Oh My Cream Skincare  Concealer, in the light tint, on any redness and scars, before unifying my complexion with our Mineral Powder Foundation SPF20 in the light tint. I love its velvety finish that unifies naturally and its SPF20 that adds an additional sun protection to my sunscreen. 
On the cheeks, I apply my favourite Oh My Cream Skincare Powder Blush in the shade Brun to add a light glow to the face like a bronze tan.
For the eyes, I had a massive crush for Violette_FR Yeux Paint Twinkling Liquid Eyeshadow in the shade Marron Glacé. Easy to blend, it highlights the eyes with a luminous and shining colour and it doesn't require a brush!
And for the final touch, I love to apply Oh My Cream Skincare Mascara to add volume to my lashes and open up my eyes.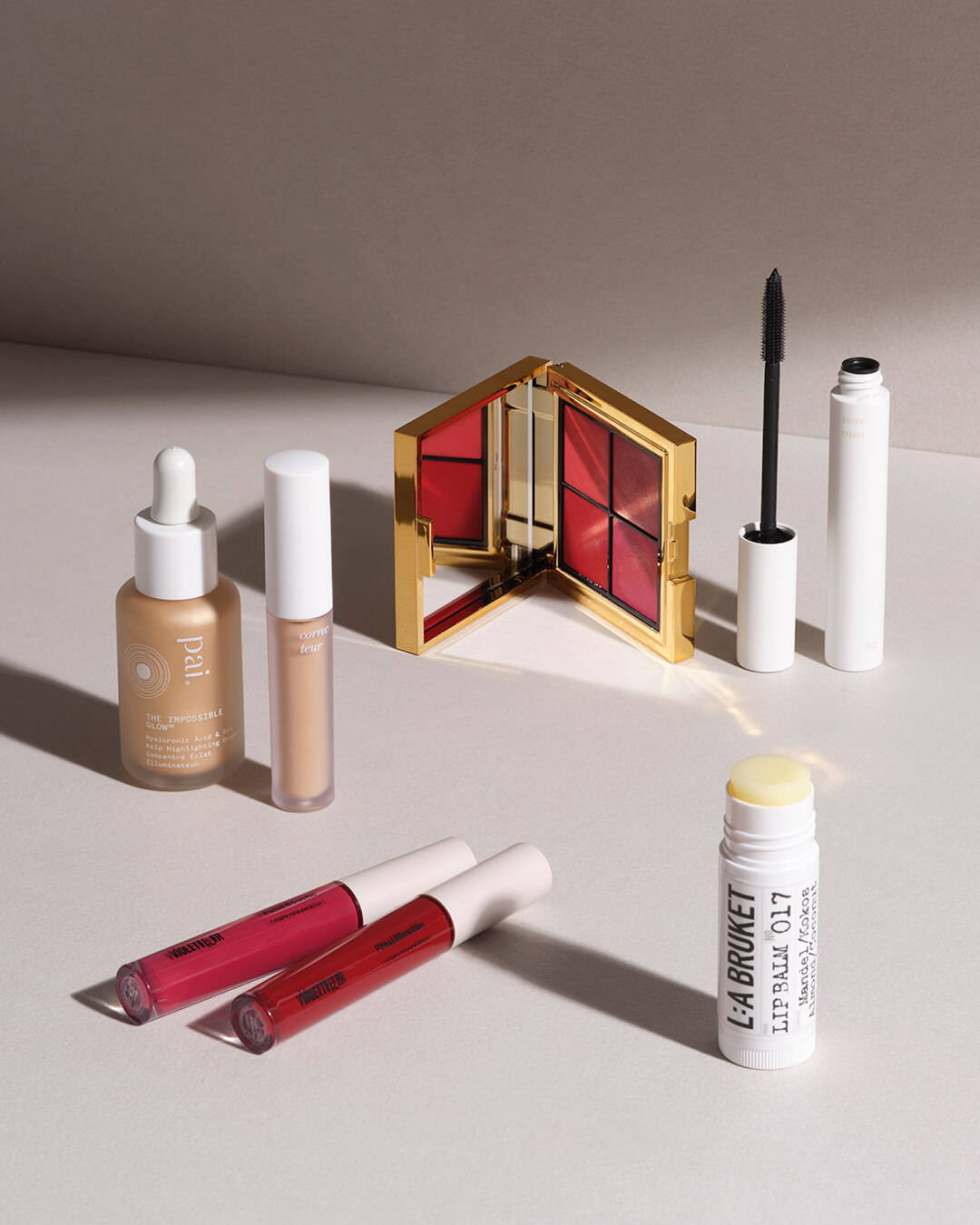 Elsa's light makeup for mesmerised lips, Editorial Manager
In the summer, I love mixing some drops of Pai Skincare The Impossible Glow Illuminating Radiance Concentrate Champagne with my daily moisturiser. I also love to apply it, after my blush, on my cheekbones, under the arch of my brows and on my eyelids, to add an additional glow.

To cover up my blemishes and scars while still leaving a luminous finish to my eye contour area, I apply Oh My Cream Skincare Concealer in the shade light.

On the cheeks, I mix different shades from Les Filles en Rouje Warm Lip Palette. I love its creamy shades that melt on the skin and can be easily blended.
For captivating lips all summer long, I love to apply a first layer of Violette_FR Petal Bouche Matte No Transfer Lipstick in the shade Amour Fou, after hydrating my lips with L:a Bruket Lip Balm 017. Once the first layer has dried, I add another of Petal Bouche but in the shade Cœur Infidèle. I love this mix of warm shades that add a colourful and vibrant result. Furthermore, their long wear and velvety finish leave the lips colourful all day (or night) long.

For the finishing touch, for the nights when I want my eyes to pop, I add some touches of Oh My Cream Skincare Mascara. I love its natural finish that really opens up the eyes.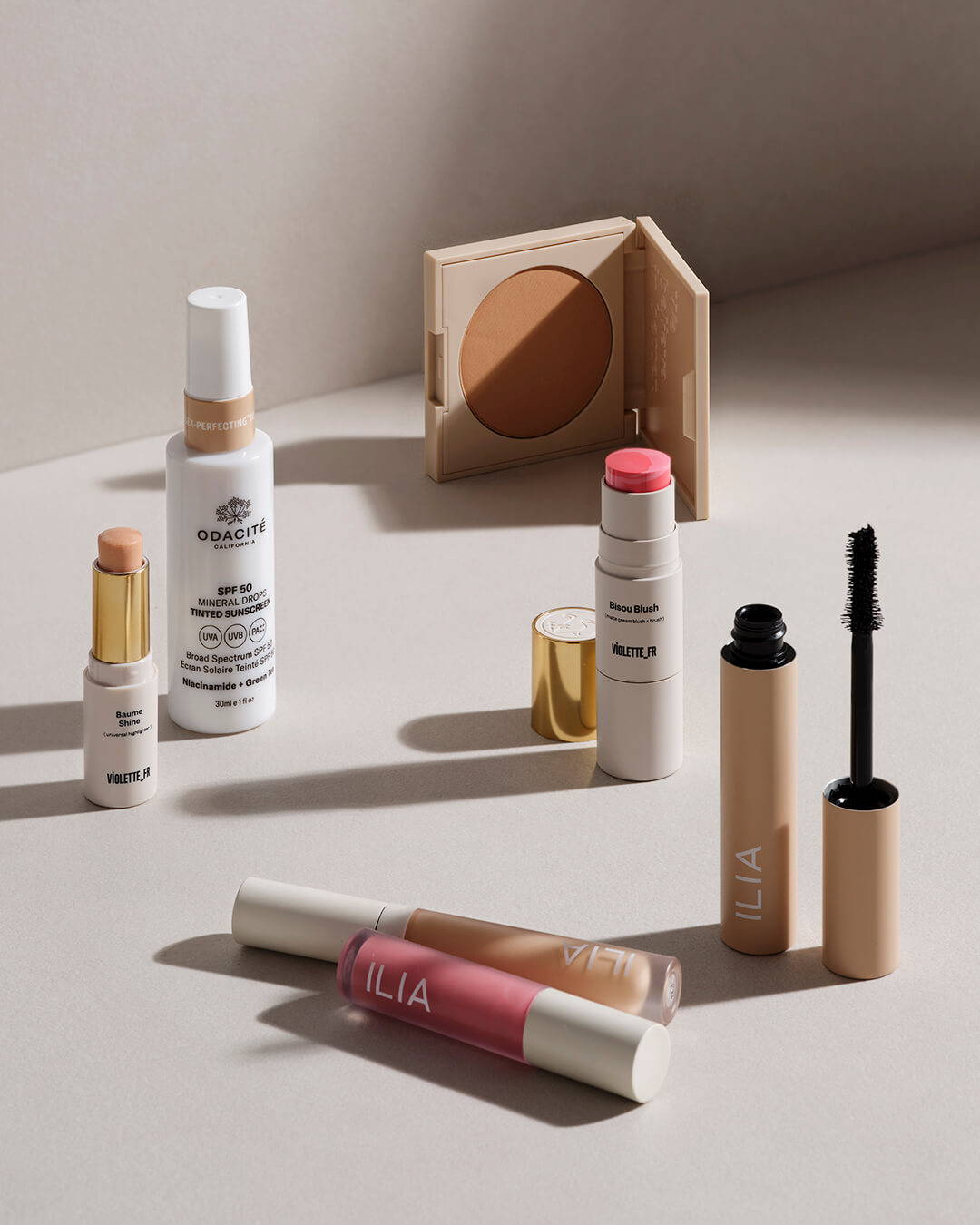 Ellie's glowing no-makeup makeup look, Head of content and social
To start, I apply Odacité Mineral Drops Tinted Sunscreen SPF50 for a natural veil that uniforms my complexion and protects my skin thanks to its SPF50! I love its second-skin finish.

I then apply  Ilia  True Skin Serum Concealer on my summer blemishes to cover them up.

To highlight my natural tan, I apply Ilia Nightlite Bronzing Powder in the shade Drawn In. Thanks to its silky finish, it naturally bronzes my skin for a stunning bronzy complexion.
On the cheeks and my eyelids, I apply Violette_FR Bisou Cream Blush in the shade Louise to add a natural healthy glow.

To add an additional touch of glow to my complexion, I apply Violette_FR Baume Shine Highlighter on all the areas of my face that need to be highlighted and the eyelids. With its creamy texture, it melts unto the skin to add a stunning veil of light.

And to finish it all, I apply some layers of Ilia Fullest Volumising Mascara to open up my eyes, and some coats of Ilia Balmy Gloss Lip Tinted Oil in the shade Only You, a very natural pink.
The team's picks for a summer makeup