OH MY CREAM BACKSTAGE
Violette_FR: the makeup brand that invites you to be bold!
Founded by makeup artist Violette Serrat, Violette_FR is the make-up brand that invites us to be bold. With textures that can be used in many different ways, highly pigmented colours and intuitive uses, this already cult brand turns even the most makeup beginners into experts, inviting us to imagine and create colourful smokey eyes and flamboyant lips all year long.
Once upon a time…
With her very own vision of beauty as something that emerged from oneself, a way to take care of & love ourselves, Violette Serrat has designed Violette_FR as a brand that invites us to dare and to celebrate our imperfections by being free of this quest for perfection.
When younger, she gravitated towards fashion and the art of painting rather than makeup. When a friend asked her if she could do her makeup like the way she painted her canvas, Violette discovered a true passion for beauty. She took off for New York hoping to learn everything she had to know about makeup. After a few try-out with a modeling agency, it's when Carine Roitfeld finally gave her a chance at Vogue, that her career took off.
First International Makeup Designer at Dior Beauty, product development consultant at Sephora, Global Beauty Director for Estée Lauder, Director of Makeup Creation for Guerlain… Over the years, Violette's CV kept on getting longer and longer! And let's not forget about her Youtube channel where Violette shares her best make-up tips. Last but not least on the list? The holy grail… Her very own make-up and skincare brand: VIOLETTE_FR with intuitive and highly pigmented products that invite us to be bold!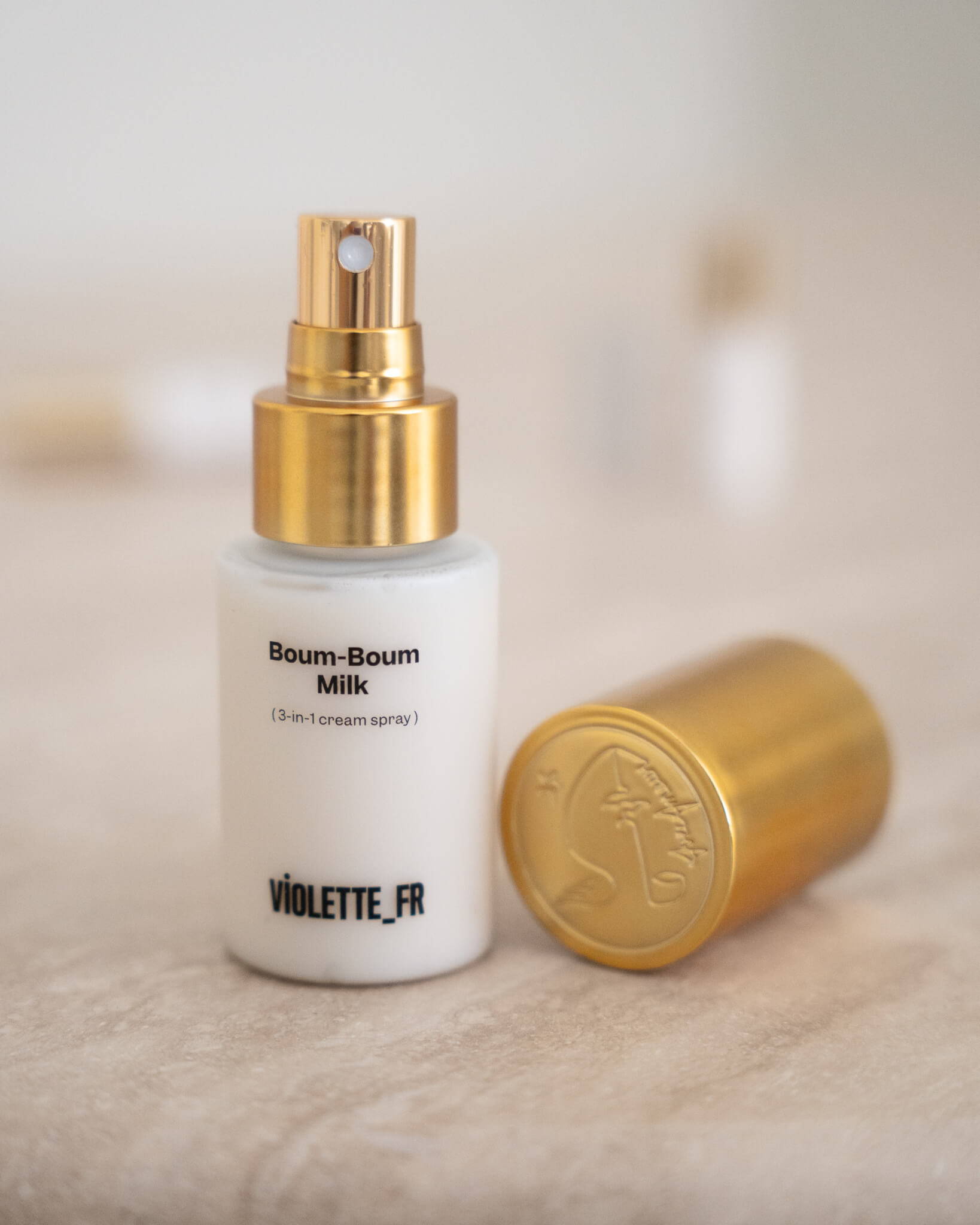 Innovative, smart and multi-uses skincare
Simple, but yet smart products offering multiple uses! This is how we would describe the Violette_FR line. Products that you apply on the go, between two meetings, in a taxi or on a flight… The brand has imagined a line of must-haves for modern women with a busy lifestyle.
Our favourite and already cult product: the Boum Boum Milk and its 3-in-1 formula with clinically proven effectiveness. Combining the benefits of a lotion, a serum and a hydrating treatment, it's the ideal gem to hydrate and prep our complexion before applying makeup, and the well-appreciated refreshing spray to use throughout the day. We also love Frange Puff Dry Shampoo, a very smart dry shampoo that refreshes your roots and gives a new life to your bangs.
Highly pigmented and clean makeup with unique textures
It's not hard to understand why everyone on the Oh My Cream team has added Violette_FR to their makeup bag without even consulting each other. With its unique products, the brand turns any makeup beginner into a true expert. We especially love how the textures melt into the skin to highlight cheekbones, lips or eyes and the way its highly pigmented colours sublimate the skin without too much effort.
And Violette_FR didn't have too much trouble converting even the most no-makeup addicts of the team thanks to the makeup tutorial by none other than Violette, showing bronze smokey eyes can be easy to achieve when you have Yeux Paint Twinkling Liquid Eyeshadow in your vanity! These intense eye shadows effortlessly give the eyes a mat and natural finish or a glittering and captivating look. As for the lips, we fell in love with Petal Bouche Matte No Transfer Lipstick, a mat lipstick that brings comfort to the lips for impeccable and irresistible lips.
Our Violette_FR's favourite gems