lifestyle
In the bathroom with… Alexandra Golovanoff shares her Tata Harper's healthy-ageing essentials
A genuine skincare and wellness enthusiast, a French beauty expert, meet Alexandra Golovanoff. We follow her for her advice and tips, her taste and her latest beauty (and fashion) discoveries. Alexandra Golovanoff invited us into her bathroom to unveil her healthy-ageing Tata Harper skincare routine for taking care of her skin.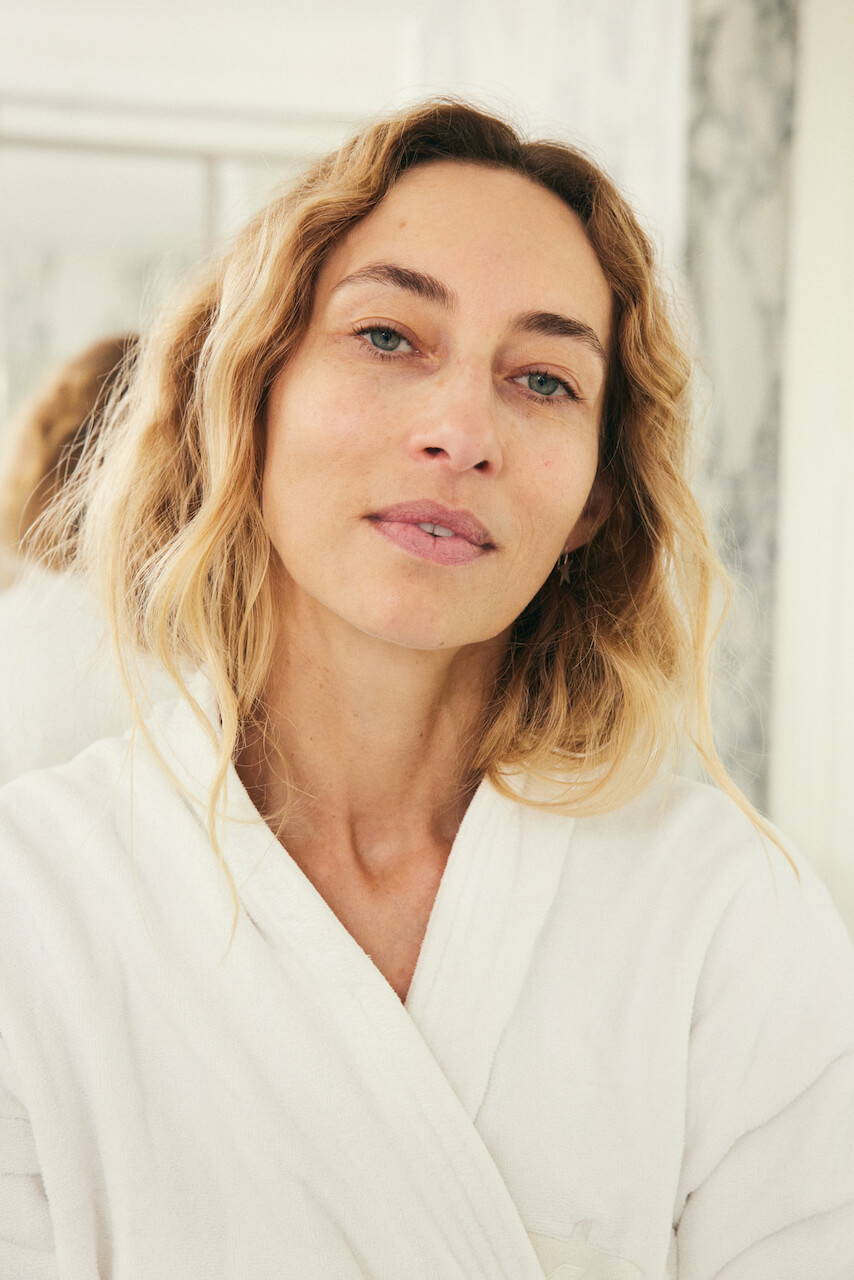 How would you describe your skin?
"I'm fortunate to have fairly agreeable skin on my face, not particularly fragile, although it's very thin and dry. It's not overly reactive or super-sensitive either. Honestly, despite being very dry and thin, I'm lucky that it's quite simple and easy to manage, as long as I do what's necessary for it. I adapt my routine a lot based on the time, the season, and the amount of makeup I'm wearing. In my everyday life, I wear almost nothing, but when I'm on set or during a photo shoot, it's a different story."
"Since I'm always on the move and can't carry all my products with me, I don't always have the same routine at hand. But as long as I have all my steps, everything is fine."
What does your current skincare routine look like?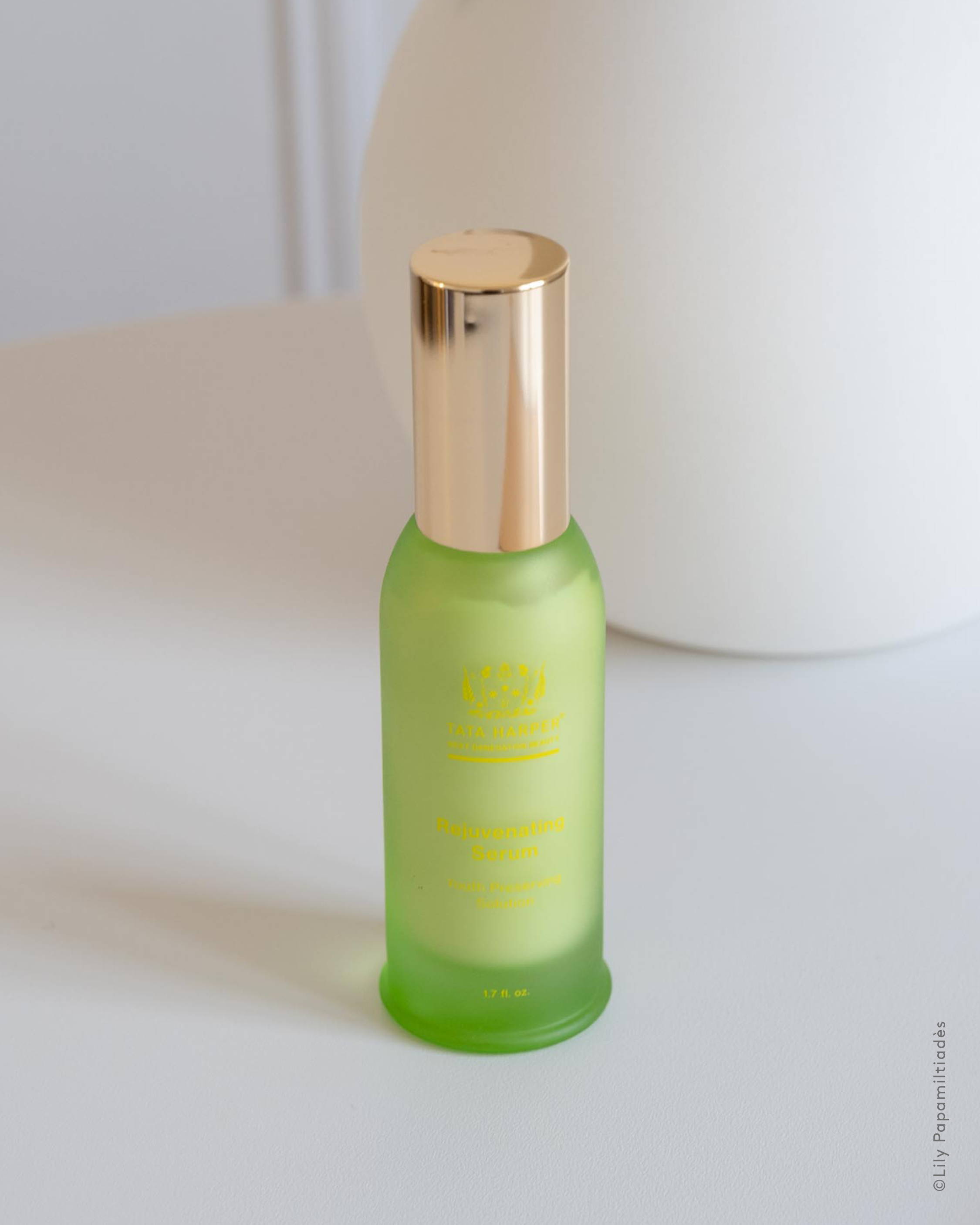 About her morning routine
"When I've had a terrible night of sleep or when I need to feel more 'plumped' and 'radiant,' and the morning doesn't quite live up to my expectations, I have my 'rescue' routine. I start with the Regenerating Cleanser, a daily exfoliating treatment that I apply to dry skin, and then I rinse. I like rinsing with cold water to invigorate, wake up, clear my mind, and probably tighten the pores.
Next, I apply a lotion to 'neutralise' the effects of tap water, which tends to dry out my skin, and it also removes any lime residues. Then, I move on to the serum, one or two, depending on the time. Right now, I'm using the Rejuvenating Serum, which is rich in active ingredients to plump, nourish, moisturise, and also has anti-spot properties."
To finish, I apply my cream: the Velvet Moisturizing Cream, which I find very nourishing, especially when you have dry skin like mine. It leaves a real glow on the skin, without being too greasy; the skin feels revitalised. Then, I apply sunscreen. As a final touch, I love the Tinted Lip Crème in the 'Blasé' shade, which is the closest to the natural colour of my lips. It's a tinted treatment that's very nourishing for the lips."
About her evening routine
"My evening routine consists of very meticulous cleansing, always with a product that rinses off with water. It can be an oil, a milk... anything that requires mechanical action. Since I have dry skin, I always opt for gentle solutions that leave my skin hydrated. It's not uncommon for me to do a double cleanse, sometimes even using an oil to dissolve impurities. I can't go to bed with the idea of still having pollution on my skin. It's one of the first things I learned a long time ago, and it's something I stick to..."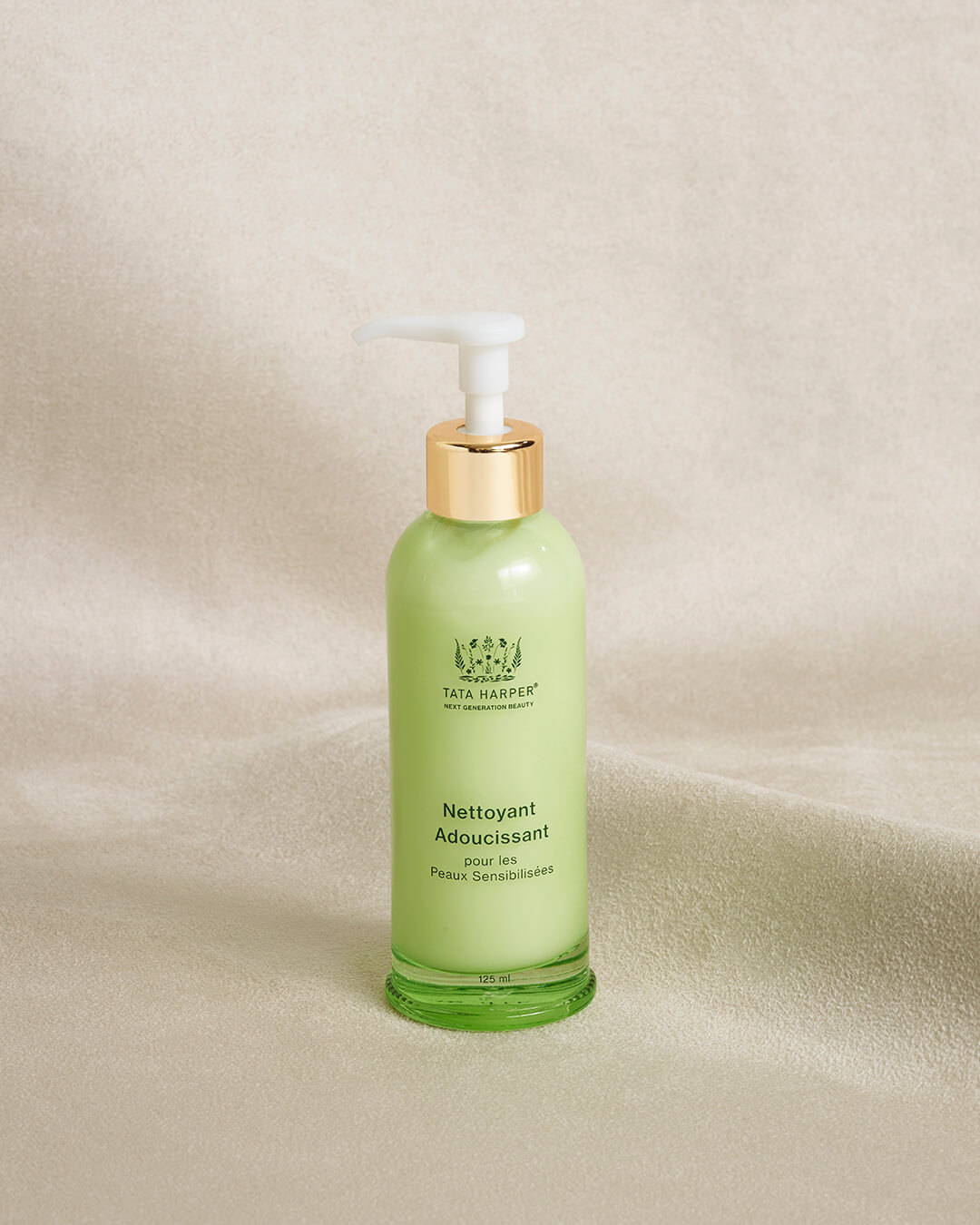 Why do you love Tata Harper so much?
"I love Tata Harper for its 100% natural ingredients. I also admire pioneers, and I enjoy recognizing individuals who take risks before others. I'm very loyal, so when I introduce a product into my bathroom, it's very rare for it to leave. I believe that if it's there, it's for a good reason."
What's the Tata Harper product you can't live without?
"The product that I love and use daily is the Revitalizing Body Oil. It's true that we often focus a lot on our faces, but we tend to forget to take care of our bodies. I find it more challenging to find truly effective body products, and this one really appeals to me.
Additionally, I really like the Superkind Softening Cleanser. It has that milky texture, it's very gentle, and it leaves the skin truly revitalised after rinsing."
Can you share your view on Better Ageing?
"From my perspective, ageing better means living better, which isn't always simple and requires awareness. The positive side is that as we age, we become more in tune with ourselves. We know ourselves better, we've learned a lot, and we have the experience. As for the 'better' part, I believe it's essential to try and slow down the ageing process by taking care of our bodies, staying active, and listening to ourselves. It's not just about external appearance but also about metabolism, organs, and internal well-being. It's also about mindset, taking on new projects, having challenges, etc. Everything is interconnected, of course. 
"I see ageing as a slope that we should descend as gently as possible... With a smile."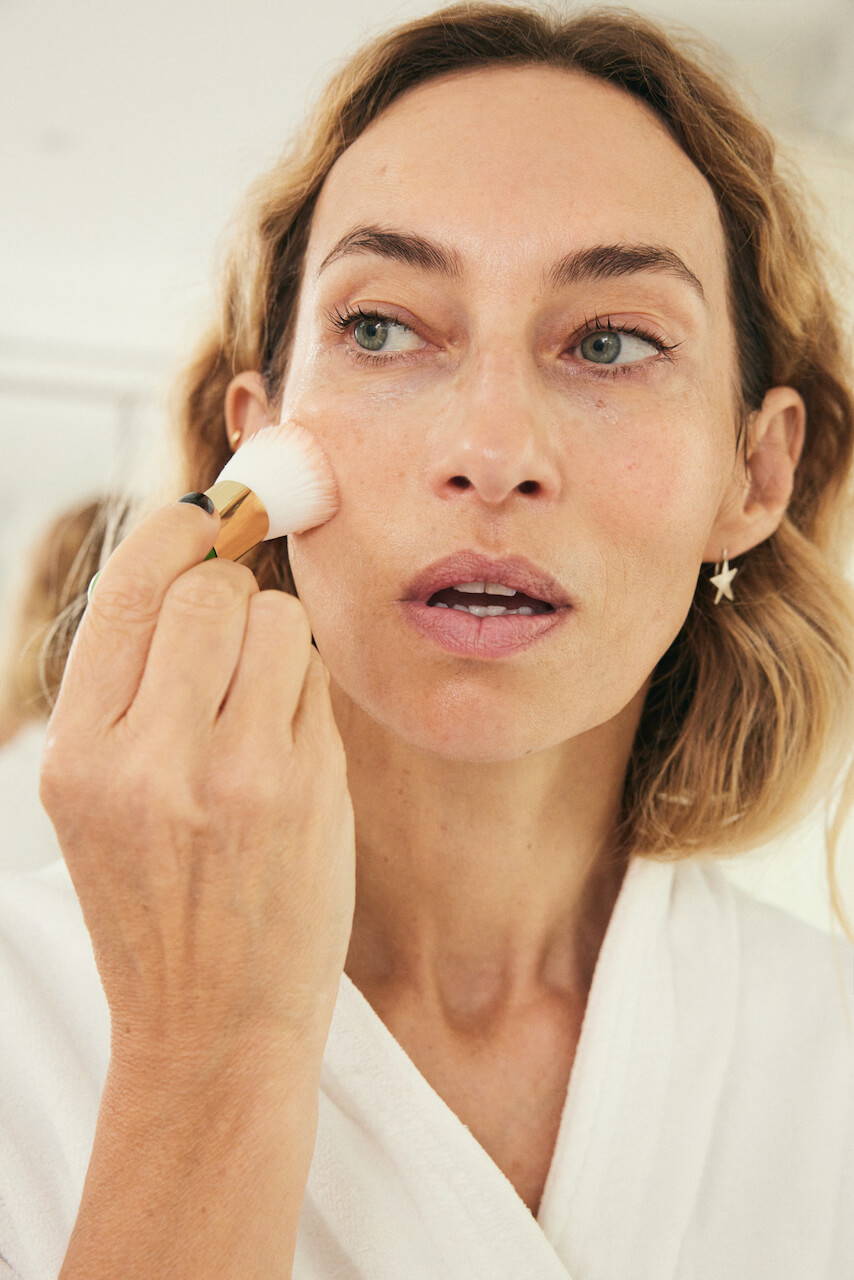 If you had to give a piece of skincare advice
"I would say that my beauty advice is to apply a more generous amount of cream to the face. Having more product on your skin, in a way, encourages you to massage your face with your hands. There's the immediate relaxing effect and the internal benefits that stimulate the muscles, aid oxygenation, improve blood circulation, and assist with drainage. Another tip is to apply cold water to my face every morning. I find it really helps wake me up and reinvigorate blood circulation. It's a great way to start your routine."
Alexandra Golovanoff's Tata Harper Essentials