Beauty Posts
Brown spots and blemishes: our treatments to finally get rid of them
It's a bit of a holiday backlash… First our tan goes to the dogs but it leaves us with brown spots and small pimples. Our favourite skincare products put our upset skin back on track.
Brown spots and the Dalmatian effect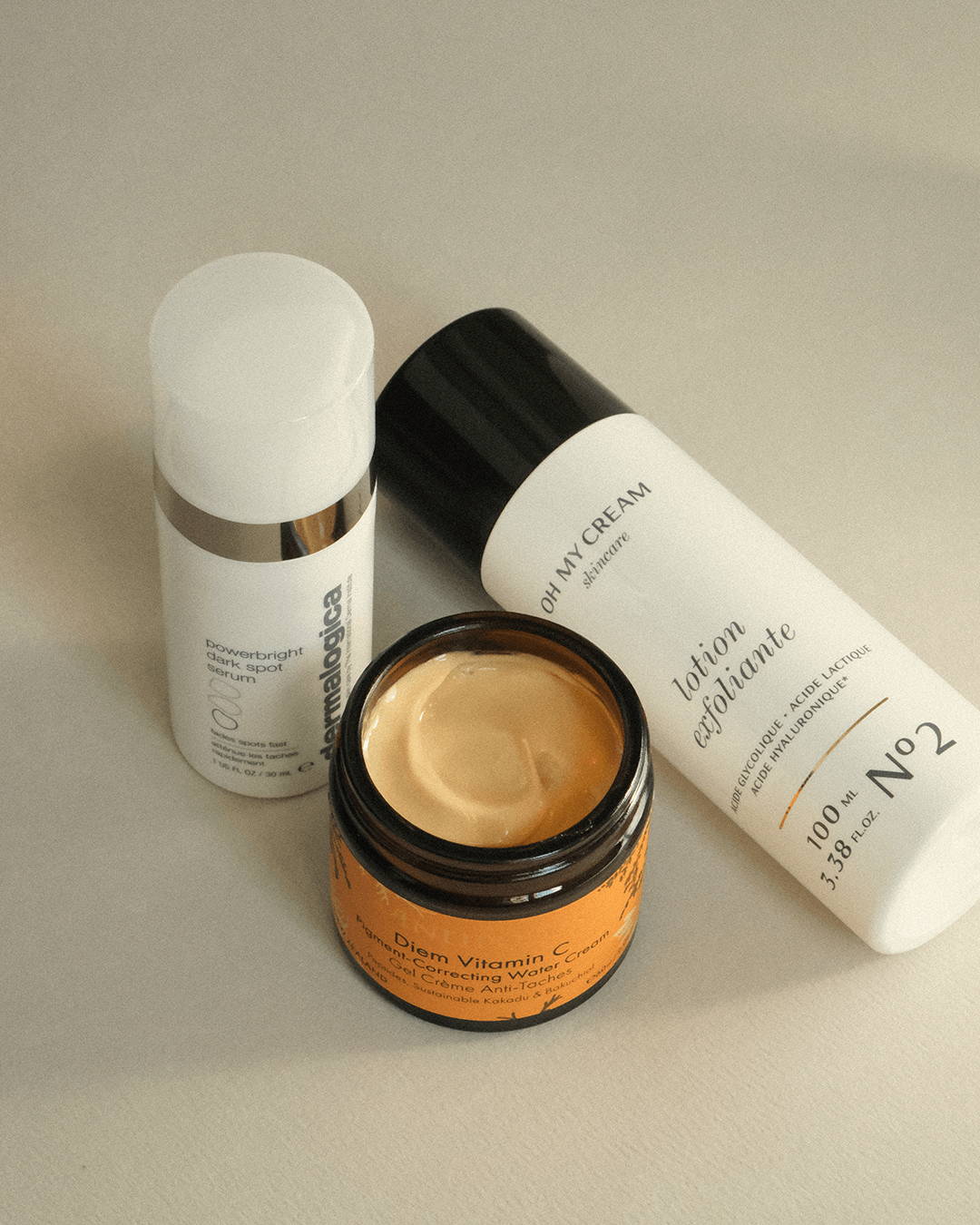 Oops, it seems that your melanin production has gone a bit too far this summer! If the skin produces melanin to defend itself against the sun, it can become anarchic when it is too stimulated by the rays. But this can also happen in other cases (stress peak, hormones...). 
Its peptides reverse the pigmentation process and its plum extracts illuminate and firm the skin. All this in a light texture and a delicate scent of mandarin and vanilla. Also consider using a high SPF (30 to 50) for extra protection.
What makes it special? The encapsulated algae it contains allow for a truly targeted correction of brown spots! A cocoon cream that makes the complexion even, all in a non-photosensitizing formula.
The combination of lactic and glycolic acid reduces the appearance of dark spots and gives a tighter skin texture.
Unquestionably one of the most powerful serums for reducing spots: this intelligent serum targets all types of spots (sun, pregnancy mask...) by inhibiting melanin production. 
Vitamin C, retinyl palmitate and liquorice reduce hyperpigmentation: in 15 minutes the complexion is radiant and even and as a bonus, the skin is plumped.
Blemishes and their rebound effect
To defend itself against the rays, the skin thickens: a mechanism that also blocks the rise of sebum to the surface. If at the beginning, the skin has no imperfections, when it regains its "normal" thickness, all the accumulated sebum reappears. Unfortunately, this is when pimples and blackheads (re)appear
A gentle cream that goes against the grain of overly astringent purifying skin care products thanks to antibacterial and soothing manuka and geranium oils.
The secret of balanced skin? The best skin microbiome! This night cream, enriched with good bacteria, is therefore to be used with no limit for a clear and soothed skin. 
2 to 3 times a week, we use a cotton pad soaked in this glycolic acid-based lotion: this will thoroughly unclog the pores but also limit marks.
Finally a serum that even sensitive skin can tolerate! Apply morning and night to reduce blemishes, reduce shine and tighten skin texture.
Leave on for 10 minutes this creamy, sulfur and charcoal-based cleansing mask for a flawless complexion. Cleanliness guaranteed! 
Similar results to those of an in-cabin skin cleansing, isn't that something to dream about? It is applied directly to the skin to perform a deep cleansing, thanks to the combination of ultrasound, blue light and micro-currents. Amazing!
The anti-spot and blemishes selection