Did you know that adding a face serum in your beauty routine could drastically improve your beauty routine? These small bottles with their hyper-concentrated formula are perfect targeted treatments. Please note: the face serum is a complementary care and does not replace a moisturiser. Two to three drops applied to a perfectly cleansed face (before the moisturiser or mixed) will solve a whole host of problems... But you still need to choose a serum that is adapted to your skin type. We'll tell you more about choosing the perfect serum and we'll give you our favourite serums :-)
Why incorporate a face serum into your beauty routine?
The face serum is a concentrate of active ingredients that will penetrate deep into the layers of your epidermis to provide a complete, effective and ultra-targeted action. Whether your skin is constantly dehydrated, whether it occasionally develops small dryness or imperfections, or whether it is damaged or marked by the signs of ageing, the application of a serum will help you improve your skin condition thanks to these targeted active ingredients. In the long term or as a cure, the serum can come to the rescue of our upset epidermis punctually, but also accompany us daily throughout our beauty routine, to help us maintain a beautiful and healthy skin.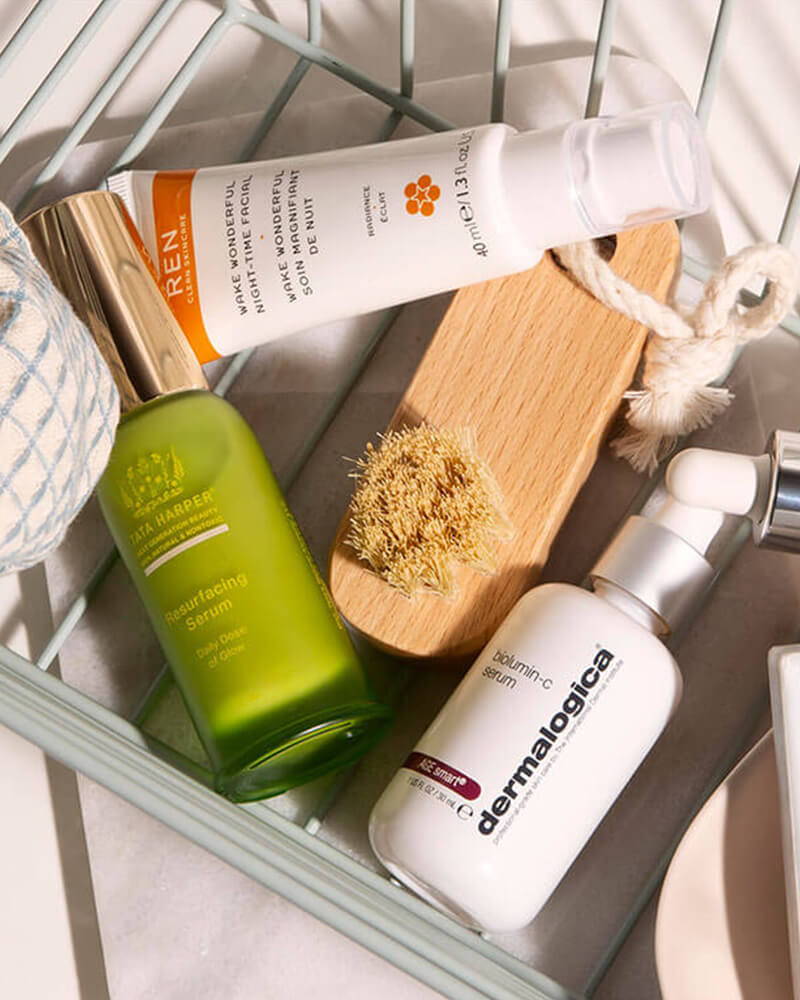 How to choose a face serum adapted to your skin?
As with any beauty product, it is essential to choose a face serum adapted to the nature and condition of your skin. As with any beauty product, it is essential to choose a face serum that is adapted to the nature and condition of your skin. Hyper-concentrated, you must first assess the sensitivity of your skin so as not to over-stimulate it with too many active ingredients... We will help you make your choice by presenting the cult serums from 3 of Oh My Cream's leading brands!
Antipodes natural serums
The least we can say is thatAntipodes has made nature its primary supplier: by sourcing its ingredients directly from the New Zealand regions, this green range offers us natural products (some of them are organic), and reveals formidable active ingredients in its care products.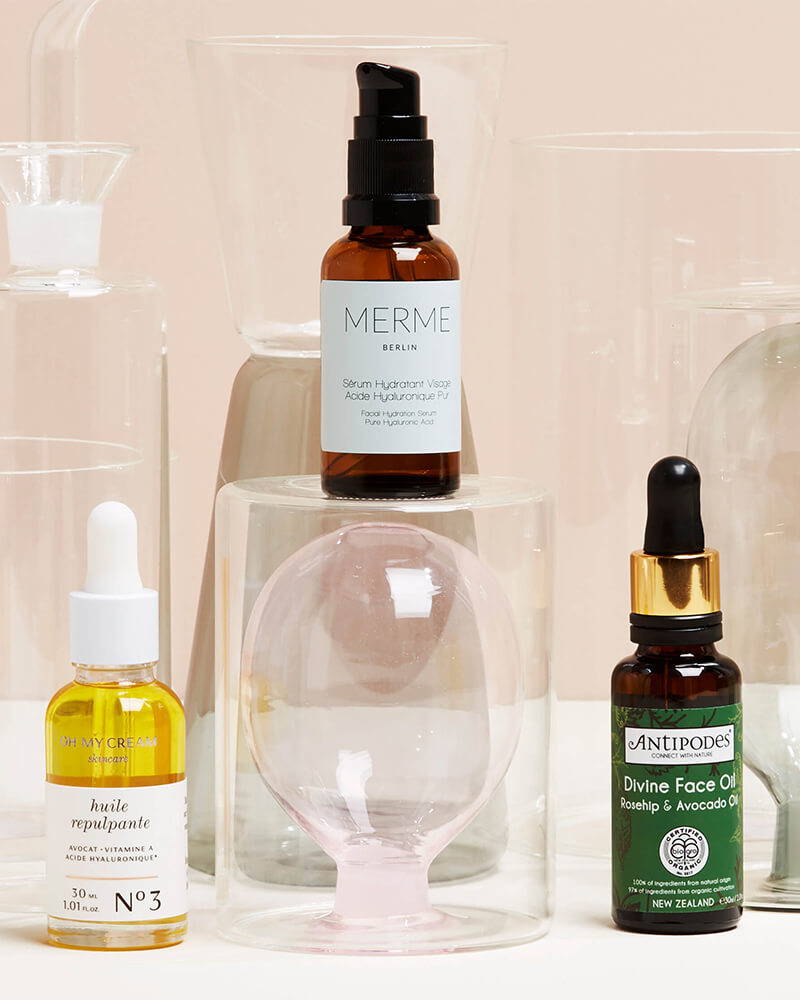 Let's start with one of the brand's must-haves, the Hosanna H2O Skin Plumping Serum Antipodes. Ideal for all skin types in need of an occasional hydration boost, this serum is concentrated in waivera water, a powerful moisturising active ingredient rich in trace elements and minerals. This serum will give your skin the big glass of water it needs. It is also a great ally against the first wrinkles thanks to its plumping effect offered by the vinanza grape and the black fern of mamaku...
Skin that is more reactive to pollution should opt for the Worship Superfruit Antioxidant Serum Antipodes a moisturising serum, but also ideal for combating oxidative stress linked to pollution, stress and UV rays. What makes us even more assiduous? Its natural and delicious scent of blackberry and blackcurrant.
Antipodes has also thought of sensitive skin with its Apostle Radiance Anti-Spot Serum. This face serum is the perfect compromise to both treat pigmentation spots and soothe reactive skin.
Tata Harper's luxury and organic serums
Did you know that each of the green bottles Tata Harper green bottles contained between 9 and 29 active ingredients of organic origin? A record for the world of skincare, and it is on a farm in the heart of Vermont that Tata Harper has achieved it.
We present here the smallest of the cult "Resurfacing" range, the Resurfacing Radiance Serum. Ideal for all skin types, urban skins in particular love it for its antioxidant effect, while blemish-prone skins will crave its antibacterial actives. The Resurfacing Serum is also very suitable for those who want to prevent the first signs of ageing. A glowy effect is guaranteed with this face serum !
Mature skin can turn to the Elixir Vitae Smoothing Eye Care and theElixir Viate Ultimate Anti-Wrinkle Serum. The first is ideal for targeted treatment of small wrinkles in the eye area, which is such a fine area of skin. The second one, on the other hand, treats in depth the wrinkles installed on the face thanks to its 72 active ingredients present to smooth the grain of the skin and fill in the wrinkles.
Pai Skincare, the brand that saves sensitive and intolerant skin
If you are struggling to find targeted and effective products because your sensitive and intolerant skin can only tolerate a few products, Pai Skincare could well change the situation... Indeed, the English and certified organic brand has made the treatment of ultra-sensitive skin its specialty.
Copaiba & Zinc Anti-Blemish Serum is definitely one of the most popular: this balancing serum helps oily, blemish-prone skin to reduce shine while purifying and purifying the skin. You can even apply it locally and leave it on overnight to clear up a small pimple that has broken out on the tip of your nose. Optimal tolerance guaranteed.
Do you have hyper-sensitive skin and your degree of sensitivity prevents you from applying effective products to reduce your irritation and redness? Opt for the Sea Aster and Wild Oat Anti-Redness Serum Pai SkincareSea Aster and Wild Oat Anti-Redness Serum is a safe bet to combat inflammation, redness and overheating, while keeping your skin well moisturised.
Finally, thirsty sensitive skin can turn to the Back To Life Moisturizing Serum Pai Skincare which, thanks to the key moisturising ingredient, hyaluronic acid, instantly plumps and relieves tightness.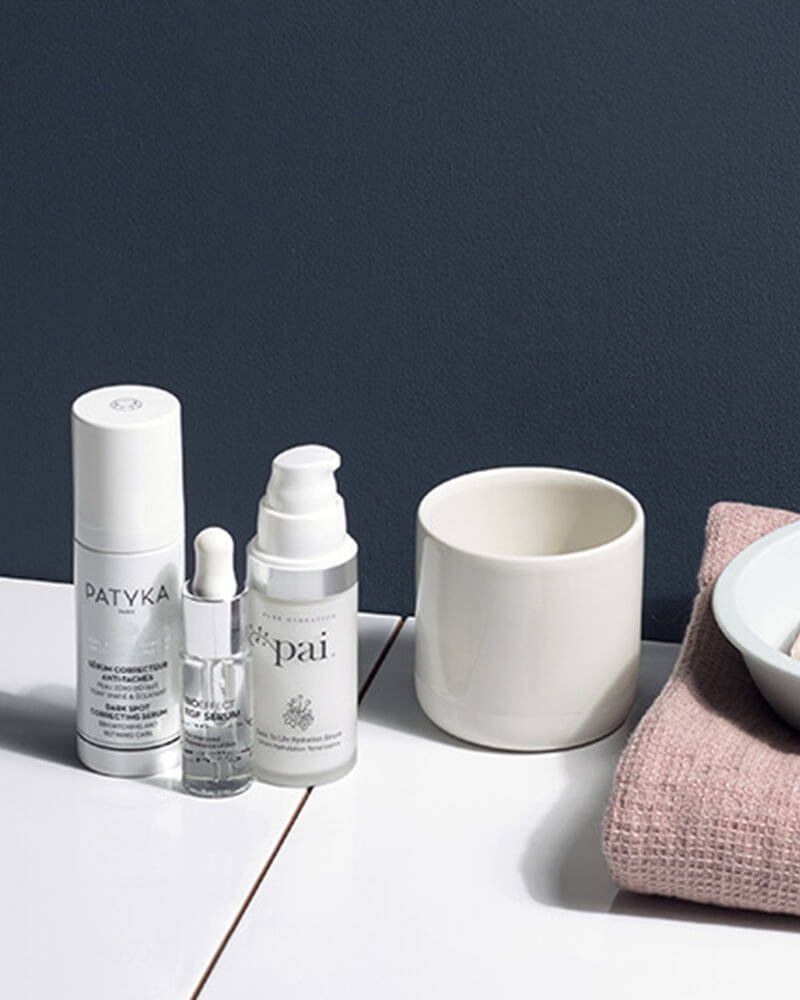 How to apply your face serum?
The effectiveness of a serum depends almost entirely on the frequency of use, but also on excellent preparation of the skin beforehand... and good application! 
Step 1: Cleanse your skin well. 
A perfectly clean skin will absorb the treatments applied afterwards much better. If you haven't yet adopted our first essential gesture, the double cleansing, why not start? This consists of an oily cleansing phase to remove all traces of make-up, pollution and excess sebum from your skin. Then, a facial cleanser in the form of a gel or milk to eliminate the last aqueous impurities, such as perspiration. This step is important because the face serum will penetrate your skin better if there is no oily film to block its passage.
Step 2: Apply a few drops of face serum
If the bottles of the face serums are so small, it's because the drops they contain are precious and only 2 to 3 of them are enough to act on your entire face and neck. In the morning and/or evening, pour these few drops into the palm of your hand, rub them gently between your palms and then apply. Apply gentle pressure to your face and neck with your palms and fingers, making sure you don't miss any areas. If you are applying a serum to treat a specific problem (e.g. small pimples), pay particular attention to the area to be treated.
Step 3: Apply a moisturizer or oil
This last step is crucial to finalise the application of your serum. Finishing with a moisturiser or oil after your serum will help it to penetrate better and provide your skin with a protective barrier for the day. 

If you have chosen a serum that suits your skin type, it doesn't matter if you have chosen the comfort of Pai Skincarethe ultra-concentrated formulations of Tata Harpers ultra-concentrated formulations, the green and gourmand fragrances ofAntipodes or to another serum from another brand present at Oh My Cream... A few days are enough to notice an improvement of the skin.