beauty posts
The 8 beauty tools you need to try!
Dry brushing for a firmer body, LED to neutralise blemishes or gua sha for an anti-ageing action... Discover the ultimates beauty tools selection with 8 must-haves that will take your beauty routine to the next level!
Our favourite beauty tools
1. High-tech gua sha to slow down signs of ageing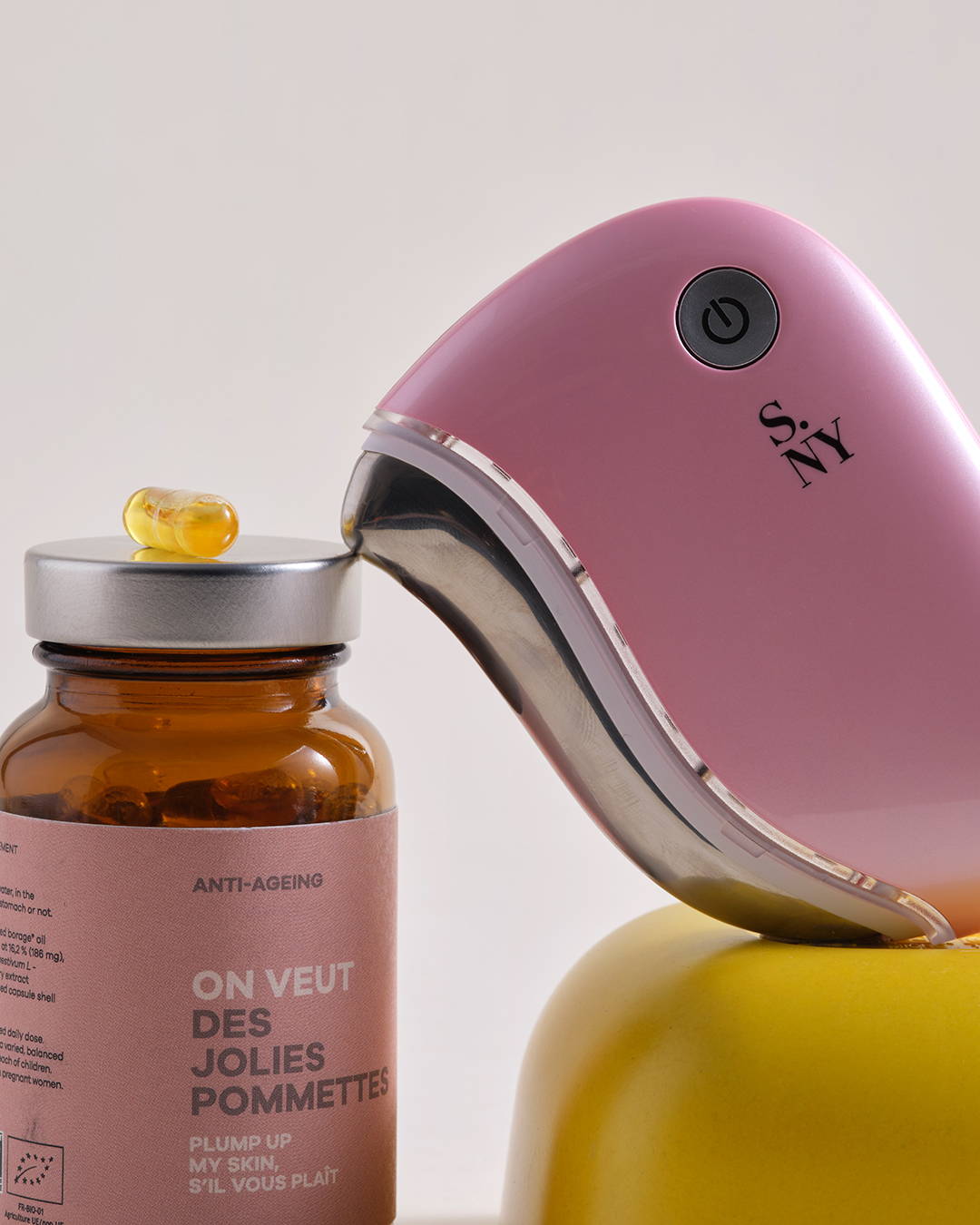 Even more effective than your typical gua sha, this new-generation gua sha combines movement efficiency and high-tech technologies. While its red LED light reduces wrinkles and fine lines and sculpts for firmer skin, the vibrations promote microcirculation and improve skin texture. It's Lit LED Gua Sha Facial Massager Solaris also has a heat function (45°C) to free the skin from toxins while reducing redness. The ideal tool for a plumped up and lifted skin! 
How to use it? 
Apply a few drops of our Plumping Oil and glide the gua sha over the face. 
2. Detox body brush
Discover the effects of the ancestral method of dry brushing with our Oh My Cream Skincare Dry Body Brush! A truly relaxing moment with a draining action, dry brushing exfoliates the skin and stimulates lymphatic circulation for lifting action. Cellular renewal is accelerated, dead cells are eliminated for a light and detoxified body. The skin is left soft and firmer. 
How to use it? Use on dry skin before taking a bath or a shower. Start from the feet and work up the legs to the thighs. Brush lightly but firmly in upwards movements. Continue with the arms, the stomach, the back and the bottom, always brushing inwards towards the heart. 
3. The gifted mask for blemishes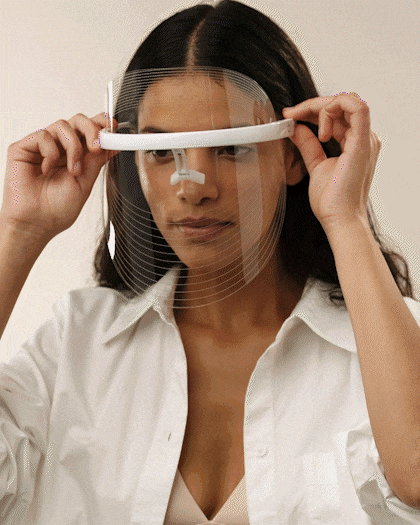 Used in well-known dermatology practices, LED treatments have proven their efficiency. Wrinkles, blemishes, rednesses, dark spots… There's nothing Solaris How to Glow Mask can't help with, in only 15 minutes a day. Easy to use, choose your daily targeted treatment and go about your day. 
How to use it? 
To every LED colour, its action: blue for imperfection, red for wrinkles, green for dark spots, and amber for redness. Apply the mask to clean skin and use 15 minutes a day, 3 to 5 days a week.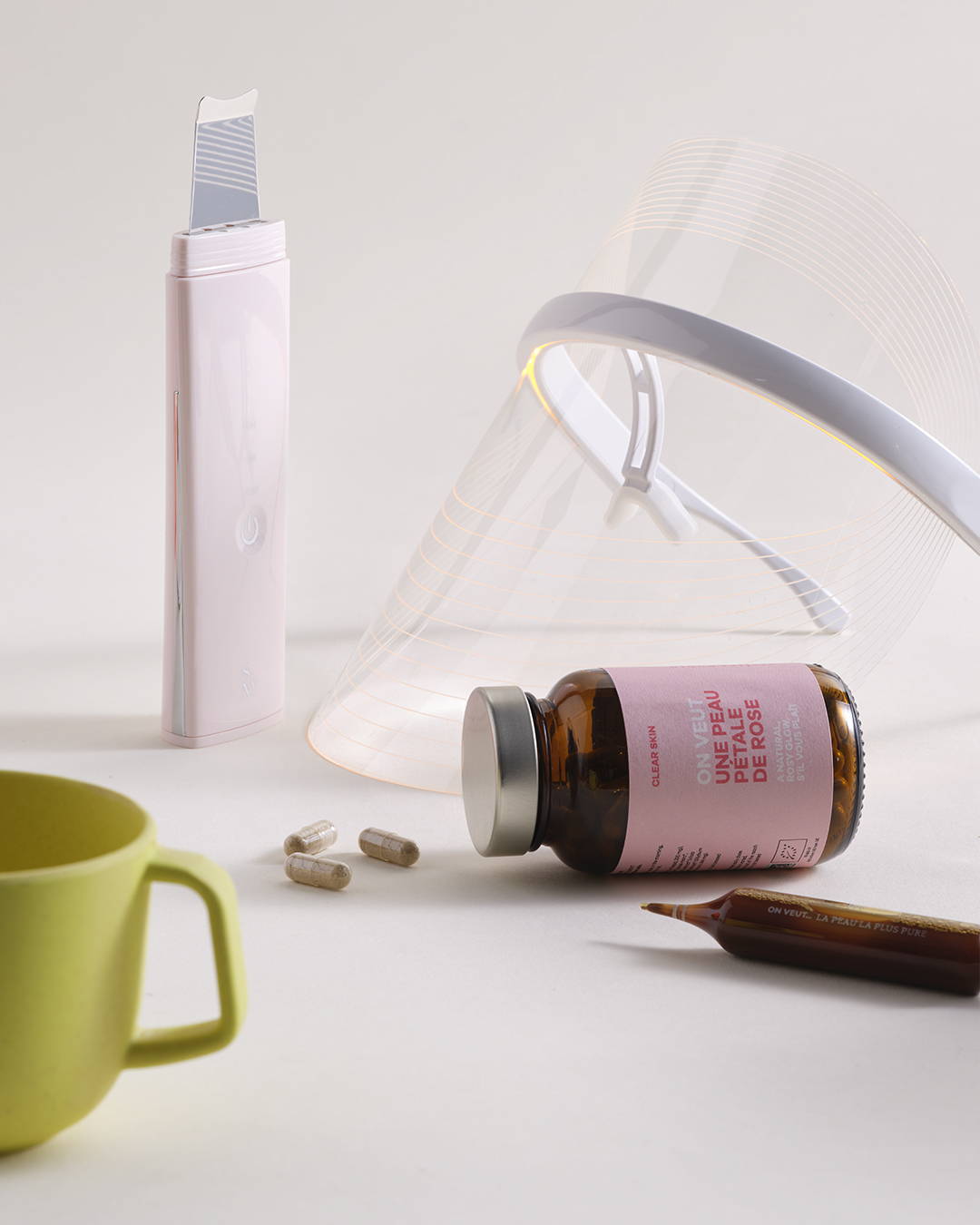 4. Exfoliating spatula for clean and glowy skin
On the menu with the Solaris Ultrasonic Exfoliator Spatula: a deep cleansing to tighten up the pores, get rid of blackheads, reduce shininess and fight blemishes, and offers ideal hydration for the skin. Similar effects of in-store facials, this high-tech spatula leaves the complexion glowy, and offers a better skin texture and plumped skin. 
How to use it? The spatula can be used in one mode at a time or for a more complete routine, with all 3 modes in a row. The "Cleansing" mode can be used on a cleansed and wet face to unclog pores. The "Hydration Ion +" mode ionises your serum or cream into micro particles to encourage better absorption into the skin. Finally, the "Hydration ion -" mode ionises in even smaller particles for complete absorption
5. Anti-redness roll-on
This relaxing face tool will probably never leave your vanity once you've tried it! In addition to smoothing the skin, the Oh My Cream Skincare Roll On, decongests the under-eye area and stimulates blood circulation to help firm the skin for a brighter complexion. 
How to use it? Apply a few drops of our Plumping Oil before working from the centre of the face towards the outer edges. To optimise the decongestant effect, place the roller somewhere cool before using it. Rinse in clean water and dry, in between massages.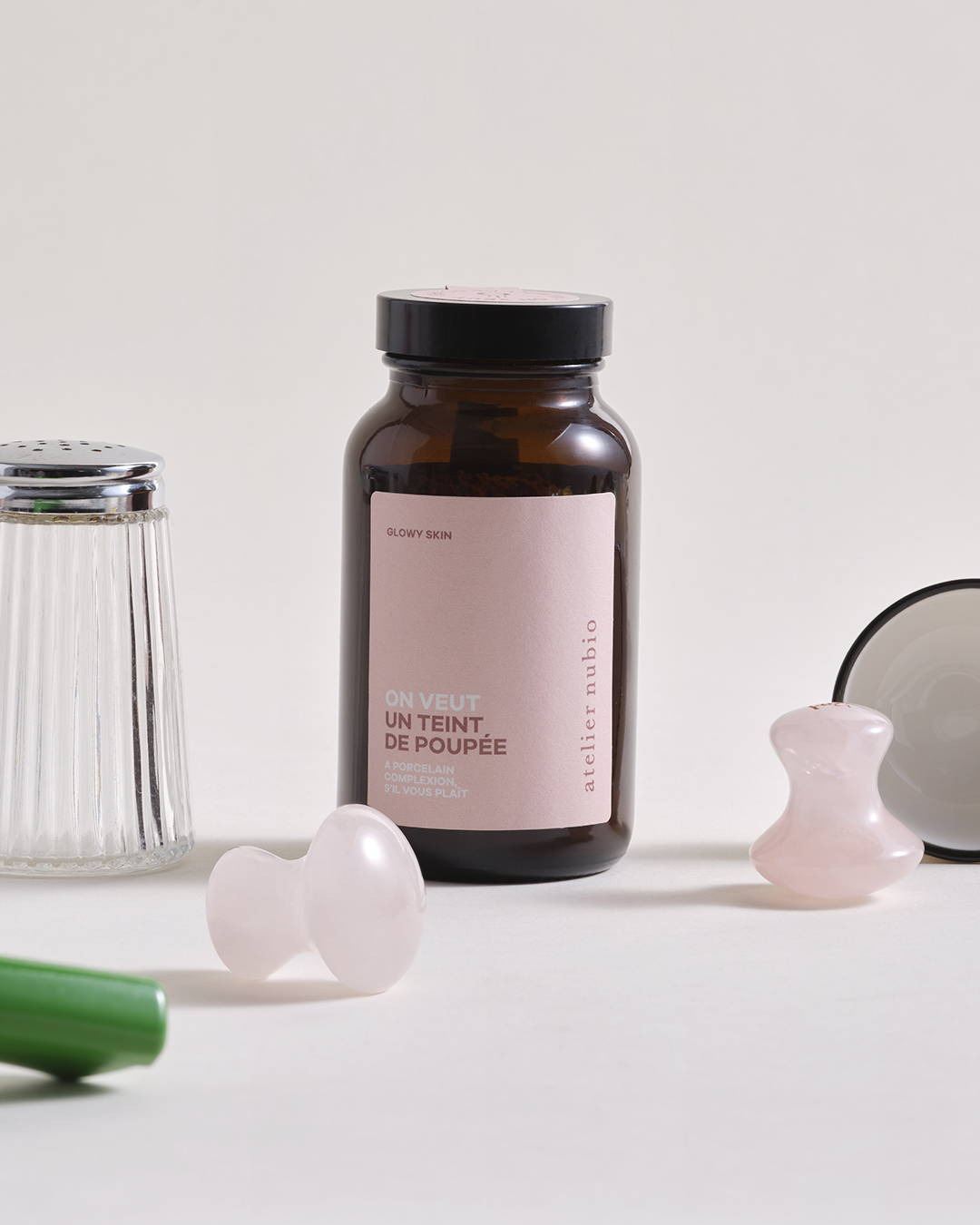 6. Booster duo for the glow
For an easy face massage, the Sentara Holistic Magic Mushrooms will do the trick. Two rose quartz stones with rounded edges to take everywhere with you for a fresher look and smoother features. Ideal to massage the eye area, these two stones decongest the eye and reduce signs of ageing. Long recognised for their soothing and regenerative properties. These two stones boost blood and lymphatic circulation for more luminous skin. The winning combo for a radiant complexion!
How to use it?
Apply your favourite serum or moisturiser to the skin and glide the Magic Mushrooms gently and slowly over and under the eyes simultaneously on each side, starting from the inner corner of the eye and moving to the outer corner. Move up to the temples before massaging and smoothing the cheeks and forehead, working outwards from the centre of the face. Move down the face and massage up and down your neck several times.
7. Stimulating brush that boosts hair growth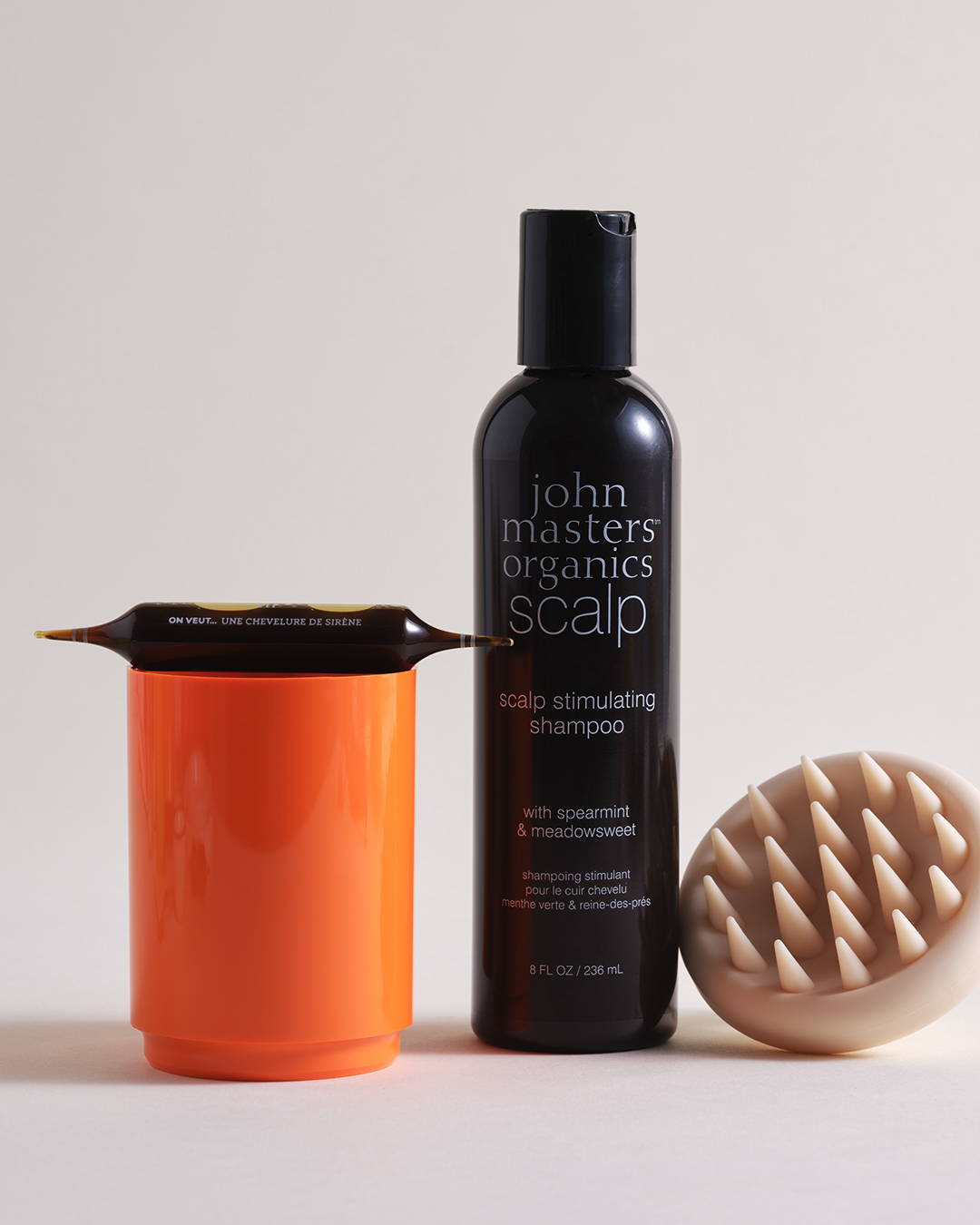 Leave it to the Oh My Cream Skincare  Scalp Massaging Brush to be essential to your hair routine. In addition to helping shampoo penetrate your scalp and offering you an exquisite head massage, it stimulates micro-circulation to boost hair growth and remove dead cells.
How to use it?
After applying a shampoo such as the John Masters Organics Stimulating Scalp Shampoo, massage into the scalp in circular movements, then rinse. 
8. Cult gua sha for a global action
A cult beauty ritual that is as lifting as relaxing. And once tried, it quickly becomes our essential step to a complete skincare routine. The Odacité Crystal Contour Gua Sha is cut in precious stones and works on the layers beneath the skin to lift and detoxify for glowy and firmer skin. 
How to use it? Apply a few drops of our Plumping Oil or Correcting Oil before working from the centre of the face towards the outer edges.