beauty posts
Double Cleansing: find the right duo for your skin!
The key to beautiful and healthy skin? Double cleansing! Discover why this skincare technique is a winner (even if you don't wear makeup ;-)) and find the iconic duos to adopt based on your skin type.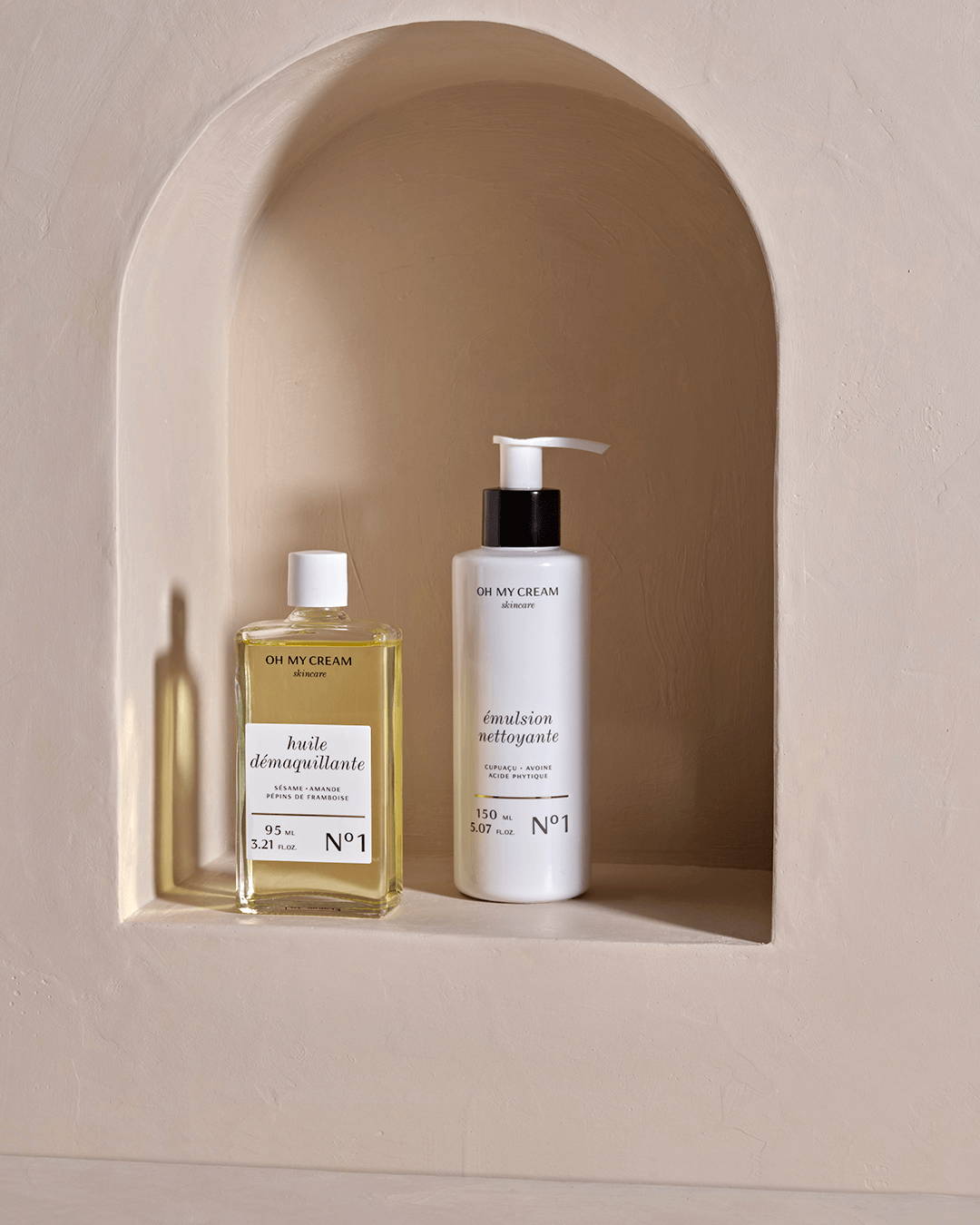 Why do you need to double cleanse?
How does double cleansing have the power to transform your skin compared to your beloved bottle of micellar water? Simply because it can revolutionise your skincare routine:
It's the first step in an anti-ageing routine because thoroughly cleansed skin is essentially skin that ages more slowly!

You effectively cleanse your skin and thus reduce imperfections (including blackheads, uneven skin texture and other skincare issues.) 

You're preserving your protective skin barrier! Say your goodbyes to uncomfortable skin and redness! 

You enable all your other skincare treatments to work! In fact, you're maximising your beauty routine and allowing your skin to optimally regenerate throughout the night.
How does double cleansing work?  
In two simple and effective steps: an oil-based phase and a water-based phase. The first phase entails using an oil-based cleansing to dislodge oil-based impurities that have accumulated throughout the day, such as makeup, pollution or excess sebum, without aggressing or drying out the skin. The water-based phase involves applying a second water-based cleanser, such as a cleansing milk or a gel depending on your skin type. This step refines the cleansing process by removing the remaining toxins while addressing various skin concerns.  
Start by massaging a makeup-removing oil or cleansing balm to your dry skin (even the eyes), rinse and apply your second cleanser (gel, milk or foaming cleanser) before rinsing. Trust us when we say it doesn't take as much time as using cotton pads on cotton pads…
I have normal skin 
The right duo for you: Oh My Cream Skincare Makeup Removing Oil & Cleansing Foam
The right fit? A makeup-removing oil that makes the cleansing ritual easy and ultra-pleasant while combating the effects of pollution, and a creamy foam that melts into the skin to eliminate pollution particles responsible for dull complexion and premature ageing.
To complete your routine: Oh My Cream Skincare Exfoliating Powder, the ultimate "perfect complexion" powder for even more glowing skin ;-)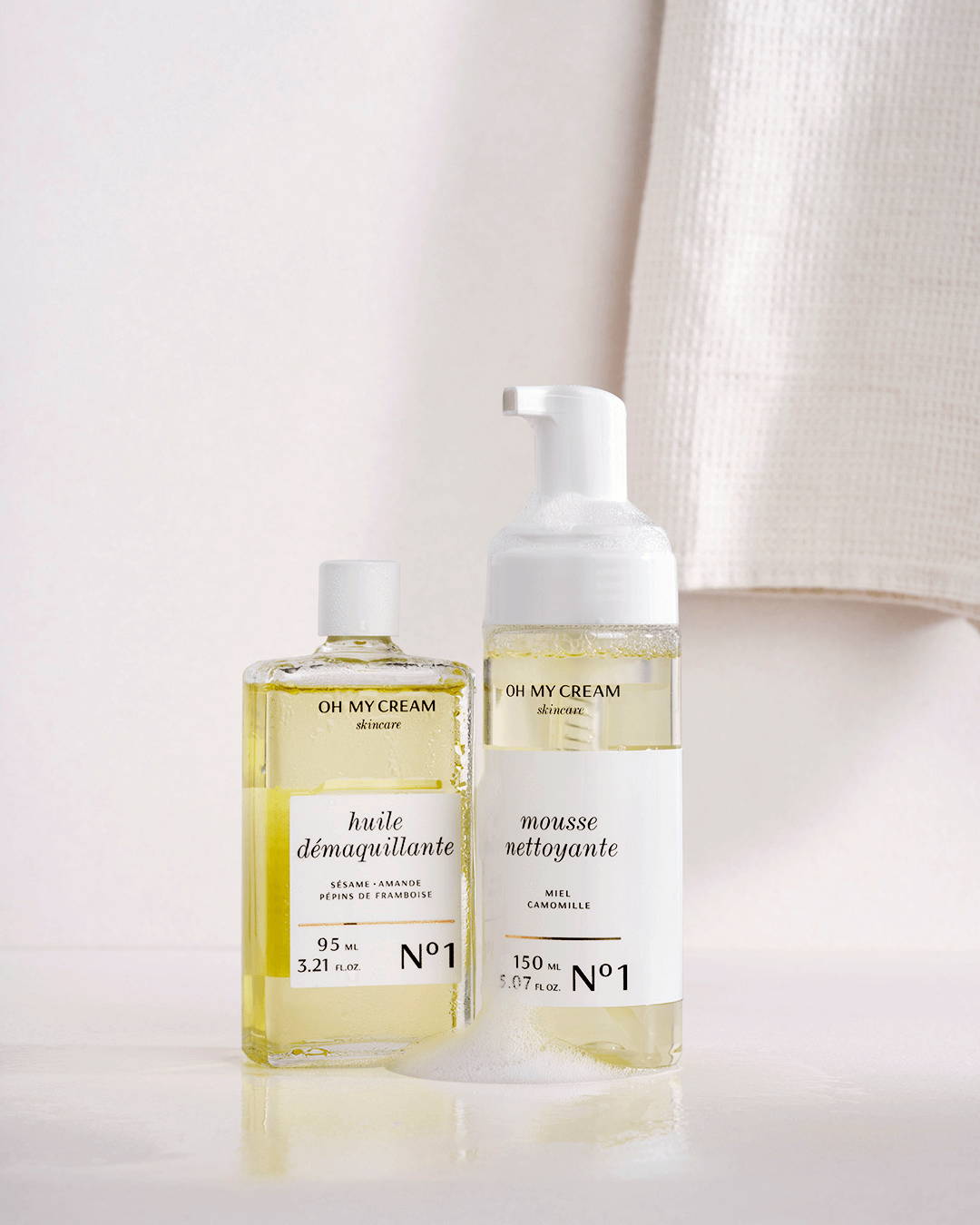 "I love it! Super effective. A rare cleansing oil that leaves zero residue, especially mascara. No more panda eyes the next morning :)"
"Honestly, this foam is like a cloud! It's light and incredibly pleasant. A little bonus is the citrus scent that I love so much, and it absolutely doesn't leave the skin feeling tight. A must-have!"
My skin is prone to blemishes and shine
The right duo for you: Oh My Cream Skincare Makeup Removing Oil & Cleansing Jelly 
The perfect fit? A duo that rids the skin of impurities without drying it out. Formulated with Zinc to regulate sebum production and Ginger and Cranberry to purify, our Cleansing Jelly is the perfect cleanser to minimise the appearance of imperfections.
To complete your routine: Oh My Cream Skincare Anti Blemish Serum, a treatment to correct and prevent blemishes while still soothing inflammations.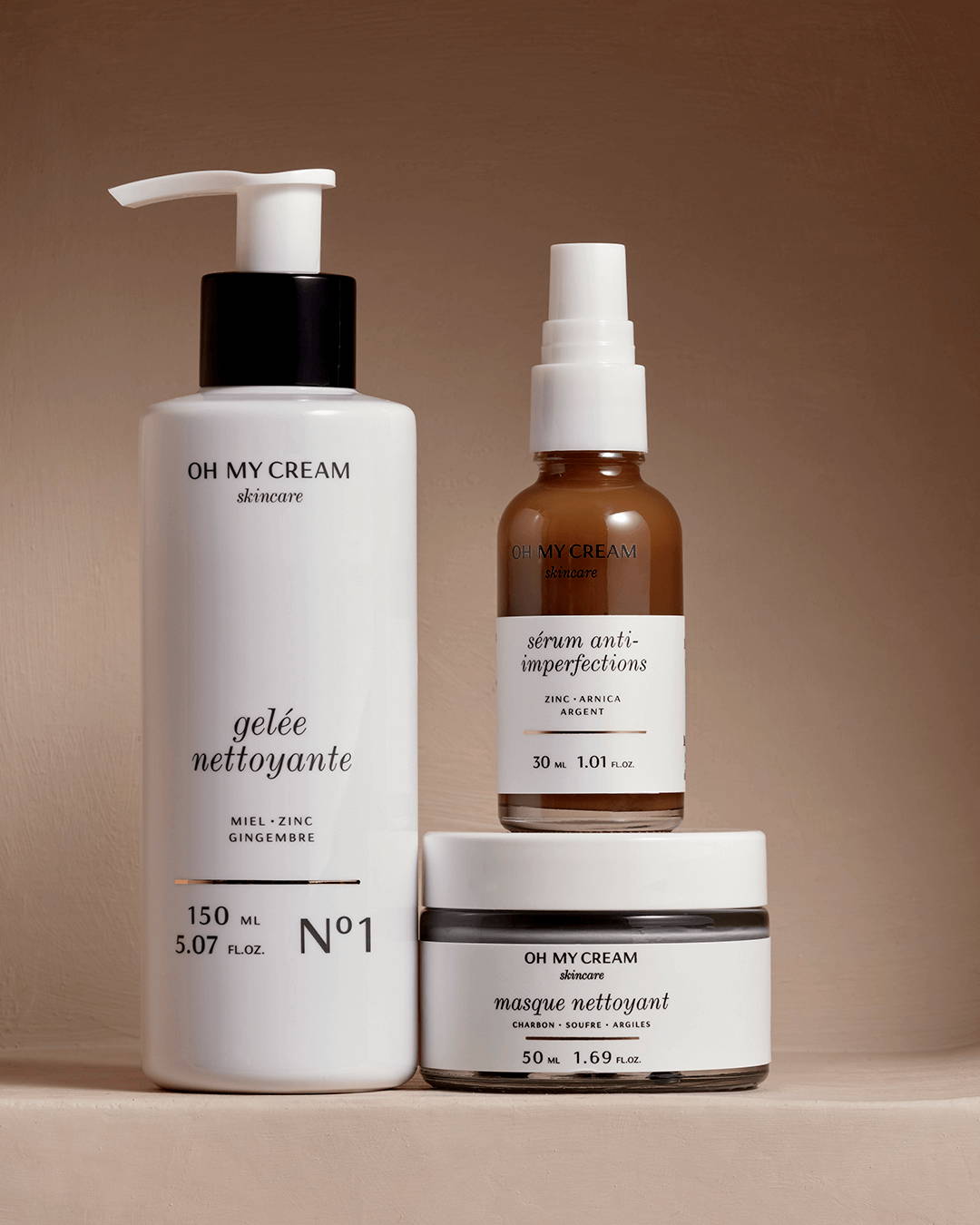 "Very satisfied, the combination of the makeup removing oil and the cleansing jelly leaves my face free from all makeup, pollution, and sebum. Not irritating to my eyes, I remove eye makeup by hand and there's no oil residue in my eyes. Indeed, the container releases drops one at a time, but at least there's no waste."
"Zinc does the job, it clears up pimples, skin texture is slightly refined, I now only use this cleanser. I recommend it!"
I have dry and mature skin
The right duo for you: Oh My Cream Skincare Makeup Removing Oil & Cleansing Emulsion
The right fit? A duo that cleanses without drying the skin out and leaves it supple, featuring rich and creamy cleansing milk to soothe and restore the skin's comfort and flexibility.
To complete your routine: Oh My Cream Skincare Plumping Cream, an unctuous and enveloping cream that reduces the first signs of ageing thanks to its formula enriched in Peptides and Bakuchiol.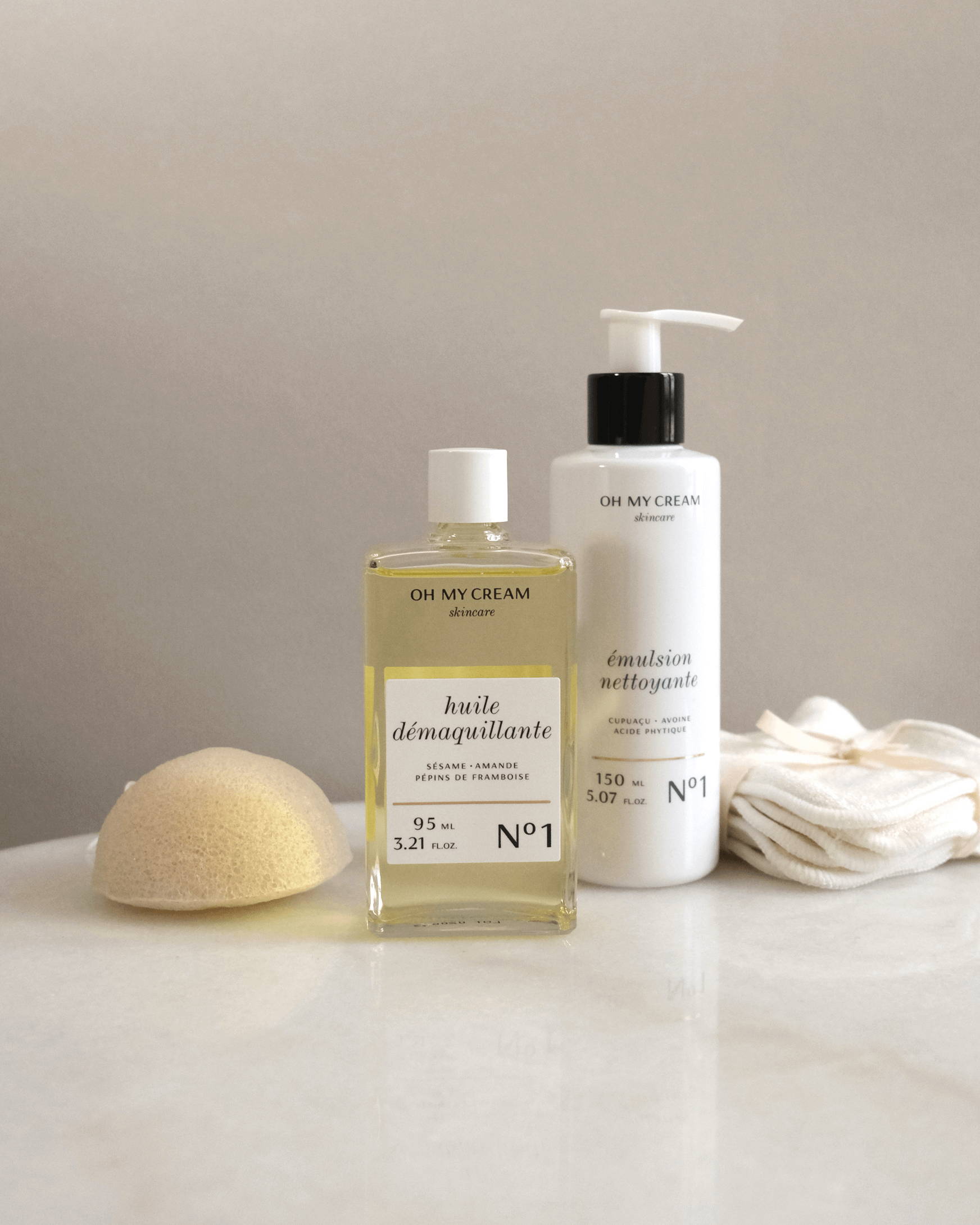 "This oil is sublime, very lightweight and easy to rinse off. It quickly dissolves makeup, even stubborn ones, and is comfortable even for sensitive and dehydrated skin like mine, which usually prefers balm textures. It's at the top of my list for cleansing oils."
"Great, I love it. It's one of the few cleansers that doesn't dry out my skin. I would even add that it leaves my skin hydrated."
I have sensitive skin
The right duo for you: Oh My Cream Skincare Makeup Removing Balm & Cleansing Emulsion
The right fit? A gentle balm enriched in oats and beeswax to soothe and heal, while minimising redness and eliminating impurities, and a creamy cleansing milk to help the skin regain all its comfort!
To complete your routine: Oh My Cream Skincare SOS Mask, with its ultra-soothing texture, reduces redness and sensations of discomfort for soothed and soft skin. 
"Not only is it highly effective, but its texture is perfect, its scent is exquisite, and it's extremely gentle on my skin. Works perfectly for waterproof makeup, and comes off very easily with water!"
"Absolute delight. I've finally found a gentle cleansing solution for my extremely dry, sensitive, and reactive skin!!! Skin feels hydrated and soothed."
Questions? Uncertain about the product(s) to choose? Write to us at hello@ohmycream.com or directly through our chat to be advised by one of our beauty experts!
The double cleansing selection