Beauty posts
Our favourite firming and toning treatments to feel good in our body all summer long
Let summer rhyme with feeling good in your body with our favourite treatments to firm, hydrate and slim. Beauty tools, skincare gems and supplements with high efficiency made to take care of your body even on vacation, in between dips.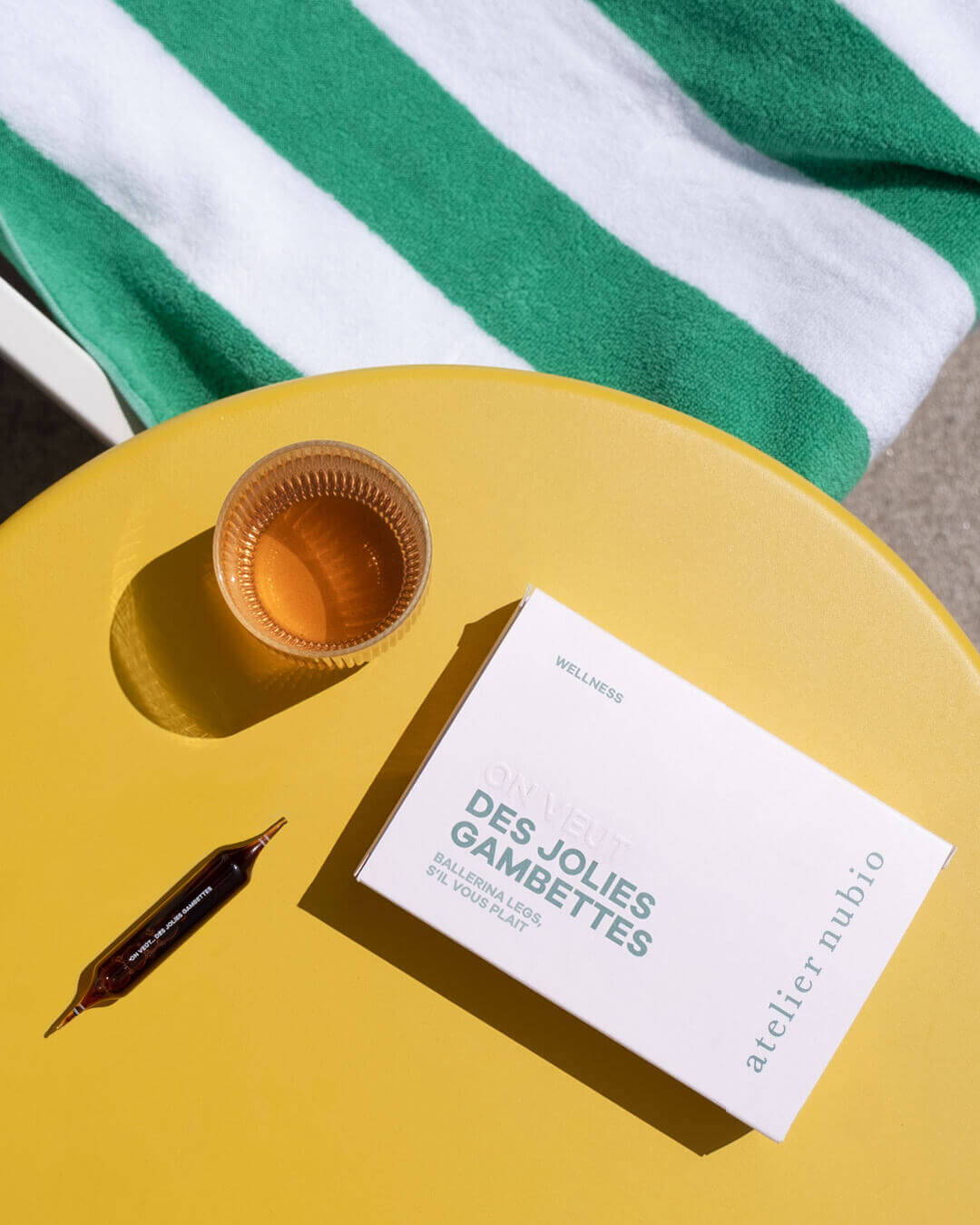 The cure for heavy legs sensation
It's that time of the year, where our legs feel heavier as the heat keeps rising. Thanks to its red vine extract, Atelier Nubio We Want Pretty Legs improves blood circulation for lighter and toned legs. And the blackcurrant juice turns this food supplement into the perfect summer cocktail to sip before starting your day!
Say goodbye to orange peel skin and cellulite
While orange peel skin or cellulite is a natural and common condition, there's nothing wrong with being proud of showing it or wanting to reduce it. Patyka Firming Body Cream is a rich cream with proven effectiveness to reduce cellulite's appearance and tone the silhouette in only 2 weeks. Thanks to its formula, it prevents body fat deposits and the formation of orange peel skin, encouraging their removal and activating microcirculation. 
To firm with a photoshop effect
Looking for a treatment as effective as Photoshop on your skin? Meet L:a Bruket Firming Body Serum 290. This treatment with "perfect skin" benefits, leaves the body soft and firm thanks to its impressive tensor action. Particularly ideal after a long flight or after a day under the sun, it penetrates immediately into the skin to boost circulation and increase the skin's radiance. Day after day, the body is toned and soft and gains elasticity back.
The end of bloating
Complicated digestion, bloating and uneasy bowel functions… Those are the kind of problems we often have to deal with when on vacation. But if there's one cure that has become our Oh My Cream's team summer must-haves, it's Atelier Nubio We want a flat stomach like a naiad. Artichoke to detoxify and support the activity of the liver, kidneys and intestinal tract, sweet fennel for better digestion and peppermint extract to soothe digestion issues… These vials are the perfect cocktail for a flat stomach all summer.  
Want to take it to the next level? Since, even on vacation our body needs its detoxifying ritual, don't forget to pack Oh My Cream Skincare Dy Body Brush for a dry massage that stimulates lymphatic circulation, while getting rid of the dead cells. And make sure to not over exfoliate your skin! Prefer a dry massage in the morning, and avoid exfoliating your skin on the same day.  
For lighter and firmer legs
Whether you are affected by water retention or heavy legs from time to time or all year long, we know the struggle. And with summer on its way, Atelier Nubio We want… the Draining Elixir might be your beauty savior. With its intense draining action, this liquid supplement helps with water elimination for better blood flow, lighter legs and a toned silhouette. It's also the ideal companion if you're looking to lose weight. 

For further action: Oh My Cream Skincare Body Gua Sha, with its dented side, this white quartz gua sha massages precisely every body area to boost the lymph system and blood circulation to firm and relax the tissues, alleviate heavy leg syndrome, and break up fat deposits that can cause cellulite.